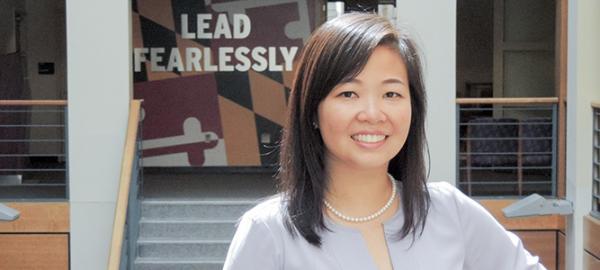 Incoming students tackled a real business problem from a real company during full-time MBA orientation in fall 2018, and Megan Moy '05, MBA '10, had a front-row seat during team presentations. As a volunteer judge in the Citi Group live case competition at the University of Maryland's Robert H. Smith School of Business, Moy liked what she saw. "As I'm getting more involved at Smith, I'm seeing continuous improvement at the school," she says. "I'd like to think this is due in some small part to my contributions and the multiplier effect." Besides making financial contributions, Moy donates her time on the Smith Alumni Chapter Board. Her motivation is simple. "This school has given me a lot of opportunities that have brought me where I am today," she says. "By giving back, I'm continuing the cycle."  Moy, who started her career at Deloitte before moving to AARP as a delivery executive in 2017, says the Smith community has provided meaningful friendships in addition to professional connections. "It's everything a network should be," she says.
It's everything a network should be.
Millions of motorists travel daily on Interstate 95. But Marilyn Rose '58 remembers life before the East Coast connector. When her family traveled from Atlantic City, N.J., to visit her grandmother in Washington, D.C., they had to take smaller roads past the University of Maryland. "I took a liking to the beautiful campus," Rose says. "I loved the school so much that I made up my mind when I was young that that's where I wanted to go." She had good grades in high school, but Maryland accepted few out-of-state students in those days. However, after hard work and determination, Marilyn was admitted. Once on campus, she gravitated to the business school. "Often I was the only girl in the class," she says. Despite the challenges, Rose flourished. "Like a Terrapin, I came out of my shell," she says. "I made up my mind that if I were ever in a position to give back, then I wanted to do it." The Marilyn Hess Rose and Robert L. Rose Memorial Scholarship Fund honors that commitment. The scholarship specifically benefits out-of-state students like Rose. "My husband and I always believed that education is so important," she says.
Like a Terrapin, I came out of my shell.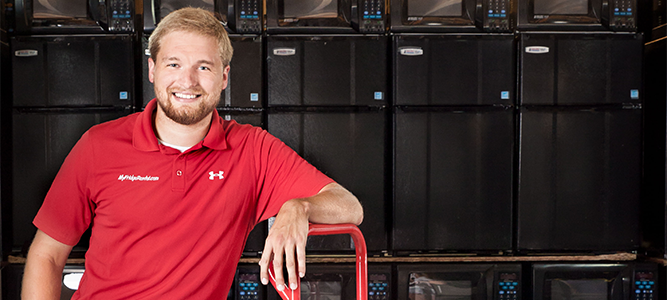 Entrepreneur Adam VanWagner '11 did not invent the refrigerator. He did not invent the rental business. He wasn't even the first to combine the two. But he and his twin brother, Eric VanWagner '11, recognized an opportunity to provide a service in an underserved market as University of Maryland sophomores. With guidance from Maryland Smith's Dingman Center for Entrepreneurship, they launched MyFridgeRental.com. The company, winner of the 2011 Cupid's Cup business competition, provides dorm-size refrigerators to college students across the Mid-Atlantic region. "An entrepreneur is someone who observes a problem, translates that as an opportunity to create something better, and then takes action," Adam VanWagner says. "In the face of adversity, entrepreneurs stay optimistic, proactive and excited." While his brother continues full-time with the MyFridgeRental.com, Adam VanWagner has explored other pursuits. He began a corporate career at Amazon Fulfillment, worked for two years at the Dingman Center, earned a Master of Technology Entrepreneurship from the Mtech program in the A. James Clark School of Engineering, and then returned to Amazon in web services. Along the way, he has stayed active as a Maryland donor with gifts to the Dingman Center and other campus causes. "The University of Maryland and the Smith School were significant stepping stones on my journey to where I am today," he says. "Entrepreneurs need stepping stones, and I enjoy providing that support for future Terps."
Entrepreneurs need stepping stones.
William Longbrake, DBA '76
Educator, philanthropist and retired bank executive William Longbrake, DBA '76, has come full circle at Maryland Smith. During his doctoral program in the early 1970s, he taught finance and introductory business courses to undergraduate students. Then, after a  full career that included senior leadership positions in banking and public policy, he returned to Smith as a student advisor and Executive-in-Residence. He also donates financially and serves on the school's Board of Advisors. "In retirement, you can go back to where you started," Longbrake says. "This is where it all began." As a teacher, Longbrake draws upon more than 25 years of experience at Washington Mutual, where he helped build the company from a $2.5 billion mutual savings bank in Washington state to the sixth-largest depository institution in the nation. Longbrake also held senior bank regulatory positions at the Federal Deposit Insurance Corporation (FDIC) and Office of the Comptroller of the Currency. He credits Maryland Smith for much of that success. "You are graduating from one of the world's leading business schools," he told graduates during a commencement keynote address in winter 2004. "The Smith School has prepared you well to face whatever challenges await you."
This is where it all began.
Jitin "Miki" Ahuja '97, MBA '02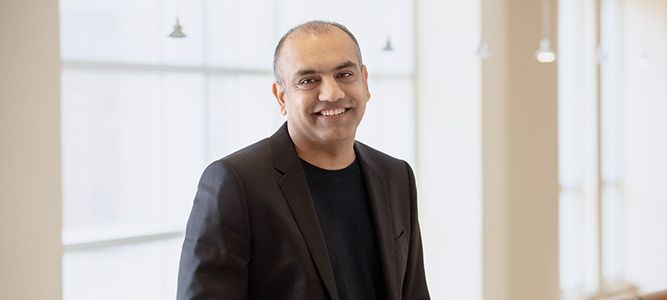 Entrepreneur Jitin "Miki" Ahuja '97, MBA '02, calls himself a late bloomer. He grew up in Bowie near the University of Maryland and stayed in his comfort zone during his freshman year. Then the campus ecosystem pulled him in. He joined a business fraternity and several clubs, played intramural sports and made lifelong friends while earning three undergraduate degrees. Following management consulting work at PwC, he returned to Maryland for two graduate degrees, making him a quintuple Terp. "I had one personality coming into Maryland and a different personality coming out — for the better," he says. The transformation included a new appreciation for taking risks and making mistakes. "More importantly, if you become successful without first experiencing failure, then it also makes it difficult to handle success the right way," he says. "So make as many mistakes as you want. Just make sure you blame yourself and not others." The philosophy has guided Ahuja through the launch of several ventures, with the most recent being an online marketing company called SpaceJet Media. Needless to say, the failures or lessons from prior ventures served as stepping stone to success. Ahuja, who relied on need-based grants as a student, now gives back with financial assistance for business majors from Prince George's County. "Maryland helped me become who I am," he says. "That's why I give."
Maryland Helped Me Become Who I Am.
Your Investment will make it possible for Maryland Smith