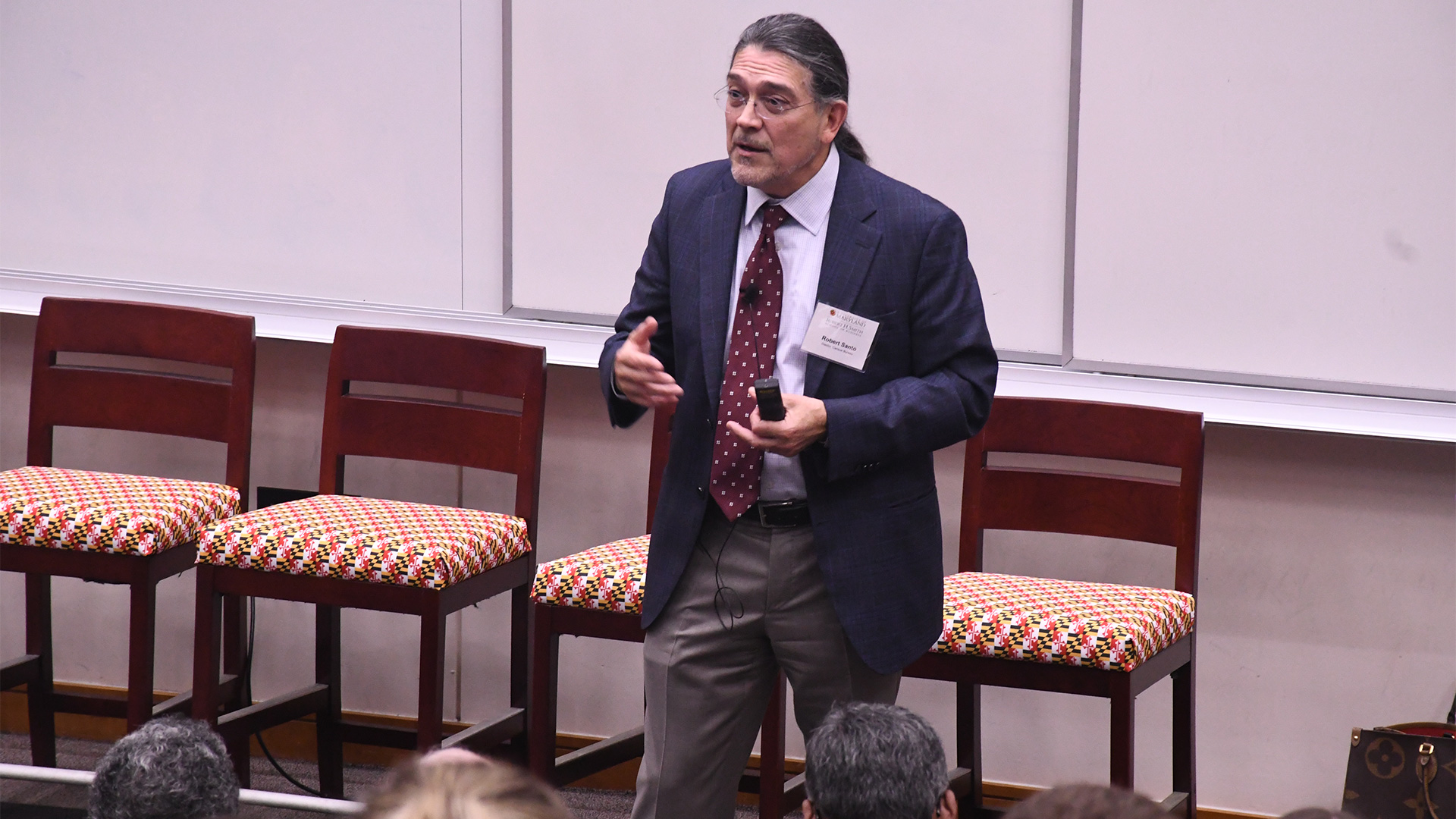 There are two things that U.S. Census Bureau Director Robert Santos says have always been most important to him – statistics and helping others.
On Monday, Nov. 8, 2022, Santos talked about becoming the first person of color to receive Senate confirmation to lead the federal government's largest statistical agency. He also discussed the transformation that survey methodology must undergo to meet the demands of an ever-changing world. Santos was the keynote speaker at the 'Equity through Numbers' event hosted by the University of Maryland's Robert H. Smith School of Business and the Asian American Studies Program.
The event was organized by Maryland Smith's Zeinab Karake, Associate Dean for Culture and Community, who provided the evening's opening remarks and was followed by UMD Vice President for Diversity and Inclusion, Dr. Georgina Dodge, who introduced Santos. Also in attendance were Maryland Smith's Dean Prabhudev Konana, Senior Associate Dean for Faculty, David Godes, and Michael Ball, professor emeritus, as well as UMD Vice President for Research, Greg Ball, and College of Behavioral and Social Sciences Dean Susan Rivera.
The event was additionally supported by the Juanita Tamayo Lott Endowment in Asian American Studies; U.S. Latino/a/x Studies; Federal Fellows Programs at UMD; the Justice, Equity, Diversity and Inclusion Outreach Group of the American Statistical Association; and the Office of Diversity and Inclusion (ODI).
During his address, Santos offered his insights about the pivotal role data plays in creating accurate political representation and equitable federal funding. He prefaced it with the notion that American society evolved from a fundamentally white-privileged culture that was skewed in part by how people were initially counted by the Census.
"It was the measure of how slaves were counted. Rural areas didn't have the population to justify having more representation in government, but what they did have was what they considered property – slaves," said Santos. "The bottom line was that people weren't counted as human beings, they were counted as less than that."
He also detailed his struggle to enact change within the statistical research community dating back to the 90s. The reality, he said, was that survey methodology had ensured that the most vulnerable populations were being measured the least accurately. It was an idea that his industry peers pushed back against, but one that he was determined to prove especially given his upbringing as a second-generation Mexican-American.
"That was the message that I wanted to communicate, that we need to think more broadly. Essentially, I was professing a message of cultural relevance." Santos said, "we need to think from the perspective of the people that we want to measure, how they think about things and measure them accordingly."
In his current role at the U.S. Census Bureau, he is leading the way to address potential inequities stemming from outdated survey questions, methodology and analysis. As the leader of a federal statistical agency, his job is to capture information useful in telling us who we are as a country. That includes asking more questions on important characteristics like race and ethnicity, sexual orientation, gender identity, and the 'Gig Economy'. He feels getting that information is critical for the Census to remain culturally relevant.
"We are going through a process where we need to rethink the constructs, the way we ask questions and the methods that we use in order to realign with who we are now," said Santos. "We need to then have continuous improvements because society is changing really fast and what might be great questions today may not be great questions in 10 years."
Santos hopes future generations will take up the mantle of that work, but also stressed to students the importance of seeking out unique environments, perspectives and experiences for a more fulfilling life and career, regardless of the work they choose to do.
"Careers are what you make of them and life experiences make us who we are as human beings and professionals. If you manage those a certain way, you can end up on a career path that allows you to reach what I call career nirvana."
Media Contact
Greg Muraski
Media Relations Manager
301-405-5283  
301-892-0973 Mobile
gmuraski@umd.edu 
About the University of Maryland's Robert H. Smith School of Business
The Robert H. Smith School of Business is an internationally recognized leader in management education and research. One of 12 colleges and schools at the University of Maryland, College Park, the Smith School offers undergraduate, full-time and flex MBA, executive MBA, online MBA, business master's, PhD and executive education programs, as well as outreach services to the corporate community. The school offers its degree, custom and certification programs in learning locations in North America and Asia.