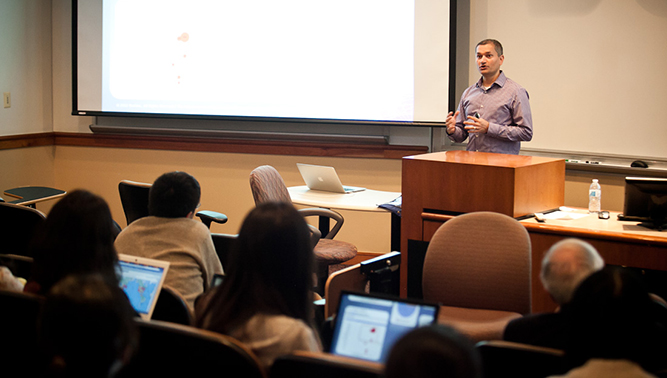 The University of Maryland's Robert H. Smith School of Business recently joined with Resilinc Corporation., a leading provider of supply chain resiliency solutions, to strengthen its MS in Supply Chain Management program.
While Smith integrates its new partner's cloud-based supply chain risk management software, Resilinc SupplyIntel, the company's chief technology officer, Sumit Vakil, has joined the Supply Chain Management Center as a senior research fellow.
Vakil visited Smith on April 3 in his teaching and advisory role. He joined Professor Sandor Boyson, co-director of the Supply Chain Management Center, for the following Q&A:
Why did Resilinc get involved with Smith?
Vakil:  Smith has a tremendous reputation – particularly in supply chain.  There's a great amount of expertise in supply chain risk here, and we saw an opportunity for Resilinc to learn.  The team here has done a remarkable job to integrate Resilinc into the classroom. There's great content and hands on exercises and the ability to learn supply chain risk in a practical way.  Long term, we anticipate recruiting new talent for the company here at Smith.
What impressed you from your interaction with Smith students?
Vakil:  I found their grasp of how risk scores are calculated in our software as particularly insightful on their part, and interesting to me. Among the many aspects of risk in the supply chain, risk-scoring for a particular supplier, site or part is significant because it helps to pinpoint where the risk originates or what the type of vulnerability is. Risk analytics, more broadly, is increasingly vital for adaptability and addressing challenges in today's complex global marketplace.
How did Smith connect with Resilinc?
Boyson:  When [supply chain faculty] Tom [Corsi], Lisa [Harrington] and I were writing X-SCM: The New Science of X-treme Supply Chain Management, we were looking at a case study of Cisco – the best company at the time in managing supply chain risk.  John O'Connor headed Cisco's supply chain risk team and helped us write the case.  When Resilinc started, its principals came from O'Connor's group, so we were well aware of the company.  When Chainlink Research did an analysis of the supply chain risk software market and ranked Resilinc as the best in management and modelling, we knew we wanted to collaborate.
How has the Reslinc-Smith partnership evolved?
Boyson: Holly Mann, the director of Smith IT, was instrumental in helping set up the initial arrangements with Resilinc and with securing additional student licenses as a contribution from Salesforce.com, the cloud platform upon which Resilinc sits. Martin Dresner, our department chair, also strongly supported and resourced our partnership. My colleague Holly Zhang and I have been spending the past few months learning the Resilinc software.  Together, we drew up a user manual and a set of exercises for students.  Tom [Corsi] and our GA, Nikki, have helped us to make it "student ready" and Sumit has collaborated with us to integrate real business problems into the students' learning.  The first class to use Resilinc was from the part-time MBA program, and the 30 students responded well.  Since then, 93 MS students are being taught in the software. Smith is now the only university to incorporate Resilinc in its curriculum. 
What are some key insights and values Resilinc will be sharing with Smith and its Students?
Vakil:  Risk is everywhere, so it's a matter of knowing what to do with it and what steps to take to identify it, quantify it and take steps reduce it in a prioritized manner.  For Resilinc, it's all about resiliency, financial management, and incorporating various elements of risk in decision making process within the supply chain function.  We are showing students how to quantify the biggest failure points in the supply chain by expressing them in terms of revenue impact and further classifying them in terms of risk scores.  Students will learn that it is not possible to proactively mitigate everything, but rather how to establish a journey to become more resilient by focusing on the biggest risks first and executing a mitigation strategy for those critical risk areas.  Ultimately we hope students will take away from this that risk management is an ongoing effort and not a limited time project. 
Additionally, we're looking to incorporate new elements of risk into the software, such as new modules to help address regulatory risk and brand risk.  For example, many companies are grappling with the risk of their products being dependent on "Conflict minerals" a term which refers to certain identified minerals sourced from conflict areas of the world – such as Democratic Republic of Congo.  In addition, our corporate social responsibility module enables students to learn how to identify suppliers who follow improper labor, ethics, environmental or sustainable practices which may result in a brand impact if exposed.
Our long-term vision is to be the company that can service every concern having to do with supply chain risk.
Andrew Kneale, MBA Candidate 2015, Office of Marketing Communications
Media Contact
Greg Muraski
Media Relations Manager
301-405-5283  
301-892-0973 Mobile
gmuraski@umd.edu 
About the University of Maryland's Robert H. Smith School of Business
The Robert H. Smith School of Business is an internationally recognized leader in management education and research. One of 12 colleges and schools at the University of Maryland, College Park, the Smith School offers undergraduate, full-time and part-time MBA, executive MBA, online MBA, specialty master's, PhD and executive education programs, as well as outreach services to the corporate community. The school offers its degree, custom and certification programs in learning locations in North America and Asia.