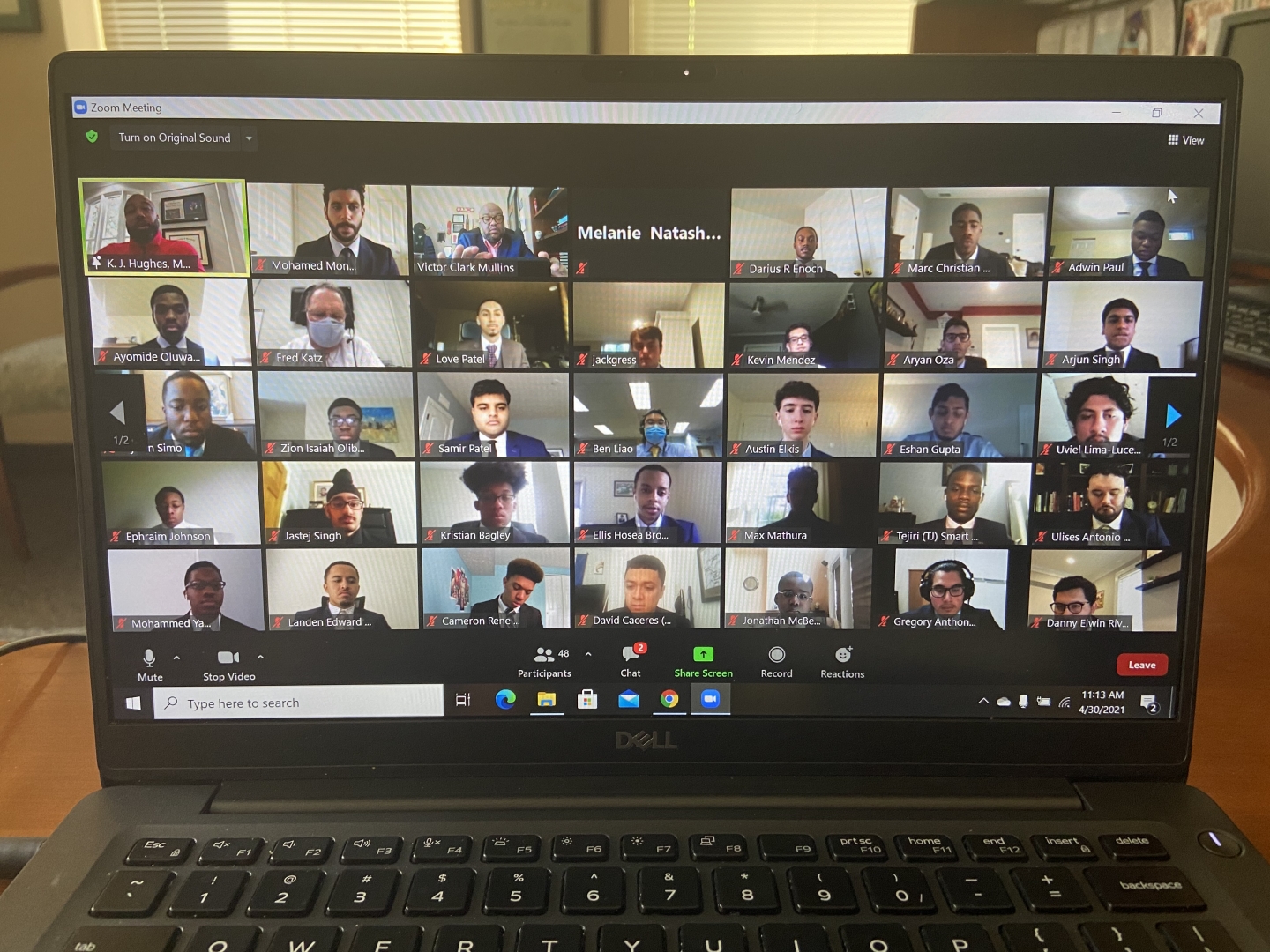 Mentoring Event Reinforces Maryland Smith Enrollment-Retention Initiative Targeting Racially Minoritized Students
More than 60 Black and Latinx male high school students along with Maryland Smith student leaders and alumni, plus other accomplished professionals, engaged together recently in a virtual mentoring event focused on leadership development and empowerment.
The student-run Smith Business Academy at the University of Maryland's Robert H. Smith School of Business hosted the April 30, 2021 Men of a Distinction Summit. COVID restrictions caused a virtual iteration of this event. However Associate Dean for Undergraduate Studies Victor Mullins says the messaging to mentees was clear, and the program, more broadly, reinforced the academy as an effective community network cultivating personal connections and supporting Maryland Smith's Diversity and Inclusion Committee and its robust slate of events to increase enrollment and retention of underrepresented college students, especially business majors.
Toward that mission, Mullins described to this year's summit participants the significance of creating and managing a personal brand. "Take the necessary steps to be who you say you are and shape what others say about you," he said. "Creating and managing your personal brand is an ongoing process and should be consistently reevaluated and critiqued…How long do you dwell on a setback? Not long. Only a 'blink' and then move forward. Failures are lessons."
Separately, in an opening "Envision the CEO in You" presentation, Relentless Management Group Founder and Maryland Smith graduate KJ Hughes (Management '14 and EMBA '20) emphasized self-discipline as a key to a "constant quest to be better than yesterday" and that "success is not an overnight thing." The students processed this insight with awareness of Hughes leading an accounting and business advisory firm that manages portfolios of high net individuals in the NBA, NHL, MLB and NFL.
Hispanic Heritage Foundation CEO Antonio Tijierino expanded the conversation through a "Celebrating Your Distinction" presentation. "Embrace your background and communities no matter who you are," he told the students. "Be confident and prideful." He spoke to overcoming subjected obstacles in Black and Hispanic communities for scholarly success. He also discussed pitfalls of anti-Blackness in the Hispanic community.
Alumni Wisdom
In addition to Hughes the summit participants received insights from Maryland Smith graduates through a 'Navigating Spaces to be a Great Leader' panel discussion delivered by Chris Grant, '13, investment management for Blueprint Local; Chineme Obiefune, '18, Pinterest senior associate; Jaime Atilano, '20, PepsiCo supply chain associate; Jaelin Cook, '18, Deloitte senior consultant; and Malik Sulieman, '18, creative director/partner at Sunday School Creative.
Wisdom pieces from the discussion included:
"Being the first or the 'only one' (person of color) in a space is not enough. Remember to make space for those who come after you."
"Be great but be grateful. We can all be great but be sure to spend more time reflecting so you can recognize everything you've accomplished even during those rough moments in your life."
"Be patient with yourself because accomplishments don't happen overnight. You should work towards the process itself rather than just the end goal."
Mentee participation in the Men of Distinction Summit extended to UMD and Montgomery College students and those representing these D.C. and Maryland high schools:
Albert Einstein High School
Arundel High School
Bladensburg High
James Hubert Blake High School
College Park Academy
DeMatha Catholic
Flint Hill
Grace Brethren Christian School
High Point High School
John F. Kennedy High School
Lakeland High School
Meadowbrook High School
Our Lady of Good Counsel
Oxon Hill High School
Paint Branch High School
River Hill High School
School Without Walls
Schreiber High School
Stony Point High School
Woodrow Wilson High School
Mullins says the summit provided participants with a new perspective that could propel them to an academic experience with meaningfulness like that of Mohamed Moneib, a Maryland Smith junior majoring in finance & information systems, who helped organize the event as Smith Business Academy President.
Moneib: "We do this (summit) with a very intentional purpose, it is our mission to embolden members in our communities to challenge themselves and make it a priority to stand out in a positive way from their peers."
Feedback from academy members who participated in the summit expands on Moneib's words:
Tejiri Ofugara, sophomore, Accounting and Finance: "One thing I took away from the conference was the concept of being patient and planting seeds. By simply networking, I could unknowingly create future opportunities."
Adwin Paul, sophomore, Operations Management & Data Analytics and Marketing: "The most impactful thing I took away from the summit was the importance of networking, and how building your brand will take your networking to new heights."
Marc Marshall, sophomore, Information Systems and Operations Management & Data Analytics: "One thing I took away from the conference was the importance of being confident in your present abilities. Too many times, we look towards the future and use it as a crutch to not take any type of action towards achieving those future goals right now. It is never too early to start, and it is important to not minimize our own current achievements."
Darius Enoch, senior, Accounting and Technology Entrepreneurship minor: "I took a lot from the conference. One of the best takeaways was when KJ Hughes emphasized that men of distinction should be paying it forward every chance they get. It is easy to wake up every day and be 'good.' It takes strong effort to wake up and be 'great.' Once he said this, it made me take a step back and analyze myself. In what ways have I been paying it forward with no intention on receiving anything back? I sat down and reflected on this and now have a new perspective on how I should be helping others every chance I get without expecting anything in return. KJ also mentioned how planting seeds is very important. The seeds I continue to plant may not grow when I want them to, but they'll for sure grow whenever they need to."
David Caceres, junior, Marketing & Information Systems: "My biggest takeaway was learning how to build your presence in a room as an underrepresented minority. It's simpler than you think. Building relationships and leveraging meaningful connections are one of the biggest core functions to being a leader."
Beyond the summit, Moneib says the academy has spurred a transformational Maryland Smith experience of his own. Emigrating from Egypt with English as his second language, Moneib says he felt conscious of standing out in terms of his skin color, "non-American name" and accent. "I often felt that it was necessary to blend in, become less noticeable," he says. "It was not until I joined the Smith School of Business and the Smith Business Academy, that my entire perspective changed."
Significantly, he says he realized his differences as strengths instead weaknesses. "At first, I was just happy to finally feel comfortable in my own skin. However, the academy pushed me to not just accept my identity, but to embrace and leverage it," he says. "I honed in my skills, celebrated my identity, and what used to be 'different' about me became what made me 'distinct.'"
Media Contact
Greg Muraski
Media Relations Manager
301-405-5283  
301-892-0973 Mobile
gmuraski@umd.edu 
About the University of Maryland's Robert H. Smith School of Business
The Robert H. Smith School of Business is an internationally recognized leader in management education and research. One of 12 colleges and schools at the University of Maryland, College Park, the Smith School offers undergraduate, full-time and part-time MBA, executive MBA, online MBA, specialty master's, PhD and executive education programs, as well as outreach services to the corporate community. The school offers its degree, custom and certification programs in learning locations in North America and Asia.