Located at the intersection of government, corporate and technological power, students at the University of Maryland's Robert H. Smith School of Business have a unique opportunity to help transform all three.
And students in Maryland Smith's MBA and Technology Management Graduate Programs are making the most of that opportunity thanks to a unique partnership with the Federal Lab Consortium through its Federal Labs Academic Accelerator (FLEX) program.
The capstone consulting experience, launched in 2022, leverages business higher education as a bridge between federal laboratories and entrepreneurs by conducting market assessments for commercializing and marketing emerging federally invented technologies.
It represents one of the latest examples of Maryland Smith's strategic imperative to incorporate cutting-edge, experiential studies in technology leadership and connect MBA candidates to real-world challenges. The MBA and Technology Management curriculum prepares them for their capstone through custom courses, including several co-designed and co-instructed with faculty from Maryland Smith, the Clark School of Engineering and the School of Public Policy. Students are also paired with on-campus and off-campus experts relevant to their project's technologies to amplify learning and impact.
"We see it as a new way to serve our region's unique market and government needs for technology managers. But it's also a platform for us to build out partnerships—public and private—to share with other universities and other schools within UMD in the technology business arena," says Frank Goertner, director of the Technology Management Graduate Program at Maryland Smith.
Before starting the capstone project, Maryland Smith MBA students received a list of Federal Labs project proposals and ranked the ones they were most interested in consulting on. In their final semester, they are grouped into teams of four to five students based as closely as possible on their rankings.
This past semester, Manuel Salgado, FTMBA '23, and his team worked closely with U.S. Army Medical Research and Development Command (USAMRDC) on one of its early-stage products, SeptiBurnAlert, detecting which burn patients are more likely to develop Sepsis, to create a value proposition and identify commercial partners for USAMRDC.
With aspirations of entering the healthcare marketing industry, Salgado says he appreciated the experience as it enabled him to interact directly with healthcare professionals and understand their perspectives, among other benefits.
"This project gave me the opportunity to understand the world from their point of view, and the most valuable lesson for me was that having FDA approval for a product means very little to doctors," says Salgado. "You still need to come up with a proper value proposition that highlights to them how your product will change the standard of care and improve patient outcomes."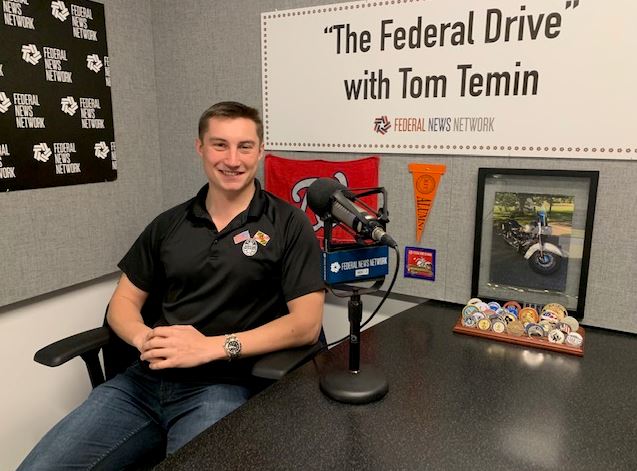 Jared Bogdan, FTMBA '23, and his team had a similarly impactful experience working with NRO Labs and CIA Labs on performing market and technology maturity assessments on various sensors contributing to the NRO's space reconnaissance mission. Their recommendations, he says, determined which sensor type yielded the greatest return on investment.
Bogdan recommends participating in the program and joining a Federal Labs project to all MBA candidates, especially those interested in learning about government organizations, their missions and how public and private partnerships play a crucial role in government operations.
"Our team agreed on how valuable an experience it was to address a challenge that could have been interpreted in numerous ways, as these will be the types of problems we will solve post-MBA," says Bogdan. "Beyond what we learned from this experience, we were excited to have an opportunity to partner with the NRO Labs team and provide them with actionable recommendations that may contribute to their future operations."
As one of the FLEX program sponsors and the chief innovation officer of the Frederick National Laboratory for Cancer Research, Vladimir Popov was notably impressed with the commitment of the UMD teams, effective collaboration with their partners and acute attention to detail. Those factors are essential to growing the program moving forward, he says.
"I liked the passion of all the teams and how they approached each project. That's the first indicator of the program's success—they wanted to do this. I liked how in-depth they went into the research and how they could answer questions. You could tell they formed a strong relationship with the scientists," says Popov.
Media Contact
Greg Muraski
Media Relations Manager
301-405-5283  
301-892-0973 Mobile
gmuraski@umd.edu 
About the University of Maryland's Robert H. Smith School of Business
The Robert H. Smith School of Business is an internationally recognized leader in management education and research. One of 12 colleges and schools at the University of Maryland, College Park, the Smith School offers undergraduate, full-time and flex MBA, executive MBA, online MBA, business master's, PhD and executive education programs, as well as outreach services to the corporate community. The school offers its degree, custom and certification programs in learning locations in North America and Asia.