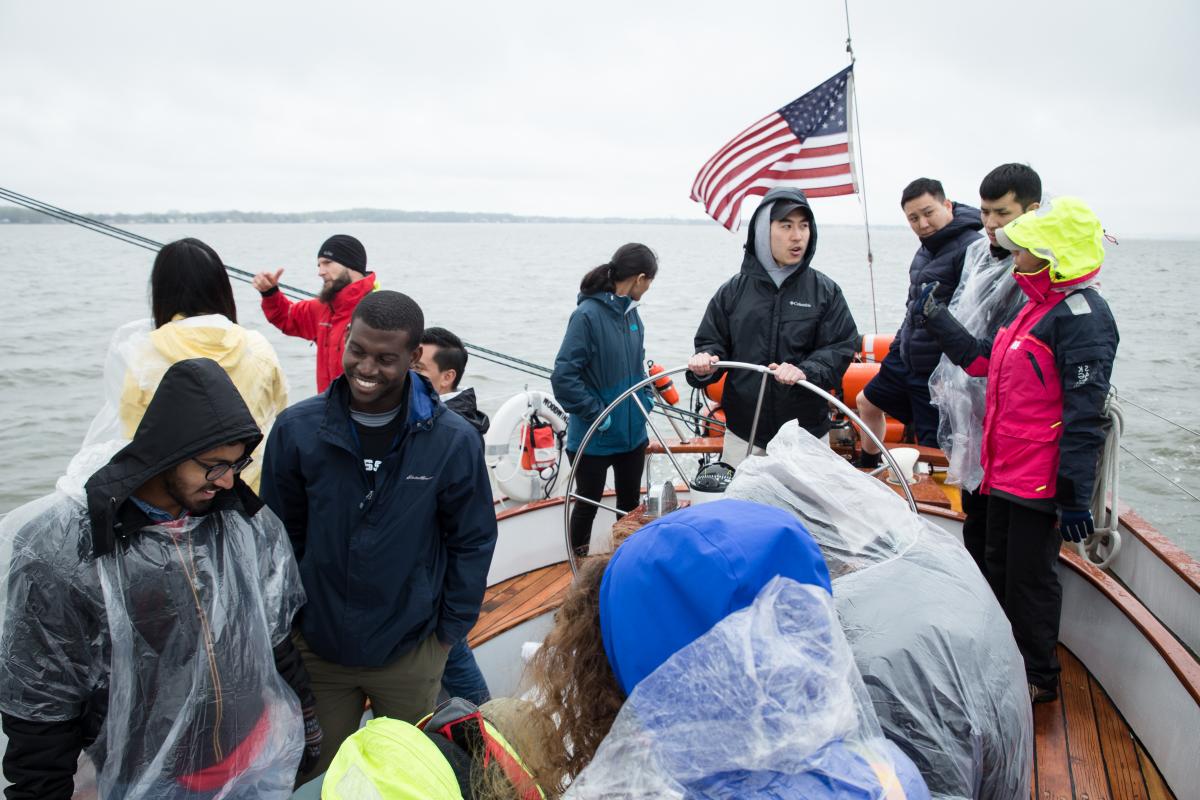 There's nothing like a yacht race on the Chesapeake Bay to learn leadership skills, says Neta Moye, clinical professor of management at the University of Maryland's Robert H. Smith School of Business. New MBA students can plan to set sail with Moye next spring to end their first year. But before they hit the water, students will begin their leadership lessons in the classroom in fall 2018.
All incoming MBA students take Moye's leadership course their first semester in the full-time program. "The core course is meant to give them some self-awareness and the core leadership skills that we think they need to be really great individual contributors," Moye says.
Then students can build on the leadership skills they learned through the Lead Fearlessly Program, an extracurricular experience Moye champions and heads up during the spring semester for first-year students. The goal is to prepare students for their summer internships.
"We want you to take a specific slice of one of those skills and work on it before you get to your internship," Moye says. "Like shining a diamond, it's like shining one facet of yourself, to help you really succeed."
The program fits into the larger leadership education path at Smith, Moye says.
"We're ultimately helping students develop the habits of being an experiential learner," she says, because leaders learn best through experiences.
"The best leaders are the best learners," Moye says. "They know how to squeeze the meaning from every single experience they have. They know how to not just have an experience, but learn from that experience."
That's why Moye has championed the Lead Fearlessly Program. Spring 2018 was the second year for the extracurricular program that had students sharpening their leadership skills through out-of-the-box experiences and small-group sessions with an executive coach.
The program had students chasing clues through the streets of Annapolis, a la "The Amazing Race," then surviving an arctic wilderness scenario in the woods on a very real cold January afternoon. The semester culminated with a yacht race in May 2018.
"We tweaked things a bit," Moye says. "We put a little more intentionality into it."
Even before the first activity, students broke into three-person teams — Moye calls them pods — that they worked with throughout the semester. In between the daylong adventures bookending the semester, the pods met for five group sessions with a professional executive coach.
Pod members shared their individual leadership development goals with each other, then held their teammates accountable to those goals throughout the immersion activities and the coaching sessions.
Moye has plans to extend the program into year two for the full-time MBA students, as they continue to learn and grow as leaders. She is hoping to add in a leadership experience at Gettysburg National Military Park in the spring semester during the students' second year.
Media Contact
Greg Muraski
Media Relations Manager
301-405-5283  
301-892-0973 Mobile
gmuraski@umd.edu 
About the University of Maryland's Robert H. Smith School of Business
The Robert H. Smith School of Business is an internationally recognized leader in management education and research. One of 12 colleges and schools at the University of Maryland, College Park, the Smith School offers undergraduate, full-time and flex MBA, executive MBA, online MBA, business master's, PhD and executive education programs, as well as outreach services to the corporate community. The school offers its degree, custom and certification programs in learning locations in North America and Asia.