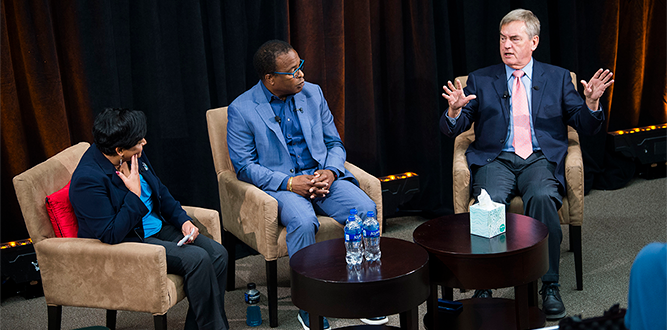 Companies claim to be all kinds of things on their websites. Only the best actually deliver, Great Place To Work executives said on Oct. 16, 2018, at the BB&T Colloquium on Capitalism, Ethics & Leadership in College Park, Md.
"In the not-so-great cultures, what's on the website is not experienced by the people in the company," Great Place To Work CEO Michael C. Bush said. "In the great cultures, what you see on the website is what people actually experience."
Great Place To Work co-owner Dan Whalen joined Bush on stage at the annual event, organized by the Ed Snider Center for Enterprise and Markets at the University of Maryland's Robert H. Smith School of Business.
Great Place To Work, founded in 1992, surveys 5 million employees at 6,000 companies in 58 countries per year. "We know about great cultures," Bush said. "We know even more about not great cultures."
Because people are different, the best corporate culture depends on individual preferences. "There's a match that needs to occur," Bush said. "The best match for anyone in this room is one where you can be yourself — where you don't have to pretend to be something else. Sooner or later, you're going to get tired of wearing that mask, and it's going to show up in your performance."
Bush said many job seekers do not realize what they really want when they start mailing applications. "You're really not looking for a company," he said. "You're really not looking for a job. You're looking to be developed. This is what the research tells us. People think they're looking for one thing, but they're really looking to be developed and challenged and to get feedback. So you're really looking for a leader."
The same principle works in reverse. "People quit the leader," Bush said. "They don't quit the company."
So how can applicants know if a career opportunity passes the website test? Bush offered three suggestions.
1. Trust the crowd. Applicants can go to crowdsourced websites like Glassdoor.com, where employees share inside glimpses into the places where they work. "People do post real experiences," Bush said.
2. Check the hardware. Awards from third-party evaluators provide additional clues. "You can look and see what kind of recognition the company has gotten, which is readily available," Bush said. One source in the United States is the annual Fortune 100 Best Companies To Work For list produced by Great Place To Work.
3. Ask a friend. "The best method of all is to talk to somebody who works there, and actually see what it's like to work there," Bush said.
Maryland Smith professor Rajshree Agarwal, director of the school's Ed Snider Center for Enterprise and Markets and the Rudolph P. Lamone Chair and Professor in Entrepreneurship, moderated the discussion. The annual colloquium is supported by a $1.5 million gift from BB&T in 2010.
Media Contact
Greg Muraski
Media Relations Manager
301-405-5283  
301-892-0973 Mobile
gmuraski@umd.edu 
About the University of Maryland's Robert H. Smith School of Business
The Robert H. Smith School of Business is an internationally recognized leader in management education and research. One of 12 colleges and schools at the University of Maryland, College Park, the Smith School offers undergraduate, full-time and part-time MBA, executive MBA, online MBA, specialty master's, PhD and executive education programs, as well as outreach services to the corporate community. The school offers its degree, custom and certification programs in learning locations in North America and Asia.