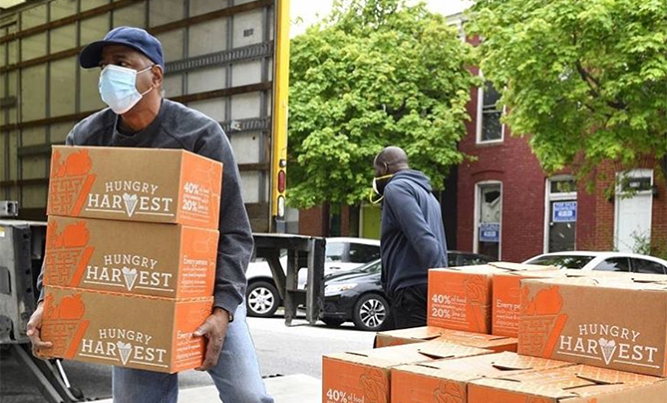 Even amid a global pandemic, Evan Lutz's business is booming. The 2014 Maryland Smith grad's Baltimore-based Hungry Harvest delivers produce that would have been wasted to customers' homes – a service that's more attractive than ever with stay-at-home orders in place.
Hungry Harvest has seen demand expand so much that the company has been adding employees and temporarily was forced to stop taking on new customers to focus on existing ones. Meanwhile, Lutz has continued to ramp up the other half of his company's mission: fighting hunger. Hunger, too, has seen a surge.
Hungry Harvest has more than doubled its charitable giving since COVID-19 took hold in the region, and has been distributing as much as 5,000 pounds of free produce a week to those who need it most. The company has also partnered with community organizations, pivoting an existing program to offer a new Emergency Food Box at very low cost to partners that distribute them to people in need. 
"We're in a lucky position where we have food and we have the operational capabilities to put these boxes together," says Lutz. "It's been wonderful to see this community of people that we typically work with come together and rally around the cause to get people food."
Hungry Harvest is working with Johns Hopkins University to provide thousands of the emergency food boxes for the East Baltimore COVID-19 Food Access Initiative. The 16-week program provides emergency food to 6,000 people, with priority given to those at higher risk for COVID-19 complications. Lutz's company joined Beyond Meat and Baltimore's H&S Bakery to distribute plant-based burgers, buns and other food to local families and senior centers in the Baltimore area. The company is also partnering with the University of Maryland Medical System, community organization 4MyCity, and efforts spearheaded by Baltimore's Hotel Revival, among others, to provide hundreds of boxes to families and service industry workers.
Lutz himself has made the rounds to drop off cases of apples, bananas, oranges and other produce to people directly impacted by COVID-19. He dropped off about 300 pounds of the snacking fruit for 140 nurses and staff at Washington Hospital Center, and another 300 pounds of fruit to Hotel Revival.
"It's always been our mission to fight waste and hunger," says Lutz. "Before this crisis, there were 20 billion pounds of produce going to waste and nearly 50 million Americans who were food insecure and didn't have access to produce. Our vision was never to be short-sighted and to be just selling our boxes of produce. It was always to create a more holistic and more efficient food system, selling produce to those that can afford it, giving produce away to those who need it most, and having an in-between option of subsidizing produce at a low cost for those who maybe have some income but live in areas where they can't access produce. It's evolved in the 'how' and 'how much,' but it's always been something we've been motivated by."
Lutz calls himself a "Terp for life" and returns to campus often to speak to Maryland Smith students about how he started Hungry Harvest. He was a senior studying marketing when he started selling surplus fruits and vegetables to fellow college students outside the University of Maryland's student union. The endeavor spun out of another UMD social enterprise, Food Recovery Network, that delivered unused dining hall food to people in need.
After 10 weeks, Lutz's Food Recovery CSA project had 500 weekly paying customers – proof he needed to launch a full-fledged startup after graduating in May 2014. In 2015, he secured an investment from Robert Herjavec on ABC's "Shark Tank" television show, and he's been growing the business ever since. In March, Hungry Harvest raised $7.25 million in investments to improve technology, marketing and operations over the next few years.
For now, Lutz says he's focusing on fulfilling orders as fast as possible and keeping his 80-plus employees safe. The company has put a lot of protective measures in place in the Jessup, Md., warehouse and for the firm's independent delivery drivers. It has had to push to ramp up in five weeks what the company had been planning to do in the next eight or nine months, he says. The first week Hungry Harvest saw a spike in demand, Lutz and a few employees pulled three all-nighters, packing 3,000-4,000 extra boxes to fill orders. They hustled to add a night shift within a week. Now, the company is running shifts 24-hours a day, five days a week.
And it's not just a flood of orders. With so many foodservice channels shut down, Lutz says, there is a glut of produce available from suppliers – "more than we can even keep up with."
"Honestly, the biggest challenge we have right now is hiring," says Lutz. "We can't hire fast enough. We have more than 30 positions open in our warehouse and we're trying to recruit as quickly as possible."
Lutz hopes to open Hungry Harvest to new customers in the coming weeks. In the meantime, his team will continue to prioritize keeping existing customers happy and working with partners to get food to people in need.
Media Contact
Greg Muraski
Media Relations Manager
301-405-5283  
301-892-0973 Mobile
gmuraski@umd.edu 
About the University of Maryland's Robert H. Smith School of Business
The Robert H. Smith School of Business is an internationally recognized leader in management education and research. One of 12 colleges and schools at the University of Maryland, College Park, the Smith School offers undergraduate, full-time and flex MBA, executive MBA, online MBA, business master's, PhD and executive education programs, as well as outreach services to the corporate community. The school offers its degree, custom and certification programs in learning locations in North America and Asia.