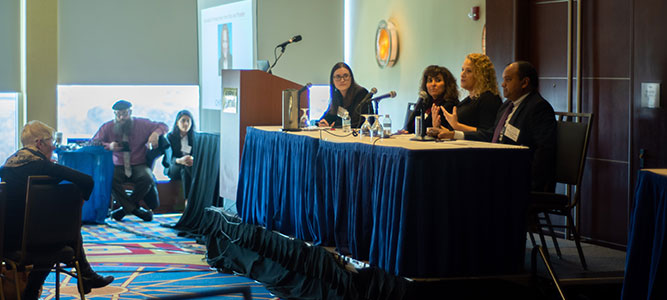 Analytics guru Pamela Peele and a Maryland Smith graduate helping transform a pharmacy supply chain to a full-fledged healthcare provider were among several presenters who shared insights with researchers, industry leaders and policymakers at the Conference on Health IT & Analytics (CHITA), hosted Nov. 15-16, 2019 in metro D.C., by the Center for Health Information and Decision Systems (CHIDS) at the University of Maryland's Robert H. Smith School of Business.
"Hats off to all of you in the research trenches because your contributions to advance healthcare are helping all of us move the conversation forward in terms of value-based care, reducing costs and improving the outcomes for patients." said CVS Health Digital Advisor Athena Abbott (MBA '91), reflecting CHITA's ethos in its 10th year.
"Opportunities for innovation in healthcare are huge — because the problems are so big," she said. "It's a matter of targeting and attacking… For example, [through CVS Health] we're attacking chronic kidney disease. We're testing a device to advance in-home dialysis which will improve feasibility for more frequent and longer treatments and lead to better patient outcomes."
Abbott, who focused her studies at Maryland Smith on strategy and marketing, also serves as a digital health start-up mentor for Healthbox. At CVS Health, she has helped lead product and process innovation projects across several divisions. The pace of change has accelerated since its 2014 rebrand as a healthcare company, from its expansion beyond pharmacy and retail, to operating its own Digital Innovation Lab, to the recent unveiling of HealthHUB "concept stores" following a $70 billion merger with Aetna. The evolution, Abbott said, represents a "continuing effort to move healthcare to the least costly channel where it can be delivered safely and effectively."
"Innovation is great, but just one piece of the puzzle. In the real world, the simple things in healthcare are hard, like price transparency for consumers," Abbott said. "The Aetna deal," she added, "is an investment toward solving the puzzle – that we can transform the consumer's experience by pulling together the insurance piece and the pharmaceutical piece to give us a richer data set and more insights on ways we can combine and form new innovative solutions."
This includes leveraging CVS MinuteClinics for chronic disease management, preventive services such as immunizations, and low-acuity conditions like colds. It also extends to "more fully utilizing our pharmacists, who are licensed to do much more than count Lipitor pills," Abbott said. "They can interact and consult more with patients and consumers toward preventing otherwise unnecessary ER visits." 
Thinking with Data
The health insurance realm, including "finding clinically meaningful patient risk adjustment" was a focus of the "Thinking with Data" keynote by Pamela Peele, chief analytics officer at the University of Pittsburgh Medical Center Health Center and UPMC Enterprises. For predictive modeling in this area, she described a systematic approach based on honing in on local data (instead of applying standard formulas based on national averages) supporting the 125 hospitals in the UPMC system.
"We model on a lot of different kinds of data," Peele said. "We model on household data, we use everything we can lay our hands on. And making sure the data is local is important, since broader databases often include profiles for the kind of consumers that don't exist within every system's community."
The approach has led to identifying hotspots for the likes of lead poisoning and certain cancers and chronic diseases. "It's been useful for plotting treatment centers and dictating providers to ratchet up certain types of preventive outreach in specific areas." Peele said. "Sorting people for risk adjustment is hard but we've made inroads." She noted a five year process for her analytics team to develop a model to cut into hospital readmission rates in response to Medicare discontinuing reimbursements for certain types of readmission.
Peele's team initially developed a score predicting every patient's likelihood of readmission and targeted follow-up care to patients in the highest risk brackets. But this, she said, failed to move the needle.   
Her team deduced that highest-risk patients also are those with the most serious health problems. Thus intervention wouldn't keep them out of the hospital.  Peele and her analysts subsequently found it effective to target individuals with moderately high risk and further linked follow-up visits to outpatient facilities within five days of hospital discharge.  A "meaningful reduction" in readmissions followed, as UPMC adjusted bonus structures to incentive physicians to sooner schedule follow-up appointments.
Peele's overriding message – "the key to big data is that we need to serve up 'what people need,' instead of 'all that we can serve up'"-- emanated through Abbott and other, ensuing  CHITA featured presenters, including NIH Associate Director for Data Science Susan K. Gregurick and Philip Resnik from the University of Maryland's Department of Linguistics and Institute for Advanced Computer Studies.
There also was MedStar Health Research Institute Director Nawar Shara (also director of the Biostatistics, Epidemiology and Research Design Program at the Georgetown-Howard Universities Clinical and Translational Science Center) describing conducting research that physiologically tracked physicians for signs of burnout and monitored heart patients with voice activated interaction.
In a "Conversational AI" discussion led by CHIDS deputy director Kenyon Crowley, Textpert founder and CEO Ray Christian introduced and described AiME (Artificial Intelligence Mental Evaluation) as a service that can assess the risk of depression, anxiety and addiction by asking its subject evocative questions and analyzing facial expressions and voice inflection.
Executive Healthcare Architect Prithvi Rao with IBM's Federal CTO Strategy Office discussed the IBM Watson Assistant for Health Benefits for countering time and cost inefficiency in insurance-provider call centers. And, Optum Senior Vice President Sanji Fernando, described innovations through UnitedHealth Group's in-house pharmacy-benefit manager unit.
Rounding out CHITA 2019: research panels and awards presentations, plus a doctoral student consortium preceding the main gathering.
Awards were presented to Kate Bundorf, Maria Polyakova and Ming Tai-Seale for "How do Humans Interact with Algorithms? Experimental Evidence from Health Insurance" (Best Paper); Nakyung Kyung and Sanghee Lim for "How Information Technology Can Help in the Fight Against an Opioid Epidemic: An Empirical Analysis of the Effect of E-Prescribing on Opioid Overdoses" and Jiayi Liu and Anandhi Bharadwaj for "Drug Abuse and the Internet: Evidence from Craigslist;" (Best Student-Authored Paper co-recipients); and Sezgin Ayabakan (Best Young Researcher). 
This year's conference, again, delivered in illustrating the unprecedented opportunities to improve health outcomes and control costs that are being created through combining large amounts of digitized medical data with state-of-the-art machine intelligence methods, said CHITA Chair Ritu Agarwal, CHIDS founding director, Robert H. Smith Dean's Chair of Information Systems and interim dean at the Smith School.
Reflecting on the event's 10th anniversary, Agarwal said, "This community has grown. I see lots of young faces… students who are becoming passionate about our opportunities to improve the cost, quality and efficiency and every other dimension of healthcare. Every year this community grows and evolves in incredible ways."
This event further "reinforces CHIDS' pioneering work at the intersection of AI, digital applications and healthcare," she added. 
CHIDS' mission involves working across the healthcare ecosystem to help companies and government partners research and develop AI and machine learning solutions that can enhance decision-making, improve outcomes and create value.
CHITA 2019 was produced in partnership with the University of Michigan's School of Public Health and is supported in part by the Agency for Healthcare Research and Quality. For more about this year's event, and its history, go to go.umd.edu/chita2019.
About CHIDS
The Center for Health Information & Decision Systems (CHIDS) is a center of excellence in the Robert H. Smith School of Business, University of Maryland at College Park.  CHIDS works in collaboration with industry, clinical and government partners to develop solutions to the challenges surrounding the design, adoption and integration of information technologies into the healthcare system.  The research at CHIDS seeks to understand how digital solutions and analytics can be more effectively deployed to address outcomes such as patient safety, healthcare quality, efficiency in healthcare delivery, and a reduction in health disparities.  CHIDS draws on the expertise of the Decision, Operations & Information Technologies Department (DO&IT) at the Smith School and the University of Maryland Schools of Engineering, Public Health, Medicine, and Pharmacy. DO&IT is acknowledged by several publications as a Top 5 performer in research production worldwide and the Information Systems group ranks in the top 10 worldwide in Business Week and U.S. News and World Report.  Since its inception in 2005, CHIDS has served as a focal point for thought leadership around the topic of digitally-enabled health system transformation.
Media Contact
Greg Muraski
Media Relations Manager
301-405-5283  
301-892-0973 Mobile
gmuraski@umd.edu 
About the University of Maryland's Robert H. Smith School of Business
The Robert H. Smith School of Business is an internationally recognized leader in management education and research. One of 12 colleges and schools at the University of Maryland, College Park, the Smith School offers undergraduate, full-time and part-time MBA, executive MBA, online MBA, specialty master's, PhD and executive education programs, as well as outreach services to the corporate community. The school offers its degree, custom and certification programs in learning locations in North America and Asia.