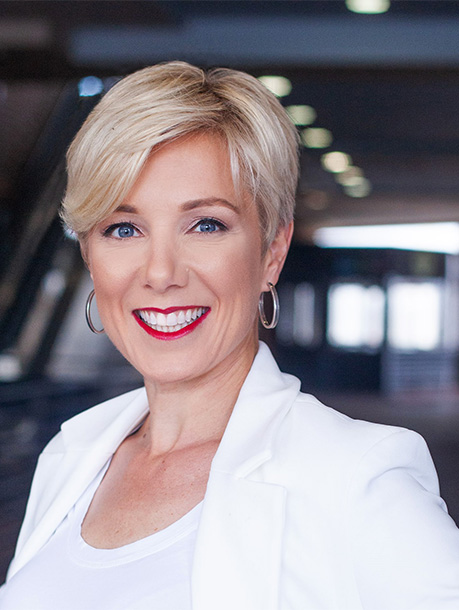 "I recently became familiar with some new language in the people and HR space called a zig-zag career." Meredith LaBonte, Vice President of Corporate Business Solutions at Novant Health Digital Products and Services, thinks she's a pretty good example of it.
LinkedIn defines a zig-zag career as varied roles across divisions or even industries. One might zig and zag within a single organization or between different companies. Zig-zaggers tend to be flexible, curious, highly adaptable and strong learners.
LaBonte demonstrated these qualities early on. She graduated from the Smith School with a dual bachelor's degree in logistics and transportation as well as marketing, coupled with the College Park Scholars Environmental Science program. Just before graduation, after accepting a job at Unilever, she volunteered to work at Smith's Graduate Career Fair. She ended up being recruited and hired by KPMG, so she returned the offer Unilever had made to her. "Part of the reason I did was he (the KPMG Senior Manager) triggered in me something that felt so challenging that I couldn't walk away from it, which is kind of normal for me and how I'm drawn to things." He was working with the Defense Department, doing some exciting stuff and he needed people who could learn quickly and think outside the box. "He took a big chance with me, and I worked hard."
LaBonte ended up spending nearly six years at KPMG, then it was on to Deloitte. Working with a few components of U.S. Homeland Security followed that and she later ended up working for Wells Fargo and Lowe's. "It's different technology, different industry, but it's really all the same challenges." She says, "at the end of the day, I've always gravitated to the corporate functions technology space in some fashion, and at the heart of it is supply chain."
When it comes to her degree in logistics and transportation, LaBonte thinks it's "probably worth more today than it was 20 years ago. So, the value of this school (Smith) has increased over time and that's how you want every asset to behave. Supply chain was a game changer in terms of accessibility and value." 
Van Munching Hall opened in 1993 and in 1999, LaBonte's junior year, esteemed Smith alumnus Leo Van Munching, Jr. donated $6 million in additional funding to help expand and renovate the building. "Van Munching Hall was brand new, so there was major investment that was being pushed into the Smith School at that time. Somebody made the intentional decision that they were going to make the business school a pinnacle for the university and I just happened to be there at the right time to benefit from that."
She credits the Smith School chapter of the coeducational professional business fraternity Delta Sigma Pi, with being the single most important influence she had within the school that is directly tied to her success. In that brotherhood, LaBonte learned that "no one is going to invite you to be successful. You need to take on leadership roles. You have to do the work and do more work than anybody else because that's how you get noticed and that's how you get invited to the table that nobody else gets to sit at."
Learning and applying that lesson, while strengthening and growing her flexibility, curiosity and adaptability have allowed LaBonte to zig zag her way to success.
Media Contact
Greg Muraski
Media Relations Manager
301-405-5283  
301-892-0973 Mobile
gmuraski@umd.edu 
About the University of Maryland's Robert H. Smith School of Business
The Robert H. Smith School of Business is an internationally recognized leader in management education and research. One of 12 colleges and schools at the University of Maryland, College Park, the Smith School offers undergraduate, full-time and flex MBA, executive MBA, online MBA, business master's, PhD and executive education programs, as well as outreach services to the corporate community. The school offers its degree, custom and certification programs in learning locations in North America and Asia.