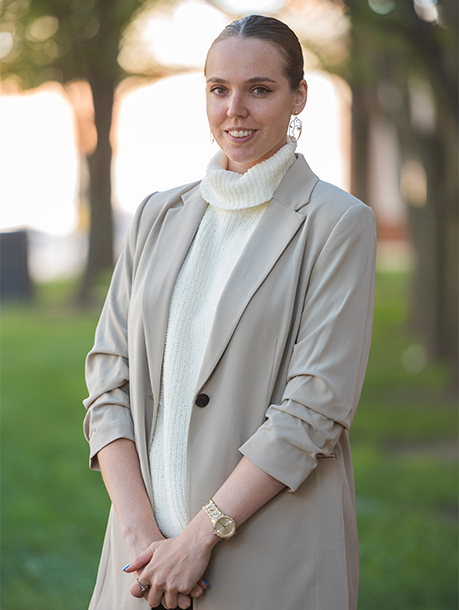 "I feel like for a human being, it's really hard to be in the middle." That's what Ksenia Popovich says about being a Russian citizen of Ukrainian descent, as a war between the two countries continues. She was born and raised in Russia, but during her early childhood spent most of her summers in Ukraine visiting with relatives.
Now, most of those relatives live in Russia. Many of them began leaving Ukraine in 2014 when an uprising started there against then-President Viktor Yanukovych. That was the same year Russia annexed Crimea after a vote in Crimea to secede from Ukraine - a vote still in dispute. "I love Ukraine in (the)sense that, it's part of me, but I don't feel patriotic about Ukraine". However, she says, "seeing what's going on, to some extent it's happening to my people, and they are dying for reasons I don't understand. It's heartbreaking."
Russians and Ukrainians share culture, history, and language and many of them are like Popovich - they have family in both countries. "I'm heartbroken for everyone who has lost loved ones in this war."
Popovich is at Smith earning her Master of Science in Quantitative Finance. She's an equity research analyst with the Smith School's Global Equity Fund, which gives students the chance to research companies and manage and invest money from the school's endowment fund. Popovich is also a teaching assistant for the undergraduate futures and options contracts course. When asked about her career goals, she says it's a hard question to answer. "I like asset management, my original dream was to become a portfolio manager, but now I'm starting to get into risk management as well, and I kind of like it. So, coming out of school, I'm probably going to end up either in a risk management role or as an equity analyst. But ultimately, I want to end up managing."
Popovich is working toward her degree as turmoil unfolds back home. "At first, I didn't handle it well. My school performance was terrible. We have a lot of group work, so thanks to my friends, if I wasn't doing something (regarding a team project), they wouldn't be too hard(on her)." She says, "there was a lot of confusion in my head, why am I so depressed when my country didn't get attacked, my relatives were not in specific danger, but it felt like somebody had died already."
The Smith community has been there for Popovich. "The Smith School itself was actually pretty amazing to me. When it (the war) first happened, banks blocked all of the transactions, so I was pretty scared, not being able to get any money (from her mother in Russia)". She says, "people were really kind to me." When she reached out to assistant professor of finance John Crosby, for whom she worked as a teaching assistant, he swung into action, "looking for ways to help me in case I couldn't cover my school costs." As an international student, Popovich's income is limited, so she's dependent on her mother for financial support. "At first (Russia) cut out all of the outflow of money so my mom couldn't send me any."
Amy Swann, director of master's programs at Smith, helped Popovich get a job as a graduate assistant. "The school in general was so great, just everybody."
What Popovich is dealing with - doing the hard work necessary to earn a master's degree, while worrying about how her family is handling war thousands of miles away - is something many of us can't even imagine. Fortunately, she has the Smith Community to lean on.
"To see how people were willing to help, it was kind of beautiful. I was touched by it."
Media Contact
Greg Muraski
Media Relations Manager
301-405-5283  
301-892-0973 Mobile
gmuraski@umd.edu 
About the University of Maryland's Robert H. Smith School of Business
The Robert H. Smith School of Business is an internationally recognized leader in management education and research. One of 12 colleges and schools at the University of Maryland, College Park, the Smith School offers undergraduate, full-time and flex MBA, executive MBA, online MBA, business master's, PhD and executive education programs, as well as outreach services to the corporate community. The school offers its degree, custom and certification programs in learning locations in North America and Asia.