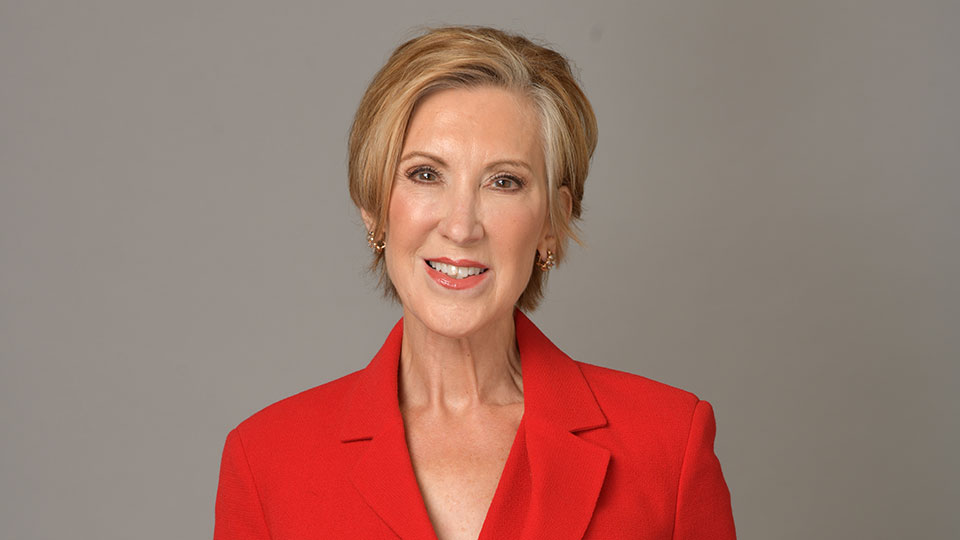 When Carly Fiorina, MBA '80, looks back over the arc of her career, what stands out for her isn't a single achievement or experience. That's not what defines her.
So what does stand out for her as she looks back?
"It's not one thing; but it's the same thing," Fiorina answers, on an afternoon Zoom call from her sun-filled offices in Old Town, Alexandria, Va. "What I mean by that is: I've always been a problem-solver. And I think I learned that because when I started out, I felt like such a fish out of water."
It's hard to imagine Fiorina, who in 1999 became the first woman to lead a Fortune Top-50 company when she took the reins of tech giant Hewlett-Packard, the way she describes herself in the early years of her career – feeling "totally out to sea," unsure of herself, figuring things out one puzzle at a time. Faced with a problem to solve, she'd reach out across organizational departments, find the professionals who were close to the issue, and ask a ton of questions. She was developing her own style of leadership – a style built on collaboration. It's a style that serves her to this day.
"I mean, I was thrown into these jobs that honestly I didn't know enough about and that I was frankly unqualified for in some cases, and so I had to collaborate," she says. "But what I learned over time is that even when I knew a lot more, it was still important to collaborate."
It's what effective leaders do, she says, and it's a lesson she imparts today as part of her work with Carly Fiorina Enterprises and its Unlocking Potential Foundation. The two organizations focus on equipping, training and inspiring leadership and problem solving, with the Unlocking Potential Foundation focusing its efforts specifically in the nonprofit space.
"I think leaders have to be courageous. They must the character to keep going when the going gets tough – and the going always gets tough. Change is hard, problem solving is hard, and leadership is hard," she says.
A record of leadership
Fiorina knows well what it means to lead, and what it means to shake up an organization. HP had made strides in diversifying its workforce when she became its first female CEO. The Silicon Valley giant had equity policies, feeder pools and employee networking groups. It was beginning to walk the walk. But across senior management, there was little diversity at all.
Fiorina installed a new hiring process that upended conventional thinking about what an ideal candidate looks like. For every opening above a certain level, supervisors had to consider at least one qualified woman and one qualified person from a racial or ethnic minority background. Often, those searches led to candidates with nontraditional backgrounds from unfamiliar sources.
By the time Fiorina left the company in 2005, half of her direct reports were women.
Today, U.S. corporations spend about $8 billion a year on diversity, equity and inclusion programs – "That's a lot of money," Fiorina says. "And yet the numbers really haven't moved very much. And they haven't moved very much in 25 years."
The number of female CEOs among Fortune 500 companies hit an all-time high this year – with just 41 female CEOs among the 500 companies. The number of Black CEOs is just three.
"In many ways, this is why I do the work I do. It's my contribution to the way we work together," she says. "All any of us can do is in our own spheres, in our own places of work, in our own lives, we can have the candor and the courage to truly be open minded and empathetic and recognize what the data tell us. And what the data tell us is crystal clear: A diverse team will outperform a homogeneous team over time, every time. That's a fact."
In groups, when all people agree and share the same point of view, progress is difficult to achieve. "No one is growing; no one is learning; no one is getting better. And they're all missing something big," she says. "Group think is real, and group think is dangerous. Diversity and disagreement and open mindedness yield better results."
Lessons for leaders
Fiorina believes it's vitally important today to talk about what leadership means.
"Our culture, our social media, our politics – what do they celebrate? They celebrate conflict, they celebrate controversy, they celebrate bombast, they celebrate outrage. And I think people get really confused by that and they think, 'Oh, that's what leadership is.' And it's none of those things," she says.
"But sadly, a lot of those things – outrage, bombast, controversy – put people into positions with big titles, and that makes people even more confused."
Great leaders are great collaborators, she says, and have a self-confidence that is balanced by humility and empathy. They listen to others. They aren't afraid to say, "I don't know."
"I think leaders see possibilities all the time," she says. "They see possibilities for improvement and innovation, they see possibilities for things to get better, and they see possibilities in other people."
Starting at Smith
Like many who come through Van Munching Hall, Fiorina discovered her affinity for solving problems at Maryland Smith. For her, it was transformative.
"I was a Medieval history major. I dropped out of law school. I started working as a receptionist at a nine-person real estate company," she says. "By the time I landed at the Robert H. Smith School of Business, for example, I thought business wasn't me. I had very low expectations for myself."
That began to change. In her first year in the MBA program, then-Dean Rudy Lamone tapped Fiorina personally to help solve a problem. The Smith School wanted to increase its engagement with business school alums. Lamone needed ideas.
"I will never forget what it felt like to have Rudy Lamone, the dean of the business school, pick me out and say, 'We want you to work on this problem.' It was life changing," she says. "He saw potential in me, and therefore I saw potential in myself that I didn't know was there."
Fiorina worked with other MBA candidates, researching the issue and developing recommendations. The school implemented their ideas and saw engagement grow. "We made progress," she said.
"What I learned about myself is that I like solving problems. I like the challenge of it. I like the teamwork of it. And so over time I learned that I was attracted to bigger and bigger problems."
She still is. "It's not one thing; but it's the same thing," she says.
"If we let ourselves, we all keep learning over time. We keep growing and getting better over time, if we allow ourselves to."
Media Contact
Greg Muraski
Media Relations Manager
301-405-5283  
301-892-0973 Mobile
gmuraski@umd.edu 
About the University of Maryland's Robert H. Smith School of Business
The Robert H. Smith School of Business is an internationally recognized leader in management education and research. One of 12 colleges and schools at the University of Maryland, College Park, the Smith School offers undergraduate, full-time and flex MBA, executive MBA, online MBA, business master's, PhD and executive education programs, as well as outreach services to the corporate community. The school offers its degree, custom and certification programs in learning locations in North America and Asia.