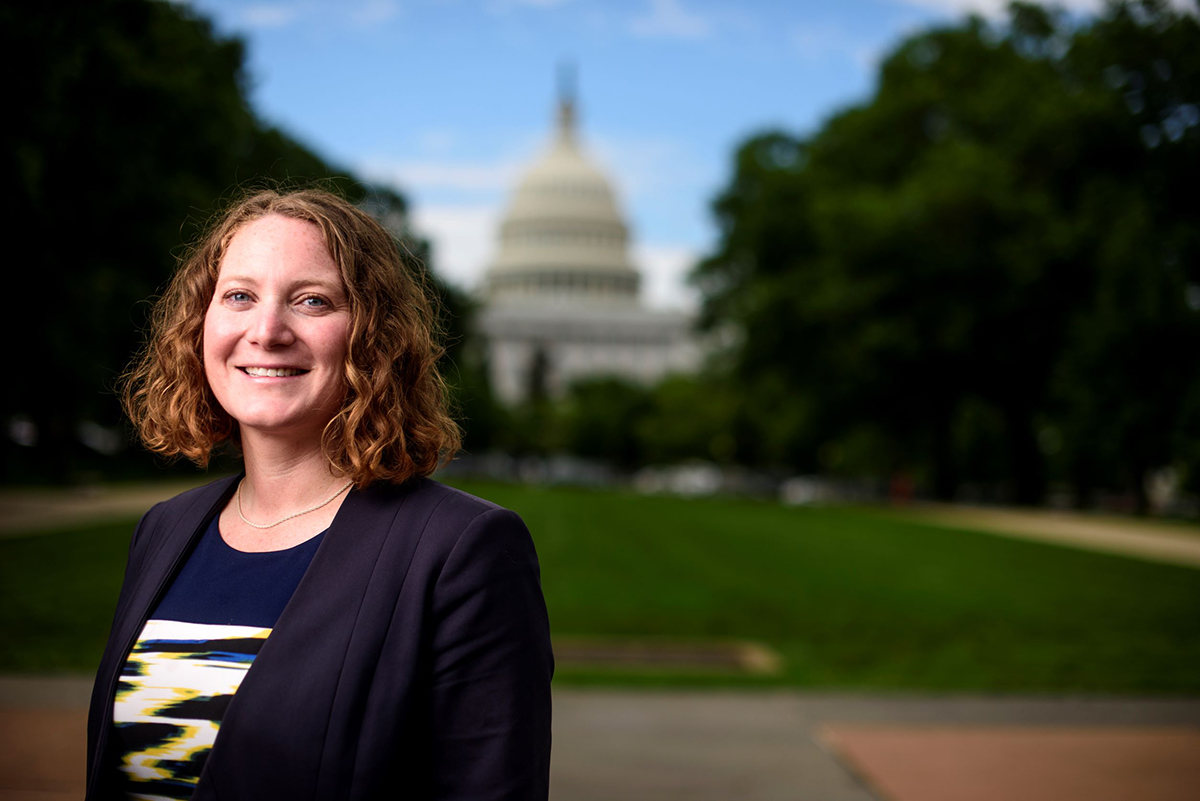 Jessica Ennis, EMBA '20, set out to forge a career rooted in purpose. Now, that purpose has taken her all the way to the White House.
Ennis, recently appointed as the public engagement director in the White House Council on Environmental Quality, is leading the way, through her work dedicated to addressing climate change.
She spent the last 14 years of her career at Earthjustice, a national non-profit public interest law organization, serving most recently as its legislative director for climate and energy. In this role, Ennis played a crucial role in pushing for curbing methane emissions and helping establish a community solar program in Maryland.
In her new position, Ennis says she's relying on those experiences to help drive change and increase stakeholder engagement in policymaking at the highest levels of government.
"I've always been a purpose-driven person and what I do professionally has always needed to be very clearly aligned with something I believe in," says Ennis. "The climate crisis fits that criteria as it's one of the most complex problems that we need to address in the very near term."
As the current administration advances its environmental agenda, Ennis says she'll be directly responsible for working with stakeholders to ensure their voices are heard as the administration crafts climate and environmental policy.
The communication loop of disseminating information about how to engage in policy processes and then sharing outcomes, including the impacts on the ground, is critical. Connecting people to policy and increasing engagement in these processes helps lead to outcomes more reflective of community needs.
It's a skill Ennis says she honed during her time in the Executive MBA program at the University of Maryland's Robert H. Smith School of Business. Getting that degree was something she always knew she wanted to do, and Maryland Smith's diverse cohort, as well as its curriculum, presented the ideal fit, she says.
"Just through talking to my classmates and meeting people from such varied backgrounds and experiences only furthered my understanding of the importance of meeting people where they are, listening to what they're saying and understanding how to engage in constructive, complex discussions," says Ennis. "It was such a rich part of the experience that helped broaden my perspective beyond the D.C. policy lens."
From reducing greenhouse gas emissions and air and water pollution to promoting renewable energy and conservation efforts, there's no shortage of environmental issues to tackle on the road ahead, Ennis says. And, she's ready to start working with others to help advance the administration's agenda.
"I am excited and really thrilled to be heading into this role. I would be lying if I said I wasn't a little daunted by it. I think we're in a really critical moment for action on both climate and environmental justice," says Ennis. "I've been energized by the Biden-Harris administration's climate and environmental justice agenda and I'm looking forward to contributing to that in a different way."
Media Contact
Greg Muraski
Media Relations Manager
301-405-5283  
301-892-0973 Mobile
gmuraski@umd.edu 
About the University of Maryland's Robert H. Smith School of Business
The Robert H. Smith School of Business is an internationally recognized leader in management education and research. One of 12 colleges and schools at the University of Maryland, College Park, the Smith School offers undergraduate, full-time and flex MBA, executive MBA, online MBA, business master's, PhD and executive education programs, as well as outreach services to the corporate community. The school offers its degree, custom and certification programs in learning locations in North America and Asia.