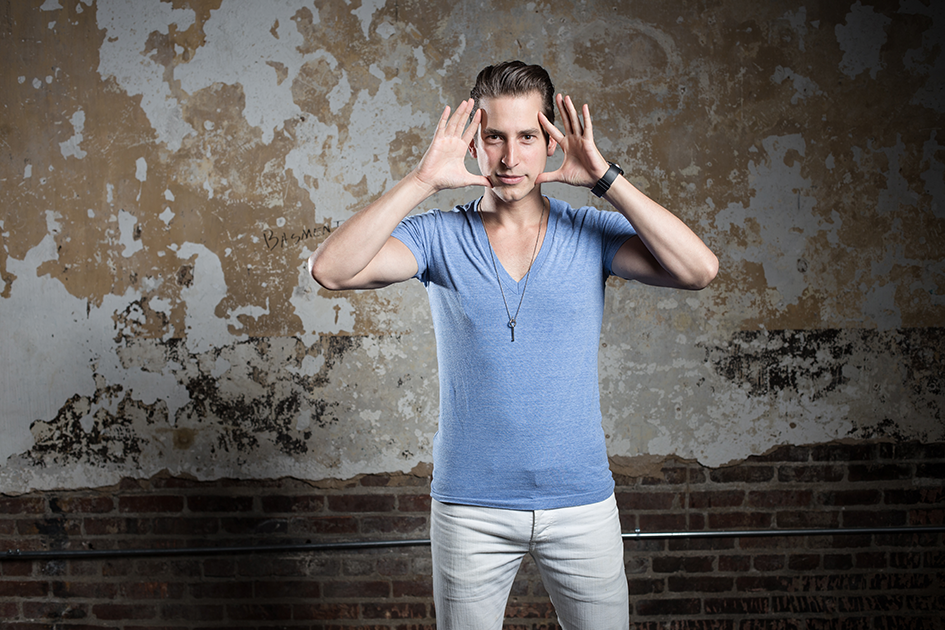 Max Major '05 can read your mind. It's a passion he parlayed into the only career he ever really considered. While at Maryland Smith, he honed his entrepreneurial skills to build a business as a renowned mentalist. Major, who describes his craft as combining "the showmanship of a magician mixed with some cool psychology and hypnosis," now performs at more than 200 events each year for top organizations like Microsoft, Google, Facebook, Lockheed Martin and the U.S. Department of Defense. His feats include unlocking cell phone passcodes and tapping into people's childhood memories, for example, by pinpointing the name of their favorite pet growing up. How he does it is "one part magic, one part psychology, one part reading people, one part influence," he says. He shares four keys that have guided his career to this point.
DISCOVER YOUR PASSION: The career started as a hobby when Major was 11, growing up on a sheep farm in Carroll County, Md., and he learned his first magic trick. "It was just that 'thing' that spoke to me," he says. His first "big break" came at 14, when a neighbor hired him to perform at his child's birthday party. "I realized that not only was this fun, but you can get paid to do this," Major says. This ignited the entrepreneurial spark — fueled by parents who encouraged him to do what he loved — that put Major on the path to pursue magic as a career.
BROADEN YOUR SKILLS: After high school, Major found himself at a crossroads. Should he go to college or pursue his performance career full-time? An unsolicited scholarship offer he couldn't refuse landed him at the University of Maryland Baltimore County, where he discovered he liked college but not the graphic design program he was enrolled in. He started researching what program would be a good fit and found Maryland Smith. "I realized the business skillset was just as important or even more important than my abilities as a performer," Major says. "It's not enough to be good at your craft." He saw Smith as his path to building a business, and he recommends business school for others who pursue non-traditional career paths. "I don't think I would have found success as quickly had I not gone to Smith," he says.
TAP INTO RESOURCES: Major discovered the Dingman Center for Entrepreneurship during his junior year. "It's just an incredible resource center," he says. Dingman experts helped Major put together a formula to book performances for large corporate events. When he graduated with honors in 2005, he launched the career he continues to grow today. "I've never had a real job," he says. "This has been my pursuit my whole life."
KEEP EXPLORING: Major performs during big conferences and private social events. He also delivers keynotes and trainings about body language, reading people, influence and negotiation. Major is currently gearing up for a winter Broadway run in New York with his one-man show, "Think Again," and he has a self-produced one-hour television special in the works to distribute through Amazon and Hulu. He also remains interested in starting other businesses. He opened Homestead, a farm-to-table restaurant in Washington, D.C., where he lives with his dog, Bruce, when he's not on the road. He also started the networking group Metro Event Specialists that has more than 5,000 members.
See for yourself: For more on Major and his events, visit maxmajor.net.
Media Contact
Greg Muraski
Media Relations Manager
301-405-5283  
301-892-0973 Mobile
gmuraski@umd.edu 
About the University of Maryland's Robert H. Smith School of Business
The Robert H. Smith School of Business is an internationally recognized leader in management education and research. One of 12 colleges and schools at the University of Maryland, College Park, the Smith School offers undergraduate, full-time and flex MBA, executive MBA, online MBA, business master's, PhD and executive education programs, as well as outreach services to the corporate community. The school offers its degree, custom and certification programs in learning locations in North America and Asia.