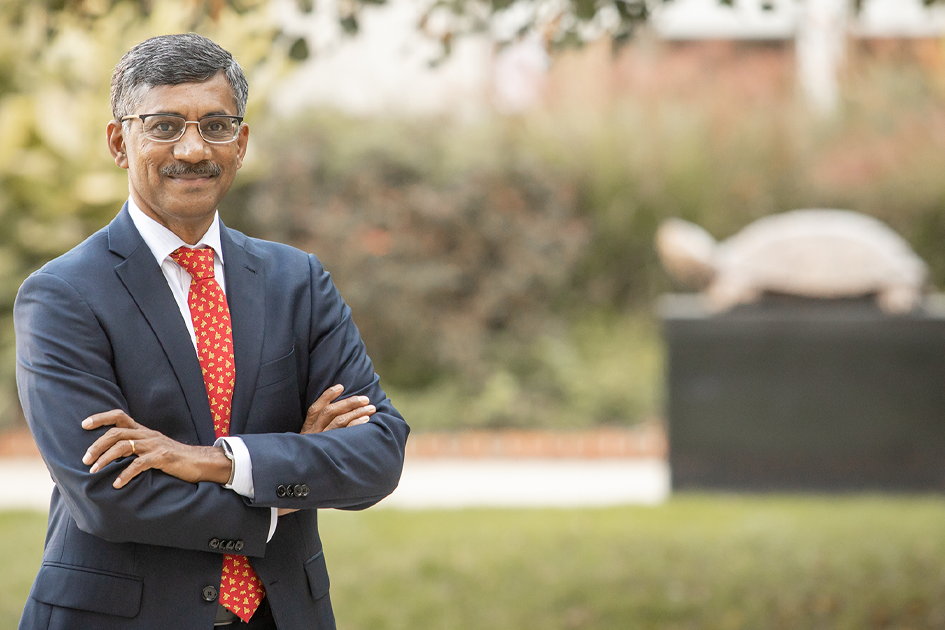 Prabhudev Konana Is Leading with Purpose
A stranger's incredible act of generosity charted the trajectory of Maryland Smith Dean Prabhudev Konana's life. It made him see the impact one person can have and it set the course for his life and career. And it happened 80 years ago, before Konana was even born.
Prabhudev Konana's father, Konana Chennabasappa, was born in a small village in India, where even today there is no proper water or power supply. At 8 years old, he left home to live with his grandmother to study in a closet-sized room at the local temple. When he was a bit older, he walked several miles a day to attend school in another village. His dedication had him poised to be the first in his family to go to college. It was only when he went to register for classes that he found out the tuition—more than a year's salary for his family and totally out of reach. "There was no way my father could pay that," says Konana. But another student in line saw the situation unfold and stepped up.
"He said, 'Don't worry; I'll pay.' He was from a very rich family and ended up paying for my father's education. They remained very close throughout their lives," says Konana.
Konana's father seized the opportunity that education provided. He got involved in India's struggle for freedom from British colonial rule. He launched a newspaper. Eventually, his passion for justice led him to become a judge. He remained a social reformer and prolific writer, long after the newspaper's run ended, publishing more than 100 books and authoring hundreds of newspaper articles. "He was one of those few people who never feared bullets nor stones," says Konana.
He credits both of his parents for their hard work and example. His mother, raised by her grandfather, never studied beyond third grade. But she was a critical partner in her husband's newspaper. Konana recollects her stories of running the household, stuffing envelopes for the paper's mail distribution in between preparing food for unexpected guests.
"For my mom, the biggest reward was her children doing well," says Konana. "She always had in the back of her mind that one of her kids should go to the United States, like many Indians then."
Konana would be the one to go, but not right away. He studied engineering in India—"that was the norm, engineering or medicine," he says.
After graduating, he worked in a public-sector photographic film manufacturing company and a state-run industrial development bank.
"I did reasonably well as an engineer, managing a shop floor, night shifts. I also saw corruption and inefficiencies and, to a large extent, how detached the company was from the market principles. Government would keep the factory running whether it made money or not—it used to frustrate me a lot.
I saw firsthand how corruption breeds when the state loans money to private enterprises without any consequences. My experiences there changed the way I think about people and society," says Konana. "It helped me to become a better person."
It also sparked his interest in business education. In 1989, after six years in the working world, he went to the United States to earn an MBA. He applied to business schools at several large public universities —including Maryland—and landed at the University of Arizona, with a promise for financial aid.
Konana's first professor was P.K. Kannan, now the Dean's Chair in Marketing Science at Maryland Smith and a top scholar in the field. "If you ask me who planted that first seed encouraging me to get my PhD, it was P.K.," Konana says.
He didn't take the advice right away. He returned to India for the summer, where he met his wife and got married. She joined him in Arizona the following semester, and when she became pregnant with their first child, Konana decided to pursue a PhD.
He studied information technology and landed a faculty position at the University of Texas in Austin at what is now McCombs. He worked hard—"It never came easy," he says— earning tenure and becoming the first person of color to chair his department. He discovered a passion for teaching and for innovating new programs. He championed new specialty programs, technology-enabled instruction and experiential learning at the school, and guided the faculty to online hybrid and synchronous teaching during the COVID-19 pandemic. His accolades are many, having won numerous awards for his teaching and research, which delves into the value of social networks and information technology. He is a recipient of the National Science Foundation CAREER Award. Most recently at McCombs, he was the associate dean of Instructional Innovation.
But Konana had dreams of the bigger impact he could have in the top spot at a public university's business school. "The dean's role gives you that platform to do bigger things, to shape the future," he says.
Konana succeeds professor Ritu Agarwal, who served as Smith's interim dean for more than a year. A leader in the field of information systems, she has long been Konana's academic mentor. "She wrote all my letters for my tenure promotion, professorship, everything," says Konana, who has closely followed her work, along with that of Smith's Michael O. Ball, Bruce L. Golden and other top academics.
Smith's faculty were a big draw for Konana, and one of the school's greatest strengths.
"The intellectual power at Smith is just amazing," he says. "How can you not be proud to be in a school where 18 of the current faculty members are in the top 2% in the world in their respective fields? Schools that have one or two brag about it from their home pages—we have 18."
Take Smith's intellectual capital and combine it with the school's proximity to Washington, D.C., New York and other big East Coast cities, and you have countless opportunities to effect change, he says.
Konana is energized by University of Maryland President Darryll J. Pines, who took on the top role on campus in July 2020, pledging to tackle society's biggest challenges—a pandemic, systemic racism, climate change, inequalities—with grand ideas fostered at Maryland.
Already in Motion
When he started in January 2021, Konana began meeting with Maryland Smith faculty and staff, discussing connections to key stakeholders in the federal government and leading industries.
"Leveraging our proximity to influence the power centers with our faculty who are already very well known in these areas is definitely one of my top priorities," he says. "We also have these incredible, well-known centers—the Dingman Center for Entrepreneurship, the Ed Snider Center for Enterprise and Markets, the Center for Financial Policy, the Center for Health Information and Decision Systems and others—already having big impacts and poised to do even more."
Konana says the strengths that long attracted him to Smith—its reputation as a home for leading academic research, thought leadership and real-world impact—are the ones he hopes to build on in his time as dean.
They are the assets that will help Maryland Smith compete for the best students, the most knowledgeable professors and the most impactful partnerships.
"We know that these things help to bolster the school's reputation and its rankings as well," Konana says.
Maryland Smith's MBA program is ranked No. 26 in the country by Bloomberg Businessweek. Its Flex MBA is ranked No. 25 by U.S. News &
World Report, which also ranks its Online MBA at No. 10 and lists several of its business master's programs in the top 10.
Smith ranks especially high for student engagement, which has become even stronger online as a result of COVID-19.
"We've proved we're good at this and we'll continue to do better," Konana says. "We're ready to provide more high-contact, high-touch, high-impact programs that are flexible and that use online methods to reach more of the students that we could not reach before."
That also means leaning into new programs where business converges with other fields—for example, at the intersection of finance and computer science, says Konana.
Already, Smith offers a Plus-1 business master's degree program that allows qualified undergraduate students to strategize their course selections and complete a business master's just one year after completing their bachelor's degree requirements. Konana wants to capitalize on the nascent Plus-1 lineup—which boasts business master's degrees in accounting, business and management, business analytics, finance,  information systems, marketing analytics, quantitative finance, and supply chain management—and expand its reach and prominence across campus.
Playing to Strengths
Konana wants to help Smith take advantage of the whole university's strengths, and the flexibility and training ground the past year has provided to create more cross-functional programs that build on each other. "As fields converge, there is a greater need for working with engineering, humanities, computer science, sciences and public policy," he says.
All of this—Smith's faculty, centers of excellence, proven pedagogy and top programs—underscore another of Konana's top priorities: Getting students to think more creatively to succeed in the future, as jobs and the nature of work change.
More experiential learning opportunities and connections with industry players will be crucial, and Konana says these can be expanded with help from alumni. That's why he is advocating for the creation of alumni advisory councils for each of Maryland Smith's programs. "Having an advisory council in each program will help connect our students with our alumni, industry stakeholders and executives. Those interactions change the way they think and add so much to their own personal development. Having these relationships will also help us attract the best and the brightest students."
The advisory councils are just one way for alumni to get involved and feed into Konana's larger call to action for alumni, and his own personal driver—to find a way to make a difference. "We want to leverage the alumni strengths, their connections and their time as an investment for the future, for the next generation."
Shaping Futures
Konana reflects often on how he has benefited from individuals who invested in his future, and of course, in his father's. It spurs him to give back whenever he can. "A lot of people have helped me. We owe a lot to society. I don't wait to give. If I can, I will do it now."
He started small, giving to the humanitarian organization Children International as a student, and has continued to give throughout his life. On his first day at Maryland Smith, he announced a pledge of $100,000 to the university's Maryland Promise scholarship fund to support undergraduate students with financial needs. "We are here to impact lives, and no worthy undergraduate student should ever be turned away for lack of financial resources," he says.
At the University of Arizona, he started a small scholarship fund, and at the University of Texas, he started an endowment in his father's name. A global study trip to India with McCombs students led to his greatest giving project so far.
At his students' request, he organized a visit to an orphanage and school in Delhi's biggest slum. The experience inspired him. After the trip, he joined with friends in his Indian community in Texas to start a nonprofit, Pragathi. The organization has touched thousands of lives, providing education for children, jobs for women who have been rescued from human trafficking and domestic abuse, and improved access to healthcare for people in poor communities. Konana's wife remains very involved in the fundraising; he co-chairs the board.
He is also generous with his time, particularly with students. In Texas, he made it an annual tradition to host a dinner for all of his students who couldn't go home for Thanksgiving—often more than 40 of them. He says emphatically that he will be as directly involved with students at Smith. He even hopes to be able to get back into the classroom to teach "at least one class."
Konana lives by the words his father once said in a speech during a visit to the United States: "'If you do something for your family, someone whom you know, you're doing it because it's your duty. But when you do something for someone whom you don't know, to impact their life, it's pure love.' That has stuck with me always."
He wants Smith alumni to remember those words too, and to think about how they can have the same kind of imprint as the generous stranger who changed his family's future.
"When they engage with the school or give, how they impact somebody they don't know, that's the greatest gift they can give—not for the school, not for us, but to the recipient, and it's pristine."
Media Contact
Greg Muraski
Media Relations Manager
301-405-5283  
301-892-0973 Mobile
gmuraski@umd.edu 
About the University of Maryland's Robert H. Smith School of Business
The Robert H. Smith School of Business is an internationally recognized leader in management education and research. One of 12 colleges and schools at the University of Maryland, College Park, the Smith School offers undergraduate, full-time and flex MBA, executive MBA, online MBA, business master's, PhD and executive education programs, as well as outreach services to the corporate community. The school offers its degree, custom and certification programs in learning locations in North America and Asia.