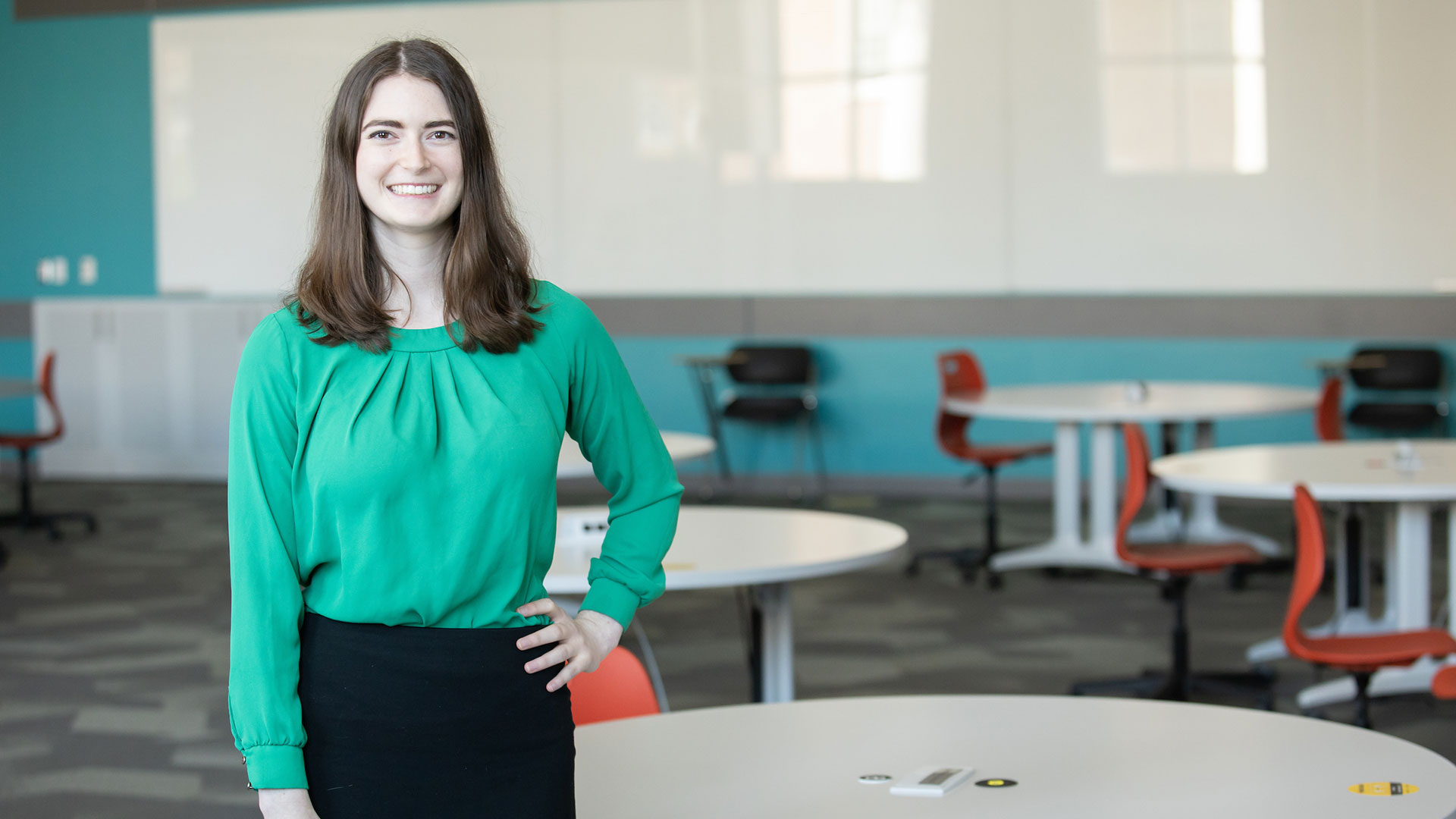 As a criminology and criminal justice major at the University of Maryland, Eleanna Weissman dreams of having a career in federal law enforcement. Now, she's taking classes at Maryland Smith to achieve that goal.
In 2022, she will graduate with a combined bachelor's degree and master's degree in accounting from the University of Maryland's Robert H. Smith School of Business. Weissman says her aspirations of entering the law enforcement field developed gradually throughout high school and college.
But after an internship with the Public Defender Server for the District of Columbia, Weissman says that her interest became a passion, and an opportunity to pursue a career of consequence.
"I had a single-minded perspective of crime and wanted to take a hard stance in combating it. In college, I discovered the vast depth of the field–it wasn't just 'cool,' it was a conglomerate of law, history, psychology and policy addressing a critical aspect of the human experience," says Weissman. "When before I was solely concerned with combatting what I perceived as the most heinous behavior – violent crimes – I learned there was far more nuance to it."
That realization, Weissman says, led her to the white-collar sector and investigating instances of fraud and other financial crimes.
"I have a far easier time condemning perpetrators of fraud, criminals who prey on the naivety of the public for their own personal gain, than violent offenders who commit crimes in heated tensions and/or have been marginalized their entire lives," says Weissman.
Leveraging the foundation of her criminal justice education, Weissman shifted toward forensic accounting because it offered an appealing intersection between the business world and law enforcement.
"With an investigative mindset that's cultivated through the criminology and criminal justice major, I knew I could combine it with technical knowledge of accounting to create a 'ready, set, go' mindset for identifying fraud," says Weissman.
Then she discovered how she could further explore it through the Robert H. Smith School of Business' Plus 1 program, which allows students to earn a combined bachelor's and master's degree and finish both degrees in five years or less.
Weissman says her classes so far have been rigorous and challenging. And the program's hands-on nature and reality-based projects have yielded invaluable experience, she says.
The Plus 1 program has brought her a step closer to her dream job at a federal agency such as the FBI, Department of Homeland Security, or the Department of Defense. She says she often recommends the program to other students.

"Don't be afraid to jump into this master's program. Even if you don't know anything about the subject beforehand, having one class that's required to be in the program is enough," says Weissman. "You'll learn everything else as you go. Never step away from the opportunity just because you don't think you're qualified for it."
Media Contact
Greg Muraski
Media Relations Manager
301-405-5283  
301-892-0973 Mobile
gmuraski@umd.edu 
About the University of Maryland's Robert H. Smith School of Business
The Robert H. Smith School of Business is an internationally recognized leader in management education and research. One of 12 colleges and schools at the University of Maryland, College Park, the Smith School offers undergraduate, full-time and flex MBA, executive MBA, online MBA, business master's, PhD and executive education programs, as well as outreach services to the corporate community. The school offers its degree, custom and certification programs in learning locations in North America and Asia.