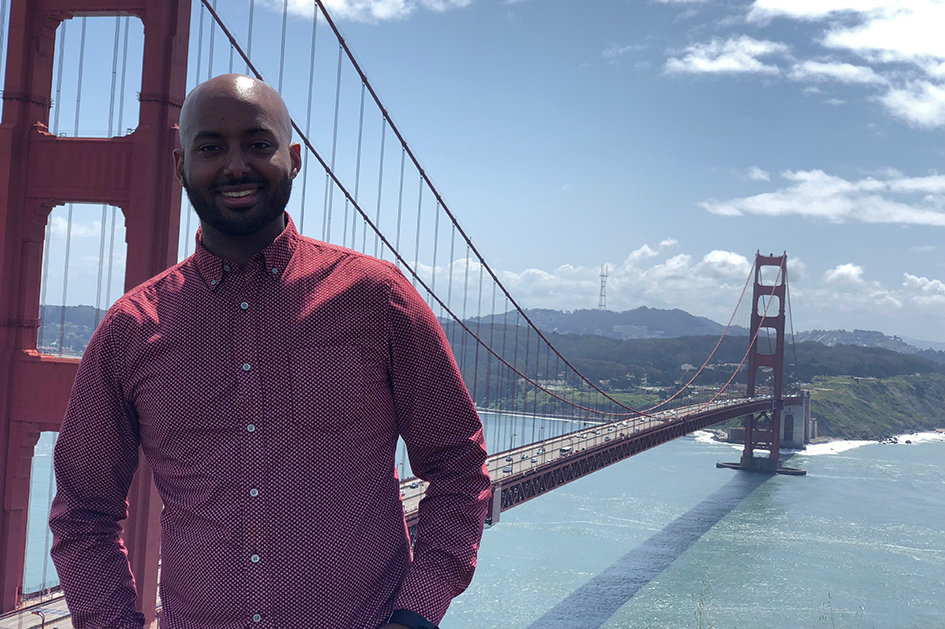 StackShare founder Yonas Beshawred '09 stopped counting the rejections when he went looking for funding in Silicon Valley. "I got a bunch of no's," he says. "I stopped counting after like 50. At that point it doesn't matter. All you need is one yes."
Now, after raising more than $7 million, his startup is thriving. The company, a Yelp-style social media network for engineers and software developers, builds on the entrepreneurial spirit that his immigrant parents brought from Ethiopia to Silver Spring, Md.
Beshawred says his parents moved to a new country at a young age, learned a new culture and worked multiple jobs to put themselves through Howard University. "Children of immigrants see what their parents go through," he says. "We have the ability to really start from where they ended. We see things as doable."
Despite the upbringing, Beshawred never thought of himself as an entrepreneur when he came to the University of Maryland's Robert H. Smith School of Business. But he had a knack for recognizing problems and finding solutions. One semester, for example, he arranged to have old computers from Van Munching Hall donated to an Ethiopian charity that supports orphanages.
"I had always been starting things and creating things," he says.
Beshawred also had a knack for computers, which led to an information systems degree at the Smith School and later a Master of Science in Human-Computer Interaction at UMD's College of Information Studies.
In between the programs, Beshawred started his career as a business analyst at Accenture. The Fortune 500 experience looked good on his resume, but he says he felt pulled in a different direction. "There was nothing that I couldn't do there," he says. "It was more about what I wanted to do."
Eventually, Beshawred followed a Maryland classmate to Silicon Valley, where he joined a startup called Cube as a summer intern. "It was literally 10 guys in a warehouse," Beshawred says. "It was the typical Silicon Valley experience like you see on TV, where everyone is in one house, basically together, eating pizza and sleeping in bunkbeds."
His parents questioned the career move. But Beshawred didn't worry about the perceived loss of status that he enjoyed in the corporate world.
"I wanted to learn," he says. "I was just excited to be in Silicon Valley sitting right next to the CEO — sitting right next to the engineers. I was in this environment where everybody was just passionate about the company."
During the process he discovered a market gap and began working on StackShare as a side project. Small companies like Cube and big companies like Accenture face a similar problem when it comes to software purchase decisions. The market is flooded with options, and finding the right tool for the job can be tricky.
"There was no good way to choose technology," Beshawred says. "That's when I thought of this idea of bringing together all of these different software tools in one place, and making them accessible to everyone through the power of social media."
When Beshawred initially went looking for funding, he found himself trying to convince investors that his business model could work. Success came later when he changed his mindset.
"Your job as a fund-raiser isn't to convince skeptics — people who don't believe in your product or your business," he says. "It's to find the people who already believe." 
Beshawred worried initially about his lack of Silicon Valley credentials. But he quickly found a strong support network.
"Here I was, this guy from Maryland who just came in and worked on something he was really excited about," he says. "I didn't pay attention to all the things I was missing, including a big team. I was just really passionate about solving this problem, and I got support from people who knew what they were doing."
He says the same approach can work for others from the Smith School community. "There are so many talented people there, and a lot of times they don't see Silicon Valley as an option," he says. "But I want people who are there at Maryland to see this as an option." 
Media Contact
Greg Muraski
Media Relations Manager
301-405-5283  
301-892-0973 Mobile
gmuraski@umd.edu 
About the University of Maryland's Robert H. Smith School of Business
The Robert H. Smith School of Business is an internationally recognized leader in management education and research. One of 12 colleges and schools at the University of Maryland, College Park, the Smith School offers undergraduate, full-time and flex MBA, executive MBA, online MBA, business master's, PhD and executive education programs, as well as outreach services to the corporate community. The school offers its degree, custom and certification programs in learning locations in North America and Asia.