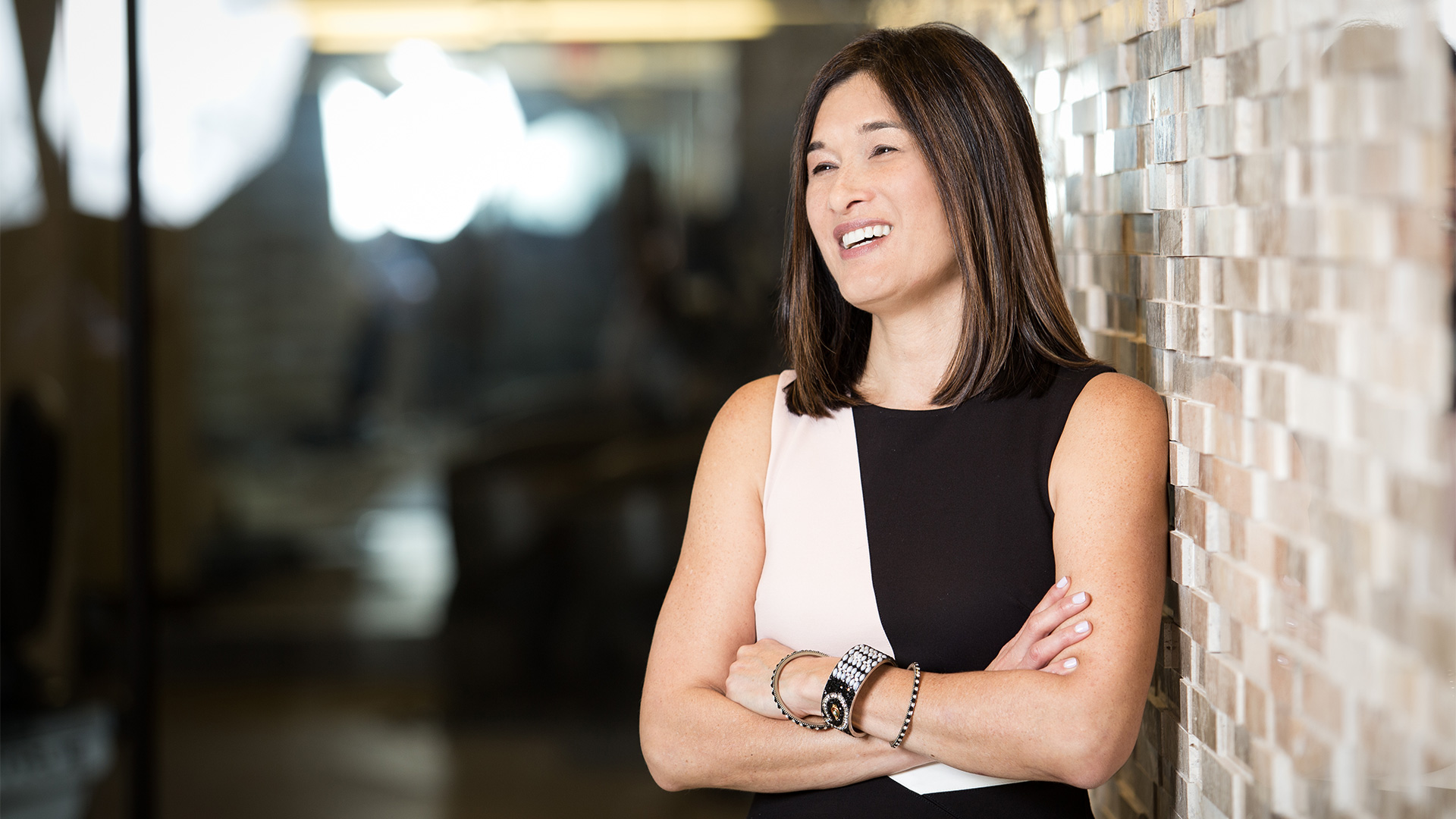 Marguerita "Rita" Cheng '93 knows what it means to find success on her own terms.
Early in her career, she was working at a large firm, when her sales manager expressed a concern. He said she spent too much time listening to clients. "He led me to believe that being empathetic and patient was a liability," she said. "I was devastated when he told me that I was a lousy financial planner."
How could that be, she recalls thinking, when she was the one coaching other advisors options strategies and time value of money calculations.
Instead of changing her personality, Cheng pushed back. In doing so, she found success and a career she loves.
Today, she manages the wealth of individuals and families at the firm she co-founded, Blue Ocean Global Wealth in Gaithersburg, Md.
"I feel really lucky – blessed – that I get to help people gain more clarity, confidence and control over their finances," she says, reflecting on her work.
Her arrival into the field of financial advising almost didn't happen. When Cheng began studying at the University of Maryland, she was only 17. She knew she wanted to study math in some way – "I was very STEM oriented," she says, using the acronym for science, technology, engineering and mathematics. "But I hadn't considered business as a career."
That first semester, she found herself struggling in her Physics 161 class, while at the same time helping other students in the dorms pass their economics, statistics and math courses. It was a lightbulb moment. "And that's when I discovered that I could use my skills in math and statistics, and apply them to business and help people make better financial decisions," she says.
She would graduate four years later, proudly, on a MEXT Scholarship and with a dual degree – a bachelor of arts degree in East Asian languages and a bachelor of science in finance from Maryland Smith. It was momentous for her and for her family. She was the first person on her mother's side of the family to go to college.
The lightbulb moment from her first year at UMD, she says, stays with her. "It taught me that it's important to be persistent and that it's also important to take a pause – or as we say today, 'to pivot.' To pivot, you first need to pause. And that's what I did."
Cheng would become the president of the Financial Planning Association of the National Capital Area and served on the Financial Planning Association National Board of Directors.
In her role, she advocates for removing barriers and broadening access to ethical, objective financial advice. "This is one of the challenges for my profession. We are working on this, but we need to be more proactive, to ensure our profession reflects and represents the people we serve."
Cheng says she's learned over the course of her career to be more comfortable finding solutions, and for her that means "speaking up and speaking out" about the importance of access. She's doing so as a Certified Financial Planner Board ambassador. "My job as an ambassador," she says, "is to educate the public, media and policy makers about the benefits of ethical, objective financial planning."
The field has evolved since she began working in the late 1990s. Access is one area where the field is beginning to change. The rise in environmental, social and governance (ESG) investing and socially minded impact investing is another. Cheng has been pleased to see that evolution begin to play out, and recently received her designation as a Chartered Sustainable, Responsible and Impact Investing Counselor (CSRICTM). "It is an area of growth, and there's a lot of opportunity here," she says.
Next she is working toward achieving a designation in philanthropic investing. "Philanthropy, ESG, impact investing: I see them all coming together," she says.
It's a convergence that aligns with her own goals.
"I love helping people feel financially confident, empowered and resilient. That never is boring. That's what gets me out of bed in the morning," she says. "The work is emotionally gratifying and intellectually stimulating. I know that I'm making a difference in the lives of my clients."
The love of helping people is, for Cheng, the "Why," or the purpose, of her career.
"I tell people to find your 'why' when you're looking for your career," she says. "Your why will take you places. It's your story."
Media Contact
Greg Muraski
Media Relations Manager
301-405-5283  
301-892-0973 Mobile
gmuraski@umd.edu 
About the University of Maryland's Robert H. Smith School of Business
The Robert H. Smith School of Business is an internationally recognized leader in management education and research. One of 12 colleges and schools at the University of Maryland, College Park, the Smith School offers undergraduate, full-time and flex MBA, executive MBA, online MBA, business master's, PhD and executive education programs, as well as outreach services to the corporate community. The school offers its degree, custom and certification programs in learning locations in North America and Asia.