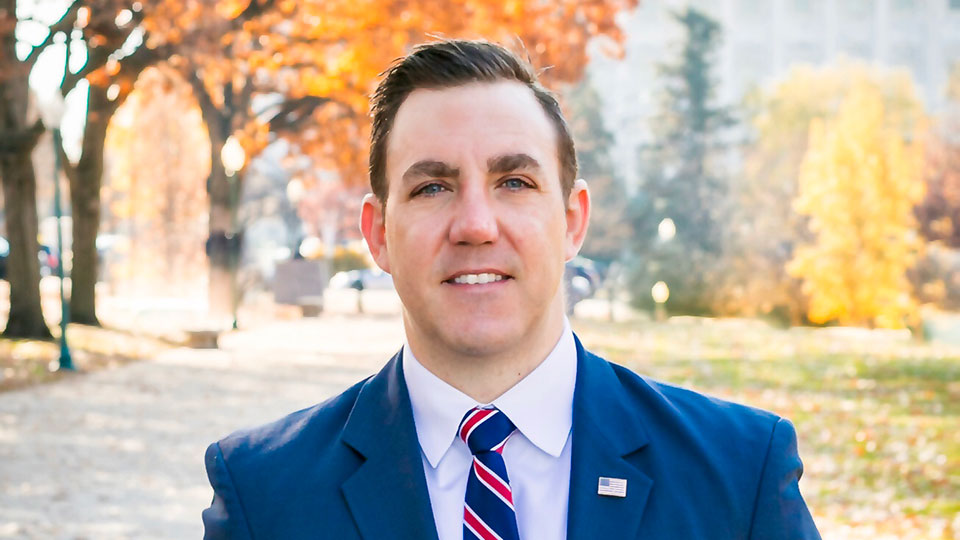 Adam DeMarco, MBA '21, was raised in a "family of service," as he put it. His relatives span careers including law enforcement, nursing, medicine, and, as DeMarco himself chose, the military. "The notion of serving, serving others, and being a part of something bigger than oneself is something that I have just grown up with and have sought to inculcate," said DeMarco.
It's central to who he is and what drove him, beginning in August, to lead hundreds of fellow U.S. veterans to help evacuate thousands of vulnerable Afghans from Kabul in what has been dubbed "Digital Dunkirk," a modern version of the World War II self-mobilization of private British boaters to evacuate Allied troops from the beaches of Dunkirk, France.
"I got involved in this massive effort rather organically, as an informal group of us began working together to help evacuate some of our friends at the onset of the crisis," said DeMarco, who served in both Iraq and Afghanistan. "We, all current and former military, understood the dire circumstances that our friends were in and also that this situation was going to become exponentially catastrophic."
DeMarco graduated from West Point Academy, where he also played football, and then was commissioned as a field artillery officer in the Army. In 2014, he transitioned from active duty, and began a career in consulting. DeMarco enrolled in Maryland Smith's Online MBA program with the goal of becoming a better leader by understanding "not only the what and how of business leadership, but the why." And he now works as an associate at Booz Allen, where he is executive officer to the director of the Middle East Africa Regional Center (MARC) at the Defence Intelligence Agency. He also serves as marketing director for a nonprofit, Warrior Rising, which aims to help U.S. veterans achieve success in business through partnerships, mentorship and financial assistance.
Beginning in August, as the Taliban seized control of the capital Kabul and began forming a government, DeMarco and his colleagues got to work, tirelessly seeking to secure safe transport at the capital's Hamid Karzai International Airport for people who were likely to be targeted by the regime. After each successful evacuation, they moved on to the next. "We knew that the mission wasn't done, as other people heard of our efforts and began reaching out," he said. "But it wasn't until an unlikely conversation with General David Petraeus that I understood we had to undertake this monumental mission."
DeMarco had described the effort to the retired four-star Army general and former CIA director, who applauded their efforts and then offered some succinct and direct guidance, DeMarco recalled. The general's response: "Great, now scale it."
"So," DeMarco said, "That's what we did."
What began as an informal group trying to evacuate a few contacts from Kabul, turned into a full-scale nonprofit mission. Weeks later, Allied Airlift 21, a currently operating organization, continues to work with the U.S. government to provide safe passage for U.S. citizens and Afghan allies seeking refuge.
"Our signature effort now has morphed into providing near real-time data of those still in country through our 'Rescue Registry,' which continues a list of approximately 56,000 people seeking assistance from the United States," DeMarco said.
DeMarco says his greatest achievements have always involved helping others. "Whether it was fostering a higher performing environment for my unit or helping one of my soldiers get into West Point, my greatest achievements in the military directly correlate to the impact that I have had on those I have led."
–By Erica Spaeth. Spaeth is a 2023 MBA Candidate and a Forté and Smith Fellow. Originally from Potomac, Md., Spaeth worked in digital marketing, publishing, and most recently operations management, leading her to come to Maryland Smith.
Media Contact
Greg Muraski
Media Relations Manager
301-405-5283  
301-892-0973 Mobile
gmuraski@umd.edu 
About the University of Maryland's Robert H. Smith School of Business
The Robert H. Smith School of Business is an internationally recognized leader in management education and research. One of 12 colleges and schools at the University of Maryland, College Park, the Smith School offers undergraduate, full-time and flex MBA, executive MBA, online MBA, business master's, PhD and executive education programs, as well as outreach services to the corporate community. The school offers its degree, custom and certification programs in learning locations in North America and Asia.