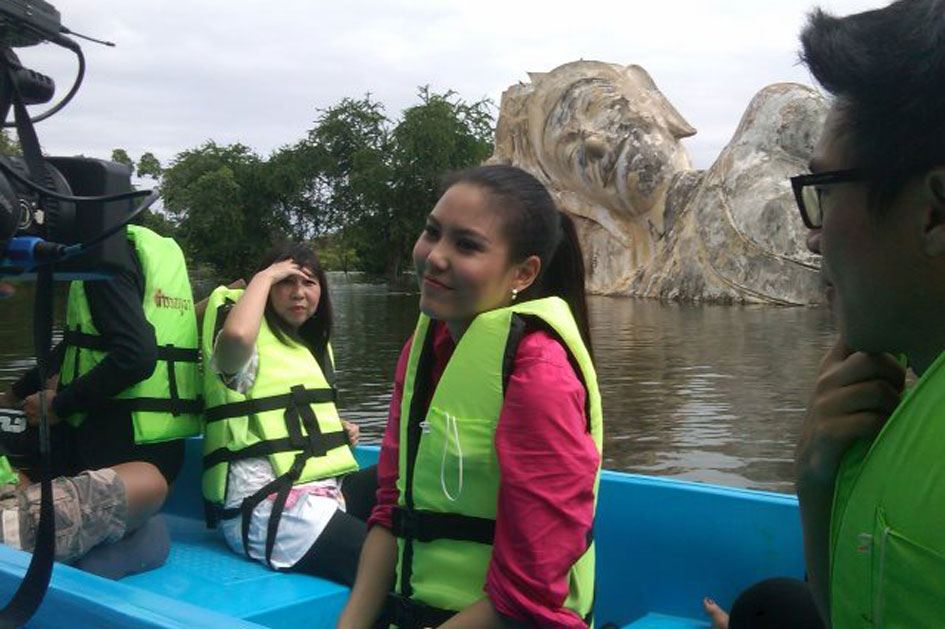 If you could make a Venn diagram of international beauty pageant winners and business doctorates, there wouldn't be much overlap. In fact, Niratcha "Grace" Tungtisanont at the University of Maryland's Robert H. Smith School of Business says she is the only professor among her old competition friends in the Miss Thailand 2011 pageant.
But this unusual career path helped answer her biggest research questions: How do you recover from a flood? Does citizen participation matter to post-flood recovery?
Tungtisanont describes herself as a bit of a nerd growing up in Bangkok, Thailand, more focused on school than anything else. She left home at 17 to improve her English as an exchange student in Montana and continued her studies in the United States, graduating a year early as a statistics and economics major at the University of Arizona.
"Before the pageant, I had never worn makeup," Tungtisanont says. "I never really even wore shorts. I carried a big backpack everywhere and studied a lot."
After finishing her master's degree at the University of Arizona, she received PhD offers from various applied economics doctoral programs, but her parents wanted her to return to Thailand after spending years away from home.
They were perplexed when she entered the Miss Thailand competition that year, advising against it. Despite having little interest in beauty, Tungtisanont felt compelled to give it her all.
"My goal has always been to make a difference and change the world," she says. "On that platform, I felt like I could have a bigger voice. People would listen to me."
And she was right. She won Miss Thailand 2011 and reached the finalist stage in Miss Earth the same year. After competing, she planned to return to the United States to start her doctoral program. But Thailand was hit with severe, deadly floods during the monsoon season.
Villages were destroyed, and many people who didn't evacuate their village homes were in danger.
As a celebrity, she was called upon to boost morale by touring rural areas, offering citizens support, relief and cleanup.
"We saw cats, dogs and people on their roofs, waiting for help," Tungtisanont says. "In the disaster relief centers, no one knew what to do with all the donations because it's so rare to have such a bad disaster. And after the disaster is gone, the people helping leave, and you have to deal with a new normal."
Living this experience changed Tungtisanont's career path. She returned to the United States to study supply chain and operation management at Clemson with a dissertation focus on humanitarian operations and crisis management, applying the lens of service operations strategy.
With climate change becoming more urgent and extreme weather increasing, Tungtisanont says her field is growing. The biggest challenge? Collecting data. 
"It's such a sensitive topic," she says. "If you interview people in a household with a loss of a family member, it's going to give them flashbacks. Nobody wants to talk about it."
Tungtisanont had the chance to use her platform to solve this challenge, by securing a household dataset with over 36,000 survey responses from flood victims from the Thai government for her dissertation.
"I was just a PhD student," Tungtisanont says. "I didn't have credit. But then I started saying I was Miss Thailand with firsthand experience helping households who are affected by a major flood, and they began to listen."
After months of preparation, she flew back to Thailand to present her case. The government trusted her and released the survey dataset.
In the future Tungtisanont hopes to study disaster relief operations in the United States, producing research on an even larger scale, now that she has the credibility and expertise to access more data. Despite her education, people still doubt the former pageant winner's credibility.
"Some people will test my knowledge," Tungtisanont says. "But now that I have a PhD, and I'm a tenured track professor, no one questions me."
— Kira Barrett, Communications Writer at the University of Maryland's Robert H. Smith School of Business
Media Contact
Greg Muraski
Media Relations Manager
301-405-5283  
301-892-0973 Mobile
gmuraski@umd.edu 
About the University of Maryland's Robert H. Smith School of Business
The Robert H. Smith School of Business is an internationally recognized leader in management education and research. One of 12 colleges and schools at the University of Maryland, College Park, the Smith School offers undergraduate, full-time and part-time MBA, executive MBA, online MBA, specialty master's, PhD and executive education programs, as well as outreach services to the corporate community. The school offers its degree, custom and certification programs in learning locations in North America and Asia.