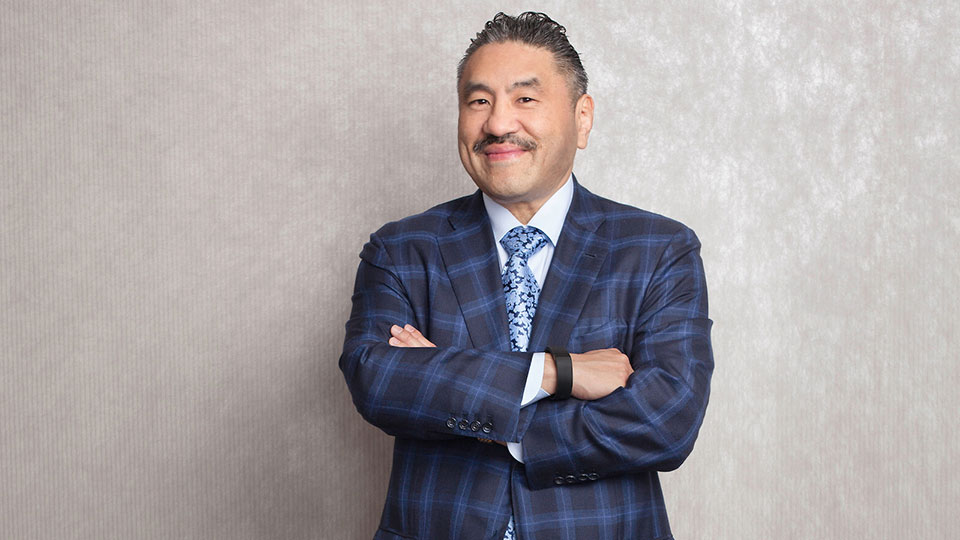 For Robert G. Hisaoka '79 cars were just the start.
Early in his career, Hisaoka worked in public accounting in the auto industry. But he quickly moved to co-own and operate some of the largest automotive dealerships in the country. With his talents and entrepreneurial drive, he successfully turned around underperforming dealerships, growing them into some of the most successful in the country.  
Today, Hisaoka is the chairman and CEO of RGH Capital and a partner in a group of automotive dealerships and related entities. He is also both an investor in and a member of the boards of Sionic Mobile, Precise Target, Mars Reel, Mint House (board observer) and Mplex, and a former board member of Hungry Marketplace. He is a member of the Economic Club of Washington, D.C., and a former trustee of the Federal City Council. And he is an active angel and venture investor. 
"My job now is really focused on investing in what I perceive to be disruptive industries and philanthropy," says Hisaoka. He uses his background in tax, accounting and auditing to fully understand the business and the industry, and to find opportunities.
A long way
Hisaoka says his first job, at a big local public accounting firm, was a formative experience. At the big tax firms, he'd likely have had to specialize in either auditing or tax, he explains. Instead, Hisaoka was able to immerse himself in both, simultaneously.
He was grateful for the experience and was driven to prove himself. The job came along at a critical time.
During his third year in college, Hisaoka's father died. His mother had died years earlier, when he was just 13. "I knew that I was on my own and needed to get a job quickly," he says. He landed several interviews during a career fair at the business school. One led to a job. "The door was opened for me."
He was determined to make the most of the opportunity.
"I had by then learned a lot of lessons, in terms of dealing with adversity," he says. "I moved forward in a manner in which my parents would want me to." 
In addition to the loss of his parents, he had seen his Olympic hopes dashed by a knee injury. Hisaoka, a fourth-degree black belt in judo and with several national and international judo titles, had spent much of his university career traveling back and forth to Potomac, Md., training at his father's judo club. His competitive drive started with the first national championship at the age of 12 and continued to propel him in his personal and professional world. Competitiveness, intensity, and dedication translate to how he approached judo and his approach to business.  
When he wasn't doing his own training, Hisaoka volunteered at Cole Fieldhouse, helping to coach the judo club. One night, a few of the club members were horsing around and tripped over one another, crashing into Hisaoka. The impact to his knee tore his cartilage and ligaments. "It was at the time a very devastating injury," he recalls. 
In hindsight, he sees it as so much more. It's part of his story. 
"I think that is something that is important to understand – that careers and lives rarely follow a straight line, so learning to deal with the adversity and adjusting is important."
Getting to work 
Hisaoka would learn a lot in that first job and make connections that would allow him to break out on his own, in the auto industry, where he achieved much of his professional success.
In 2011, Hisaoka was nominated as one of only 52 automobile dealers from 17,000 nationwide for The Time Dealer of the Year Award; the automobile industry's most prestigious award for new-car dealers. Recipients are among the nation's most successful auto dealers, but they must also demonstrate a long-standing commitment to effective community service. In June of 2015, he was awarded a Mercedes "Best of the Best Jacket" as one of 53 Mercedes dealerships recognized for elite performance in 2014.
Hisaoka is driven to do more – to give back. He now is recognized for his generous philanthropy in the areas of healthcare and education. 
"What fuels me is philanthropy," he says. It's what drives him to invest in startup companies – searching for returns that will allow him to make a larger impact with his philanthropy.
"It's what I believe in – giving back to provide opportunities for others and care for those in need."
Giving back 
In 2007, Hisaoka became an active investor in Venture Philanthropy Partners (VPP). VPP is a philanthropic investment organization that helps exceptional nonprofits leaders grow effective programs to improve the lives of children and youths from low income families in the national capital region.
In 2008, Hisaoka founded the Joan Hisaoka Gala, which he continues to chair, to honor his late sister, Joan, and to fulfill her desire to help others living with cancer. The Gala supports organizations that bring hope and healing to those faced with serious illness. As of the fall of 2021, the Gala has raised approximately $19 million in 14 years.
Hisaoka has also been named for 10 years to Washington Life Magazine's Philanthropic 50, and was named to Washington Life's Power 100 list in 2013. In October 2014, he was named an Honoree of the Sack Cancer Gala by the Washington Redskins Charitable Foundation and the American Cancer Society.
In 2013, Hisaoka received the University of Maryland's Robert H. Smith School of Business Alumnus of the Year Award, and was honored by Inova Health System with the Building Our Legacy in Cancer Award.
Hisaoka is the chairman of the Advisory Board of the Inova Schar Cancer Institute. He formerly served on the Advisory Board of the Robert H. Smith School of Business at the University of Maryland, the Board of Washington 2024, the Maya Angelou "See Forever Foundation" Board of Directors, the D.C.-Region board of Teach For America, and the Smith Center for Healing and the Arts. 
Hisaoka funded and chaired the Robert G. Hisaoka Speaker Series at the University of Maryland's Robert H. Smith Business School, from 2017 to 2020. Speakers included Ted Leonsis and Steve Case. He previously chaired and funded the school's Pitch Dingman student entrepreneur competition.
He has also been an investor in New Schools Venture Fund, a nonprofit philanthropy firm working to transform public education for low-income children in Washington, D.C. 
"Personally, I get a lot out of philanthropy and being able to help someone else. Though my parents died when I was at an early age, I was in a position – because of what they instilled in me – to move forward in life. For me, I get a lot back from being a small part of helping someone else move forward," he says.
Media Contact
Greg Muraski
Media Relations Manager
301-405-5283  
301-892-0973 Mobile
gmuraski@umd.edu 
About the University of Maryland's Robert H. Smith School of Business
The Robert H. Smith School of Business is an internationally recognized leader in management education and research. One of 12 colleges and schools at the University of Maryland, College Park, the Smith School offers undergraduate, full-time and flex MBA, executive MBA, online MBA, business master's, PhD and executive education programs, as well as outreach services to the corporate community. The school offers its degree, custom and certification programs in learning locations in North America and Asia.