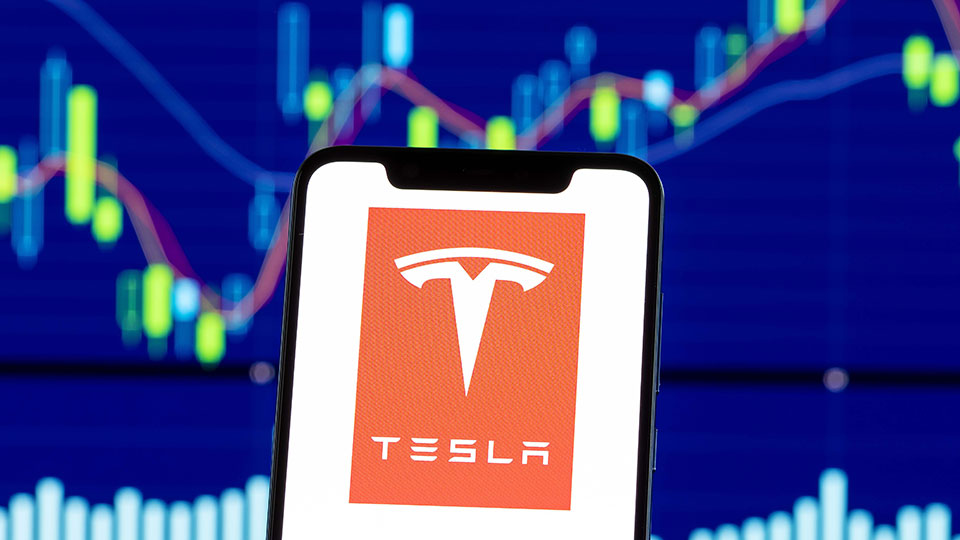 Amid Elon Musk's successful $44 billion bid to buy Twitter this week, there's no denying the value the social media platform has brought to one of the world's richest person's other companies, 240 characters at a time. Tesla's sky-high valuation—over $1 trillion—is linked to the electric car maker's maneuvers on Twitter, says Maryland Smith's David Kirsch, associate professor of management and entrepreneurship. 
In a new working paper recently highlighted in a Los Angeles Times article, Kirsch identifies a set of accounts (fanbots) that do not behave like human users and explores the possibility that these accounts – by shaping the Tesla narrative on Twitter – may have also influenced the trajectory of the firm. One question that Kirsch is trying to answer with his research assistant, Mohsen Chowdhury, is whether the tweets from these fanbots  may be related to changes in the price of Tesla's stock.
A Twitter bot is a fake account, created by software, that automatically scans the social media platform for specific activity, then retweets, tweets, likes, follows or messages other accounts to amplify or discredit certain messages or news. In line with this definition, the researchers acknowledge that Tesla fanbots generate mostly original tweets, often linking to pro-Tesla news and other content on the internet.
Kirsch and Chowdhury reviewed Tesla-related tweets from the date when the company went public in 2010 through the end of 2020. They used Botometer, a software program researchers developed to separate bot accounts from real human ones, and found that one-fifth of the relevant tweets about Tesla were bot-generated – similar to the fraction of tweets about other tech giants like Amazon and Apple. But with those other companies, bots tended to push the stock market and tech stocks in general and not a particular narrative about the companies, say the researchers.
The researchers don't yet have evidence of a direct link between bot tweets and stock prices – but their research continues. Their findings so far: In the decade they combed through, of the 4.2 million tweets containing the "cashtag" $TSLA, 1.4 million (or 33%) came from the 400 most active accounts and 400,000 (or 10%) came from the bots identified among this subset of accounts. And of the 157,000 tweets containing the "hashtag" #TSLA, 23% were from bots.
They tracked 186 fanbots and found that the company's stock appreciated more than 1.4% in the week immediately after each account was created. Tesla's stock prices have had some big ups and downs during that period, but when new bots hit Twitter, stock price increases have followed, the researchers told the Los Angeles Times.
"This isn't (yet) a  causal relationship but it does raise questions," Kirsch said. "Tweets alone cannot move a stock; if the tweets are implicated, it must be by activating pathways that get to traders."
He and Chowdhury are looking into other things, like the timing of tweets and the range of topics within the collections of tweets . One thing they don't know is whether the Twitter bots' creators have any direct financial interest in Tesla. (Kirsch recently told the Wall Street Journal that he has never had a position in Tesla stock, long or short.)
Kirsch and Chowdhury do point to bots that have been created on behalf of other companies, but these seem to spread "generic" pro-market messages. Regardless of the effect on stock prices, bot campaigns are a new form of corporate content distribution, says Kirsch – "corporate computational propaganda."
"This computational content may have buffered the Tesla narrative from an emergent group of critics, relieved downward pressure on the Tesla stock price and amplified pro-Tesla sentiment from the time of the firm's IPO in June 2010 to the end of 2020," write the researchers in their working paper. They say regulators may have to consider the use of Twitter bots in Securities and Exchange Commission disclosure rules.
Media Contact
Greg Muraski
Media Relations Manager
301-405-5283  
301-892-0973 Mobile
gmuraski@umd.edu 
Get Smith Brain Trust Delivered To Your Inbox Every Week
Business moves fast in the 21st century. Stay one step ahead with bite-sized business insights from the Smith School's world-class faculty.