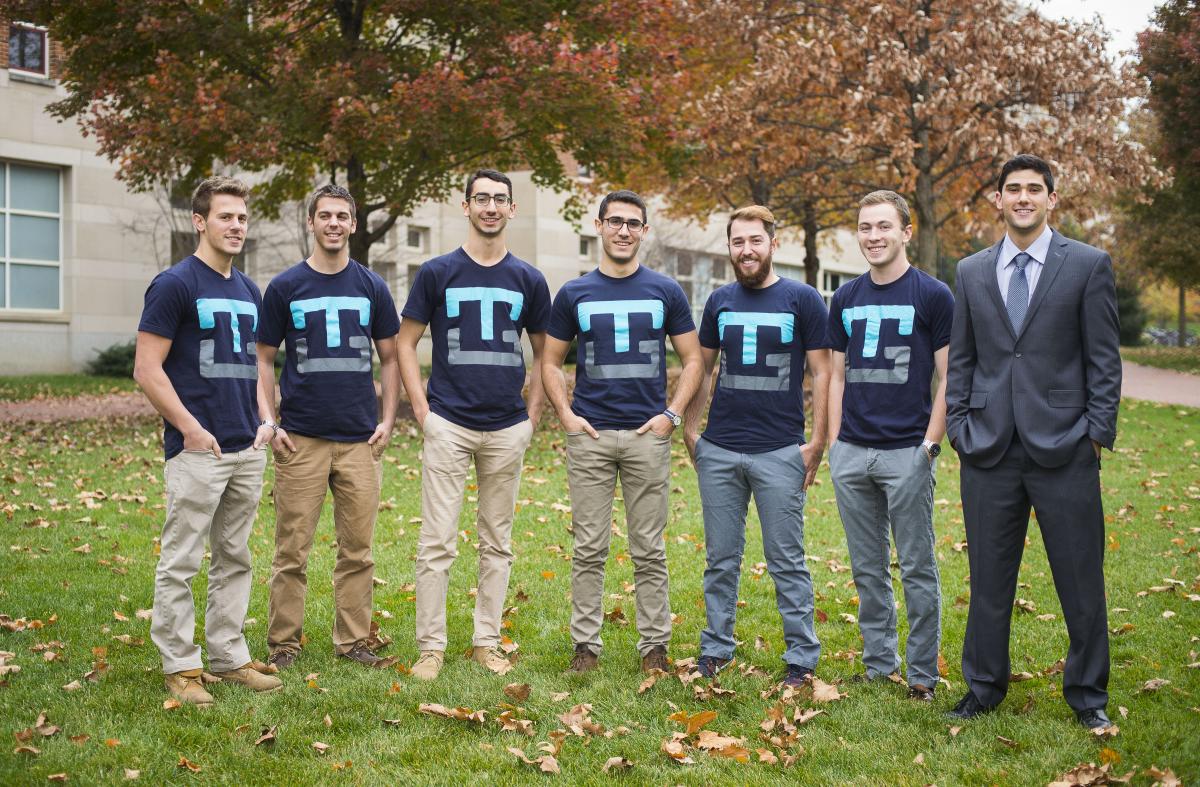 Smith student Philip Peker '18 writes about the TAMID Group at the University of Maryland. The TAMID Group at Maryland is a student-led initiative that pioneers the next generation of American commitment to Israel by connecting business-minded students with the Israeli economy.
As college students, one of the main skills we are constantly developing is responsibility. We begin to experience the genuine need for self-advocacy as well as accountability. No longer are our parents watching over us, or guidance counselors and teachers holding our hands. We learn that motivation must come within us to succeed in academics, and that fewer and fewer people can be blamed when we fall short of our personal goals. But for a select few students, the definition of responsibility does not stop there. For TAMID, success and accountability is not a localized notion measured by grades and scores, but a global and contracted reality measured by profit, sales, and real money. These students deal with a very mature, professional definition of responsibility, and that is where these students set themselves apart.
At TAMID, University of Maryland undergraduate students gain professional experience working with Israeli start-ups in the areas of consulting and investment. I had the chance to speak with TAMID co-president Eitan Kahn who shared some insight on the inner workings of this amazing collaborative student-run venture. "There's always a lot going on, there's always more work to be done." Eitan shares his presidency with Noam Schildhaus, and together they look over the six departments: membership, education, technology, which are Eitan's specialty, and consulting, finances, and investment, which are Noam's. What separates TAMID from other professionally focused student organizations is that TAMID doesn't only have the students "do" the work, but teaches them how. "This year we switched things up. We designed a startup incubator program, which serves as the main part of our education program. We divided people into seven teams of three, and within these teams they work on a new venture project which they will eventually pitch to a panel of venture capitalists." This unique program gives students a dense yet wholesome foundation to have them move onto functional roles in the consulting and investing teams of TAMID. Consulting for TAMID gives students a taste of the cross-functional coordination it requires. TAMID focuses on helping startups in Israel, a cause as noble as it is difficult. "The balance between providing students with real work experience and providing companies with real, tangible, value is like nothing else."
Noam and the investment part of TAMID manages and directs the growth of sizeable portfolios funded and supported by Israeli businessmen, angel investors, venture capitalists, and entrepreneurs alike. Israeli innovation and technology business development is at its all time high right now, and the fact that a student organization at the University of Maryland is helping companies in Israel achieve their visions is an incredible thing. The demand is there, but many of these startups cannot afford the services of boutique consulting firms, so the existence of TAMID is special, and over the years, an unbreakable bond has been welded from this symbiosis.
Being co-president of an organization like TAMID is a responsibility and a half. "Within a day, I have to make sure we have a guest speaker for education purposes, make sure we have an event ready to go for membership purposes, make sure a newsletter is sent out weekly, keep the website up to date, communicate with Noam, and work on my own personal projects in TAMID." The relentless dedication and work Eitan and Noam put in are a direct result of the sheer passion for new ideas, but more importantly, making these new ideas happen. This passion is not limited to Eitan and Noam though. "It is really amazing to see students passionate about their own ideas. Having them experience real, tangible results from the work they put in is rewarding." This passion that seeps from every pore in TAMID is felt all around: by the companies, the university, the students, and even Israeli business. Yet, amidst all the hunger for more, TAMID keeps itself grounded and never forgets that, first and foremost, they have a responsibility to the Israeli startups they consult, and to the clients whose money they are responsible for. In TAMID, nothing matters more than a happy customer, and through this, success has been at TAMID's door too often to count.
For more information about the undergraduate program at Smith, visit www.rhsmith.umd.edu/undergrad.
Media Contact
Greg Muraski
Media Relations Manager
301-405-5283  
301-892-0973 Mobile
gmuraski@umd.edu 
About the University of Maryland's Robert H. Smith School of Business
The Robert H. Smith School of Business is an internationally recognized leader in management education and research. One of 12 colleges and schools at the University of Maryland, College Park, the Smith School offers undergraduate, full-time and flex MBA, executive MBA, online MBA, business master's, PhD and executive education programs, as well as outreach services to the corporate community. The school offers its degree, custom and certification programs in learning locations in North America and Asia.