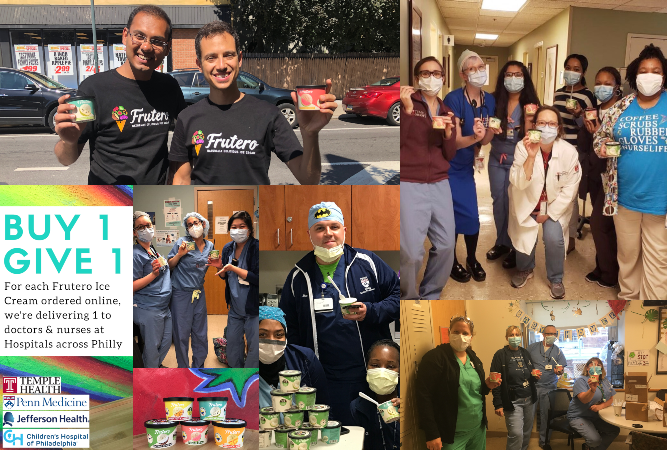 Maryland Smith Alum Gives Ice Cream to Doctors, Nurses
With the fight to treat COVID-19 patients in full force at hospitals, Mike Weber '14 wanted to help. He watched as his wife, an internal medicine resident at Thomas Jefferson University Hospital in Philadelphia, and her colleagues put in long, intense hours in the ICU.
As the co-founder of fruit-based ice cream company Frutero, Weber didn't have face masks or PPE to donate. But he and business partner Vedant Saboo realized there was something they could do. They started dropping off ice cream to hospital staff as a thank you for their frontline dedication.
In less than two weeks, they had delivered more than 1,000 ice creams to staff at seven Philadelphia-area hospitals. And they had launched an online order business to expand their ability to donate more. For each ice cream a customer ordered online, the co-founders pledged to donate one to hospital staff. Weber and Saboo even bought oversized freezers so they could store the ice cream at home, and package and ship online orders themselves, while also making deliveries to hospitals.
"Mike called and I said we'd love ice cream – I don't know anybody who would turn down ice cream," says Jessie Reich, a nursing executive at the Hospital of the University of Pennsylvania. She has worked with Weber to distribute multiple donations to hospital staff, each time connecting Weber with a specific unit to coordinate an ice cream delivery outside the hospital entrance.
Her hospital has seen such a huge uptick in community donations since the pandemic started that they had to set up a centralized system to manage the donations of everything from ice cream and hot meals to energy bars and shoes. Reich has been working to make sure all units – not just the staff in the COVID units – share in the outpouring of support.
"The donations we've received from the community, from Mike included, have been so appreciated. The food and the donations themselves are really wonderful, but it's just the feeling of support from the community that has really made a difference to our staff," says Reich.
"We'll just continue doing this until this coronavirus is over," says Weber.
Weber never pictured himself in the ice cream business. He earned his undergraduate degree from the University of Maryland, double-majoring in finance and biology. After graduating in 2014, he worked as a consultant for Deloitte for four years. Then he worked for a technology startup in the craft beer industry. That's when the entrepreneurial bug bit.
"I worked closely with the founders and I thought their story was just amazing," says Weber. "With any founder, it's such an exciting journey to hear and I really wanted to have an exciting journey for myself."
In fall 2018, Weber entered the MBA program at the University of Pennsylvania's Wharton School of Business, determined to launch his own startup. The first day of class, Weber serendipitously found himself seated next to Saboo, who had come from India with the same goal. They decided to team up and began meeting daily to brainstorm business ideas. Then, that December, Weber took a class trip to India, where Saboo insisted he try the phenomenally popular fruit-based ice cream. The ice cream was so good, Weber and Saboo thought it just might be the startup idea they had been searching for.
"Initially we thought this would be a niche Indian product, but these fruits are super common in all tropical regions – India, Southeast Asia, Latin America," says Weber, who grew up in Connecticut, unfamiliar with some of the fruits he now features in his ice creams. "There are so many people from those regions in the U.S. who just can't get these fruits. We're really able to serve those customers and a need that no one has been able to serve for them. And we want to bring these flavors to the U.S."
They developed their ice cream, using recipes from Saboo's mother and testing them with their classmates. They source the fruits for their flavors – mango, guava, coconut, passionfruit and guanabana – from farmers in Columbia and Thailand and vowed to be transparent about all of their ingredients.
Weber and Saboo spent the summer of 2019 with a goal just to get a product to market. To get started, they worked with a local Philadelphia company that makes pints of ice cream. Weber worked out a barter agreement with the company, trading his consulting services from skills he learned at Maryland Smith for small batch production of Frutero ice cream. Recently, they moved production to a large manufacturer in Baltimore. And Bassett's, one of the country's oldest ice cream companies, now distributes Frutero to nearly 500 retailers in Pennsylvania, New Jersey and New York.
This summer, Weber and his wife will move to Miami, where she'll start an ophthalmology residency and he'll expand Frutero's business in the south. Saboo will move to New York to continue to expand the business in the Northeast.
"What's really been solidified in my mind is the importance of having a connection to the community that we serve," says Weber. "Going forward, whatever market that we enter, I want to make sure that we're always doing something to help the community. The community supports us and we support the community. What I've seen through COVID is that we really are all in this together. And we all need to work together to just do what we can to just get through this thing in any way we can."
Media Contact
Greg Muraski
Media Relations Manager
301-405-5283  
301-892-0973 Mobile
gmuraski@umd.edu 
About the University of Maryland's Robert H. Smith School of Business
The Robert H. Smith School of Business is an internationally recognized leader in management education and research. One of 12 colleges and schools at the University of Maryland, College Park, the Smith School offers undergraduate, full-time and part-time MBA, executive MBA, online MBA, specialty master's, PhD and executive education programs, as well as outreach services to the corporate community. The school offers its degree, custom and certification programs in learning locations in North America and Asia.