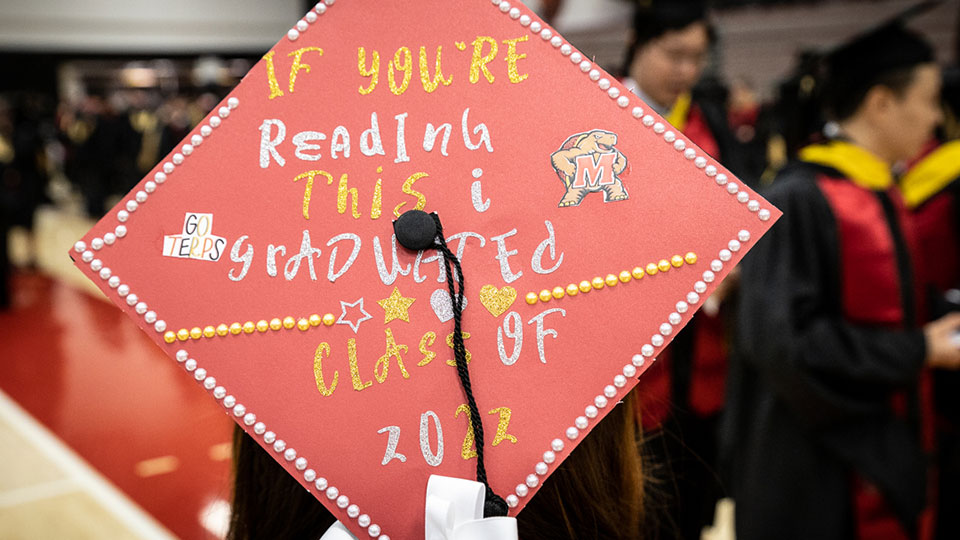 To graduate means to reap the successes of hard work and dedication along a difficult journey – and maybe a little bit of luck too.
During Wednesday's spring commencement ceremony held at the XFINITY Center, the University of Maryland's Robert H. Smith School of Business recognized graduates across its programs – 857 undergraduate students, 190 business master's students, 147 MBA students, 15 PhD students, 41 EMBA students. Fall 2021 graduates were also invited to participate in the ceremony, Smith's first in-person commencement since the start of the COVID-19 pandemic. 
Following MBA graduate speaker Jordan Friedman and undergraduate speaker Joe Houghton, Amit Mehta, MBA '96, spoke to graduates about his experience as a portfolio manager and managing member of Crestwood Capital Partners, a global long-short hedge fund based in New York. Mehta said success sometimes – or maybe always – requires luck.
"Consider, for instance, the blackjack analogy – hit at 12, don't hit at 15. You can't control your outcome, but there are a few things you can do to give yourself a chance to be lucky," Mehta said. "And if it doesn't work out, it's just luck. Don't be hard on yourself."
Reflecting on his over two decades of experience investing across multiple sectors globally, Mehta expressed how he couldn't provide a secret recipe for success. Instead, he proposed this formulaic approach to luck: 
Many of us were also graduate assistants, living in the U.S. for the first time, working full-time jobs, searching for full-time jobs, planning COVID weddings, raising unvaccinated kids, and the list goes on. Yet down below the surface of all these responsibilities was a journey of self-discovery that pushed us outside our comfort zones and taught us what it takes to drive change through all aspects of our lives.
Appreciate your surroundings. After a visit to Ellis Island last month, Mehta said he took in the vibe of an environment that served as the first stop for thousands of driven people seeking new opportunities for themselves and their families. Getting an education requires following a similar path, he said. "For some of you, the Smith School and the University of Maryland were your Ellis Island, the first stop to a degree or a career path and location change," said Mehta. "It took amazing effort to leave home or quit your job or travel across an ocean to get to this incredible place."
Trust science and rub Testudo's nose. There's a reason why the university tradition continues to be practiced every day – it's because it works. Whether it's before an exam or a big game, Mehta said the facts lean in favor of sharing a brief moment with Testudo. There are even articles explaining the entropy reduction and copper metallic reactions from doing it, he said. And to those superstitious folk who are no longer on campus to experience it in person, worry not, Mehta said, because now they're covered. "Testudo is so scientific that in this hybrid tech-enabled world, mechanical engineer Ellie Litwack created a virtual Testudo nose rub," said Mehta. "If you include me, the formula for luck has been discovered using virtual Testudo 139,000 times.
As we go out into this world, feeling like individuals, we must also remember that we are all Terps from Smith. Empowered by our passions and elevated by our community, we all have the unique experiences, capabilities and desires upon which we can build a better tomorrow.
Choose experience every time. Mehta cited businessman Harold Geneen who said, "In the business world, everyone is paid in two coins: cash and experience. Take the experience first; the cash will come later." Inspired by his spouse to make his start as a hedge fund analyst after the dot-com bubble, Mehta said that being patient with the process and making a commitment to learning as much as he could every day helped him get to where he is now. "You learn a lot working as the junior-most analyst with a good mentor and a daily report card during a recession," said Mehta. "I learned enough to become the No. 2 employee on the investment team and eventually co-lead the fund."
Be optimistic and uncomfortable. Navigating the 2009 financial crisis as a fund was extremely difficult, said Mehta, but a little bit of skill and a lot of luck paved the way for success. Now, there's a lot to worry about in the world today, but there's also plenty to be grateful for, he said. "Maryland Smith calls you 'leaders for a tech-enabled world.' You, the class of 2022, have earned your degree while living in a global pandemic," said Mehta. "You are a unique graduating class and you deserve this amazing degree. Aim higher and make yourself uncomfortable."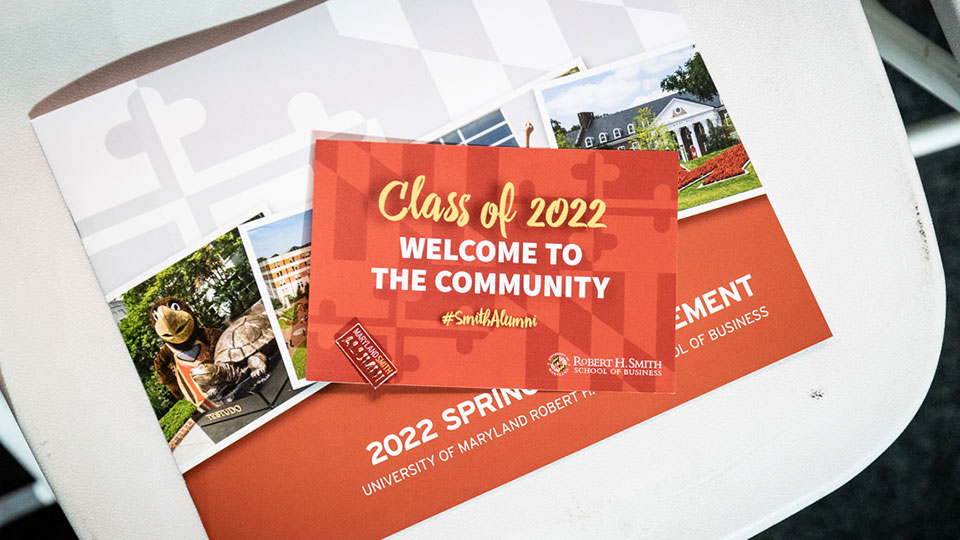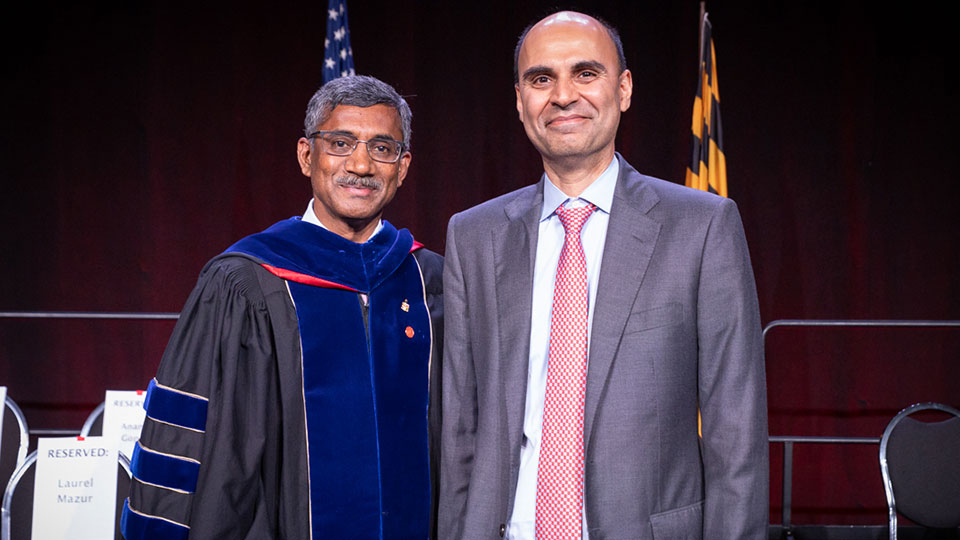 Media Contact
Greg Muraski
Media Relations Manager
301-405-5283  
301-892-0973 Mobile
gmuraski@umd.edu 
About the University of Maryland's Robert H. Smith School of Business
The Robert H. Smith School of Business is an internationally recognized leader in management education and research. One of 12 colleges and schools at the University of Maryland, College Park, the Smith School offers undergraduate, full-time and flex MBA, executive MBA, online MBA, business master's, PhD and executive education programs, as well as outreach services to the corporate community. The school offers its degree, custom and certification programs in learning locations in North America and Asia.