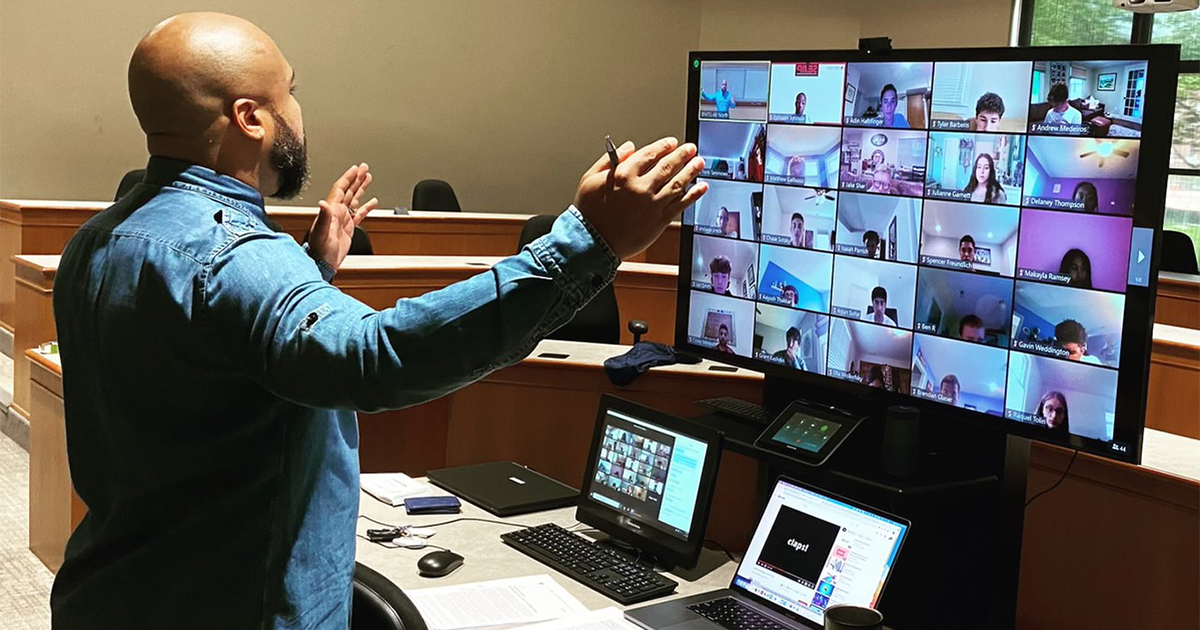 When Kibwe "KJ" Hughes, EMBA '20, signed on as faculty director of Maryland Smith's Sports and Entertainment Business program, he was taking on a new challenge. Just 18 months earlier, he'd been on the other side of the desk, as a student in Smith's Executive MBA program. Now, he'd be the professor, teaching a five-day virtual summer program to rising 10th, 11th and 12th graders.
He didn't know precisely what to expect, but he knew he was ready to lead.
"Woah," he wrote in a weeklong journal, chronicling the experience. "Day 1 of my new role as Professor Hughes is in the books. I hope I wasn't too hard on them. I have to remind myself I've been around the business of sports and entertainment for nearly 20 years."
On that first day, he delivered a lecture on an HBR Case that detailed the 2011-2019 business transformation of the Paris Saint-Germain football club. The connectedness of the decisions the club made and how they fit together so perfectly, he wrote, "like fine wine to me." And it seemed to resonate with the class.
"Seeing the students literally connect dots as I wove differing examples of similar strategies through their favorite leagues and sports organizations was magical to me," he wrote. "I don't just want to teach. I want to be a change agent of thought."
He sent them away with homework, telling them that he's less concerned about getting the "right answer," and more interested in exploring the thought processes.
By Day 2, he noted the bonds building between students.
"These high-intensity short sessions should be transformative experiences. Students should come away feeling they've made some connections that will last a lifetime."
Guest speaker Sean Brown, head of sports for Clubhouse, addressed the class, discussing strategies, decision-making and serving stakeholders.
Then, Hughes wrote, came Day 3, "the crescendo." Students tackled big problems and formulated solutions that tied back to the company's goals and stakeholders.
Matt Adler COMM '10, a talent agent with Wasserman Music, spoke to the class, along with Jennifer Rosales, a senior vice president at Fenty Corp, and Scott Shepherd, chief partnership officer with the Washington Football Team. Hughes said he "invited folks who could provide life to the case. These guests solve the exact same problems in real life that I'm asking the students to solve in simulation."
The students "were brilliant," he wrote. "In just two short days they were using terms like 'addressable market and core demographic.' Another group referred to their customers as 'constituents.' Music to my ears."
"Success leaves clues," he told the students, later writing, "I'm confident there are future sports and entertainment executives amongst this group of students."
On Day 4, he discovered that despite an invitation from Victor Mullins, associate dean for Undergraduate Studies at Smith, to review and assess the students' resumes, few in the group had seized the opportunity. "I was disappointed," Hughes wrote. "I shared with them some of my history and how I navigated so many hurdles – dropped out of school more than once, struggled to find mentors. ... This journey to success, I said, does not come by being 'cool' and complacent. You have to be hungry. You have to stay relentless."
The resumes poured in. "And the focus for the remainder of the session was locked in," Hughes wrote.
On Day 5, the imprint that the course was making became evident. Notes of appreciation were arriving in email inboxes – addressed to Hughes and course organizers.
Student Chase Sotsky wrote, "First off, I wanted to thank you for this entire program. I was able to take away everything I had hoped to take away from this program and more and it was all thanks to you, the staff, and the guests. So from the bottom of my heart, thank you for accepting me into this program as I plan on having a career in the sports entertainment world. I look forward to applying to the University of Maryland, and talking with you in the future."
Parents wrote about how energized their teens were about the program. "I have never seen Ian so excited to go to class," parent Lori Smith wrote. "The guests and speakers really resonated with him and he is excited to pursue a business career – perhaps in marketing! His big brother, Zach, might have been a little jealous that Odell Beckham, Jr. even made an appearance."
Of her son Corey, parent Marci Minkoff wrote, "It was the first time in over a year I saw him passionate and excited about something! He spoke about the program every day in detail and discussed how much he enjoyed the work, the speakers, the people involved. He told me how he reached out to anyone that gave their contact information because he wanted to thank them. This was so amazing to see, and I truly know that Corey has found something that he is passionate about!"
For Hughes, their words were an affirmation. He'd worked for two years to create and teach the course, knowing how important the topic is, how resonant its content, and how inspiring it had been for his own career.
"Sports and entertainment are undoubtedly a part of the fabric of America. The business principles I have learned from being in and around this industry for over 15 years has helped prepare me for all sorts of endeavors," he wrote.
Now, he could see this work inspiring a new generation of leaders.
Media Contact
Greg Muraski
Media Relations Manager
301-405-5283  
301-892-0973 Mobile
gmuraski@umd.edu 
About the University of Maryland's Robert H. Smith School of Business
The Robert H. Smith School of Business is an internationally recognized leader in management education and research. One of 12 colleges and schools at the University of Maryland, College Park, the Smith School offers undergraduate, full-time and flex MBA, executive MBA, online MBA, business master's, PhD and executive education programs, as well as outreach services to the corporate community. The school offers its degree, custom and certification programs in learning locations in North America and Asia.