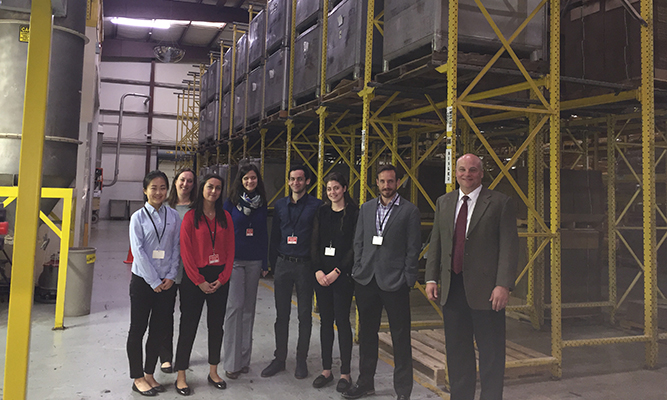 On Friday, March 10, 2017, five undergraduate students traveled to Konsyl in Easton, Md., as part of the Maryland Global Consulting Program. The program is a partnership between the Maryland Department of Commerce, Office of Investment and International Trade and the University of Maryland's Robert H. Smith School of Business to provide Maryland companies with the opportunity to consult with Smith graduates or undergraduates on real-world international business challenges.
For the project, students are providing Konsyl, a pharmaceutical company, with a ranking of countries that they recommend for future business. After determining their top three picks, students must pick an attractive market for Konsyl products abroad and provide a recommendation to grow international sales within the next one to two years.
The first site visit included an overview of Konsyl from General Manager Frank Gunsallus IIIfollowed by a tour of the facility. The group learned about how Konsyl's psyllium fiber is brought to the U.S., refined and converted into powder, and how the company assures the product's quality. Accompanied by Marina Augoustidis, assistant director of the Center for International Business Education and Research, and Kenyon Crowley, faculty lead for the consulting project, the students learned about distribution processes, procurement, and had the opportunity to speak with additional Konsyl employees during a Q&A session. 
"The students have done a great job integrating their various perspectives from international marketing, supply chain, finance and policy to craft a strong evaluation of foreign markets, with terrific engagement from the Konsyl team," shared Crowley. "I am confident our results will help empower Konsyl's decision-making and help grow sales and expand their Eastern Maryland-based manufacturing operations."
To learn more about the Global Consulting Program, please visit the CIBER website.
This program is sponsored in part by the Center for International Business Education and Research (CIBER), a Title VI grant from the U.S. Department of Education.
Media Contact
Greg Muraski
Media Relations Manager
301-405-5283  
301-892-0973 Mobile
gmuraski@umd.edu 
About the University of Maryland's Robert H. Smith School of Business
The Robert H. Smith School of Business is an internationally recognized leader in management education and research. One of 12 colleges and schools at the University of Maryland, College Park, the Smith School offers undergraduate, full-time and part-time MBA, executive MBA, online MBA, specialty master's, PhD and executive education programs, as well as outreach services to the corporate community. The school offers its degree, custom and certification programs in learning locations in North America and Asia.