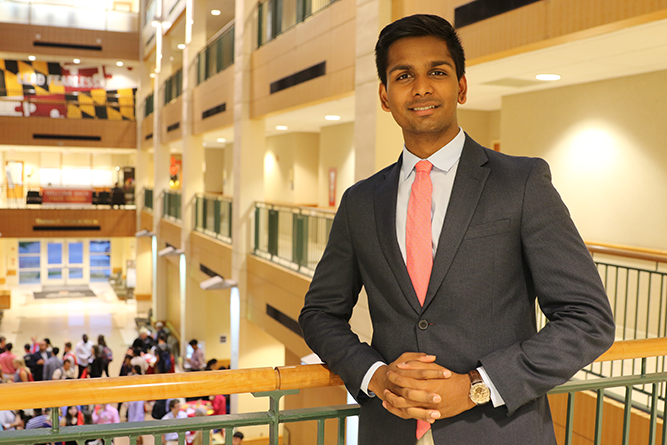 Victor Mullins, associate dean of the undergraduate program at the University of Maryland's Robert H. Smith School of Business, recently asked Praneeth Chandu '20 to discuss how­­ the SMITH JOURNEY has helped him find his passion and provided the opportunities to pursue it. Praneeth is majoring in finance and computer science.
What does the SMITH JOURNEY entail? Involvement with colleagues, professors, professionals, clubs and organizations here at the Smith School, across campus and in the outside "real" world of business. Here is what students are challenged to do in each of their four years at Smith:
Freshmen: "Build Your Brand" through the SmithStart program.
Sophomores: "Pioneer Your Path" to success by focusing on an overall academic and career strategy.
Juniors: "Command Your Career" to ensure that you are well positioned for your professional journey.
Seniors: "Embrace Your Experience" with an arsenal of tools, knowledge, and networks, so that you are able to embrace your experience and celebrate your success.
Dean Mullins: What is important to you? What motivates you? What is your passion? Why?
Praneeth: I'm passionate about making an impact by helping my peers in the Smith School become top candidates for careers in finance. There are many opportunities for Smith students to get involved and learn more about the industry, but I want to continue bringing more resources such as internship opportunities and technical skills training programs to help my peers and the Smith community develop into one of the top business schools in the country. If it wasn't for the support that I have been receiving from SUSA, OCS, Smith Undergraduate Program, I probably would not have been able to sustain my motivation to make these changes happen, and I'm fortunate that they are so willing to help.
Dean Mullins: When and how were you able to identify this passion?
Praneeth: I was able to identify this in high school through my involvement in a personal finance club called the Millionaire's Club. I joined as a junior and that involvement is what introduced me to the financial markets and financial news. The following year, I became the president of the organization and was responsible for researching various financial topics and creating slide decks to share my findings with my peers during the general body meeting. The Millionaire's Club grew to become the largest student organization at my high school and this was the first time I saw myself making an impact in my community.
Dean Mullins: How have you been able to connect your passion with coursework, involvements and/or activities?
Praneeth: I've been able to directly connect my passion to coursework, through special programs such as QUEST Honors, and via involvement in clubs such as the International Economics and Finance Society (IEFS). Making an impact by helping my peers can take place anywhere and all three of these have connected together because of my ability to learn and apply everything together. An example of this can be through my past leadership role in IEFS as the VP of Content. I would work with the content committee every week to research a topic, create a slide deck, and present it to members (similar to the Millionaire's Club).
Dean Mullins: What are the highlights of your Smith Journey thus far?
Praneeth: For me, it would have to be the opportunity to intern at two local boutique investment banks while being a full-time student. Most freshmen and sophomores do not get the chance to have this kind of experience and it really helped me build my brand as a young college student pursuing a career on Wall Street. Additionally, making the trek to NYC as a freshman through the SUSA NY trip to meet alumnus dedicated to helping UMD students pursue their passion was definitely another highlight of my Smith Journey. It's very inspiring to see alumni taking the time out of their busy schedules to meet ambitious students who are eager to get work experience through summer internships.
Dean Mullins: What advice would you give to your fellow Smith peers and community?
Praneeth: Get involved and ask for help! One of the unique qualities of Smith is the support students provide each other. I know if it weren't for the mentorship I received from certain upperclassmen that I met through clubs such as IEFS, IBC and SmithPeers, I would not be where I am today. The Smith community wants to develop each other to become the best versions of themselves, but it's up to you to take action and get involved.
Dean Mullins: Why are you passionate about the Smith School?
Praneeth: Simple. The Smith School cares. It takes initiative in hearing the student's voice through SUSA and DSAC. Additionally, it is constantly trying to provide its students with real-world experience through intellectually stimulating programs such as QUEST and the various Fellows programs available. Caring about each other's opinions is part of the culture here at Smith and one can really get a feel for that from talking to its students. Many successful students are willing to go out of their way to help others rise to the top.
Find out more about the Smith Undergraduate Program at www.rhsmith.umd.edu/undergrad.
Media Contact
Greg Muraski
Media Relations Manager
301-405-5283  
301-892-0973 Mobile
gmuraski@umd.edu 
About the University of Maryland's Robert H. Smith School of Business
The Robert H. Smith School of Business is an internationally recognized leader in management education and research. One of 12 colleges and schools at the University of Maryland, College Park, the Smith School offers undergraduate, full-time and flex MBA, executive MBA, online MBA, business master's, PhD and executive education programs, as well as outreach services to the corporate community. The school offers its degree, custom and certification programs in learning locations in North America and Asia.