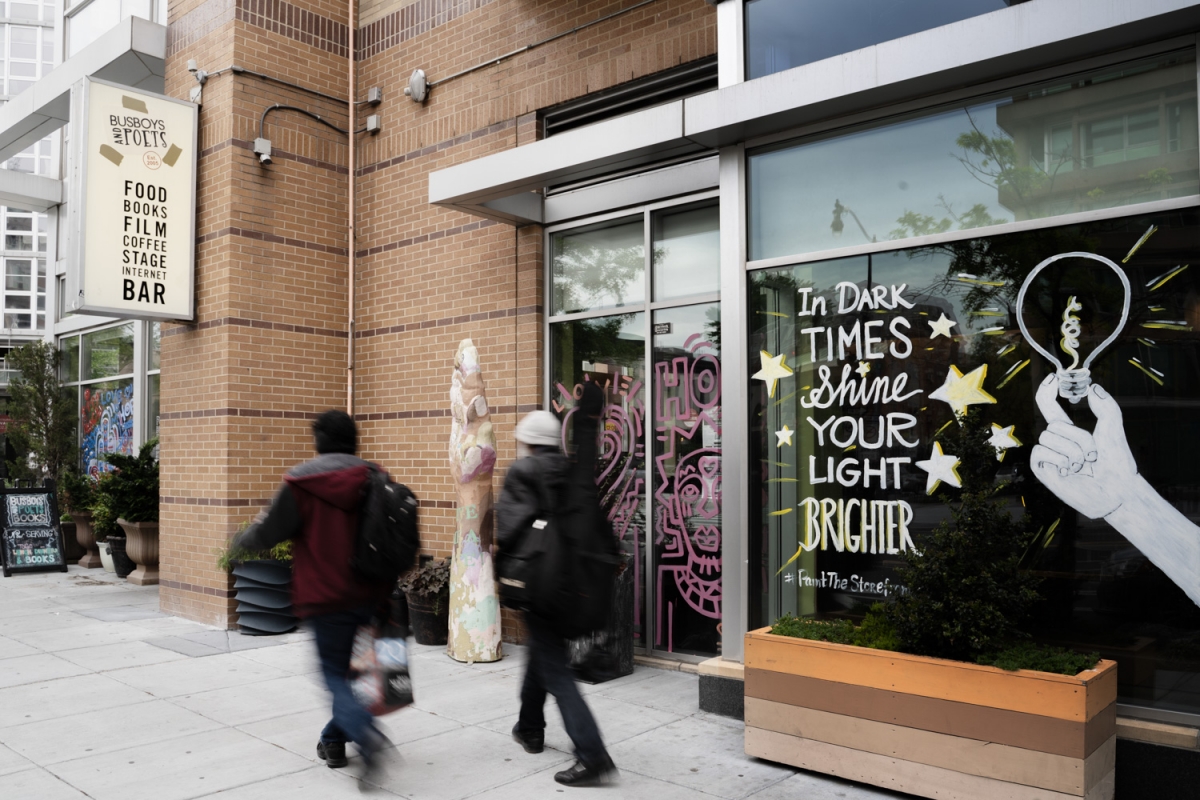 As Busboys and Poets founder Andy Shallal, MBA '19, fixed a shattered window from a break-in at his restaurant chain's Anacostia location, he found an opportunity to turn his misfortune into inspiration.
After staring at the black piece of plywood that now occupied his window space, Shallal picked up his paintbrushes and went to work. The result: "Busboys [heart] Anacostia."
"Storefronts are such a representation of the spaces that you're about to enter," says Shallal. "Once we painted the plywood black I saw it as a canvas and an opportunity to turn what might be seen as a scar into something beautiful."
What came next surprised him. There was a flood of support from the surrounding community and a realization for Shallal that he could spread positivity throughout the Washington, D.C., region, and maybe even beyond. So he painted the windows of his 14th Street D.C. location with the message, "In Dark Times, Shine Your Light Brighter."
"I got the idea that people are looking for something positive to come out in these very difficult times," Shallal says. "So instead of people walking around having their heads down and feeling isolated from one another, why not spread some positive messages and help people feel connected with their humanity?"
Shallal then reached out to celebrity chef and humanitarian Jose Andres, who eagerly accepted his offer, inviting Shallal to paint five of his restaurants across D.C.
Now, Shallal is turning his impromptu passion project into a movement. Paying out of his own pocket, he has enlisted the help of local artists who may have lost employment opportunities as a result of the COVID-19 pandemic. Anyone can join in the effort, he says, sharing their work using the hashtag #PaintTheStorefronts.
"For these artists, this became an opportunity to safely get out of the house, earn some cash, do what they love and spread positivity all at the same time," says Shallal. "We unleashed them across the city and now we have over 80 windows completed."
As for Shallal, he is looking beyond the paintbrush for more ways to serve.
Recently, he and Andres were named to the ReOpen DC Advisory Group, where they will collaborate with local officials, artists, architects, and nonprofit leaders, to help the District and its businesses regain their footing after the coronavirus disruptions. They're working to create recommendations for a safe return to business operations.
Whether that's weeks or months down the road, the city and its businesses will have to consider the parameters, Shallal says. Restaurants, in particular, he says, present unique challenges because it is harder to meet social distancing requirements in smaller areas like the kitchen.
"There are going to be situations where we don't want to be second-guessing ourselves," Shallal says. "We must create our guidelines based on the best practices and learning what we can from other places around the world that have already begun this process."
Media Contact
Greg Muraski
Media Relations Manager
301-405-5283  
301-892-0973 Mobile
gmuraski@umd.edu 
About the University of Maryland's Robert H. Smith School of Business
The Robert H. Smith School of Business is an internationally recognized leader in management education and research. One of 12 colleges and schools at the University of Maryland, College Park, the Smith School offers undergraduate, full-time and flex MBA, executive MBA, online MBA, business master's, PhD and executive education programs, as well as outreach services to the corporate community. The school offers its degree, custom and certification programs in learning locations in North America and Asia.