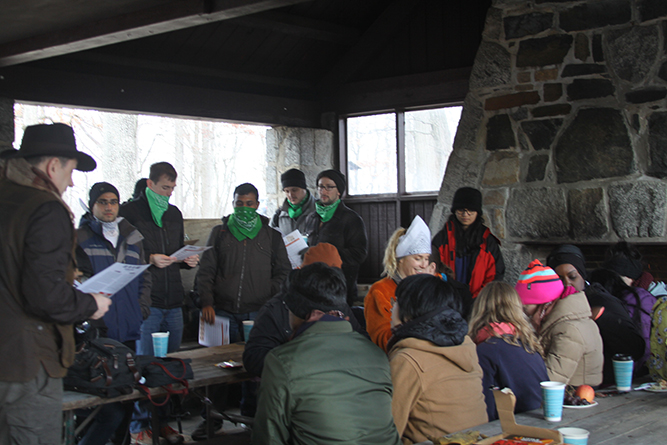 Full-time MBA students will race yachts, practice wilderness survival and match wits with historical Gettysburg commanders in a new semester-long leadership development program at the University of Maryland's Robert H. Smith School of Business.
"Leadership skills are best learned through practice," Smith School professor Neta Moye says. "So we designed a personalized, individualized and experiential program that builds on the leadership and teamwork course that I already teach in the core curriculum."
The school launched its inaugural Leading Fearlessly Program on Jan. 28, 2017, with daylong activities that challenged students to select and practice one leadership trait in a volatile, uncertain, complex and ambiguous environment. One group traveled to Gettysburg with U.S. Naval Academy instructor Joseph J. Thomas, while a second group stayed in Maryland for an "Arctic Survival" at Patapsco Valley State Park and an "Amazing Terp Race" in Annapolis.
"Leaders must often influence without authority and take action with limited information," says Janna Fernandez, a dual degree student earning a Smith MBA and a Master of Public Policy from UMD's School of Public Policy. "It was nice to see these leadership concepts applied outside the classroom."
Fernandez participated in the Gettysburg immersion, where teams responded to battlefield scenarios and then compared their answers with the historical record. "It's a place where decisions were made that changed the course of the Civil War and the course of the nation," she says.
MBA student Staci Bank, a 2012 Smith School undergraduate alumna, participated in the Maryland immersion. In one scenario led by Smith School professor Oliver Schlake, her team found itself "stranded" in the wilderness with no car, no cellphone reception and only one hour of daylight available to develop plans for food, water, shelter, medical care and a signal system for rescue.
A breakthrough came when her team figured out how to light a fire with only one match, a shoelace and a few other stray items for kindling. The secret, she says, was using the alcohol from hand sanitizer to make everything flammable.
"Those sorts of scenarios can really teach you about leadership," Bank says. "There's one outcome: Do you survive?"
The program's second phase will involve 10 weeks of focused, repeated practice of a specific leader behavior of each participant's choosing. Students will work in learning pods, each comprised of three students and one executive coach.
Moye says MBA peers can help each other make sense of what works or doesn't because they are immersed in the same context, while executive coaches will guide the reflection process and share insights from their years of experience working with leaders from other contexts trying to master the same behavior. "You put the two together and you get development magic," she says.
Phase three will involve a sailing workshop and yacht race at Annapolis Harbor in April 2017, and phase four will bring participants and corporate sponsors together for a show-and-tell reception with presentations from each learning pod.
Fernandez says the program already has taught her the importance of listening. "If you come to a team with a curious mind, asking questions rather than asserting yourself right away, you can build consensus quickly," she says.
The program also has given her language to articulate her leadership philosophy concisely — an important skill for MBA students at career fairs and interviews. "The different experiences are helping me grow into the leader I want to be," she says.
Bank says the program offers a perfect complement to the classroom instruction. "It allows us to practice different leadership styles in a relatively safe environment," she says.
For more information about the Full-time MBA program at Smith, visit: http://www.rhsmith.umd.edu/mba
Media Contact
Greg Muraski
Media Relations Manager
301-405-5283  
301-892-0973 Mobile
gmuraski@umd.edu 
About the University of Maryland's Robert H. Smith School of Business
The Robert H. Smith School of Business is an internationally recognized leader in management education and research. One of 12 colleges and schools at the University of Maryland, College Park, the Smith School offers undergraduate, full-time and flex MBA, executive MBA, online MBA, business master's, PhD and executive education programs, as well as outreach services to the corporate community. The school offers its degree, custom and certification programs in learning locations in North America and Asia.