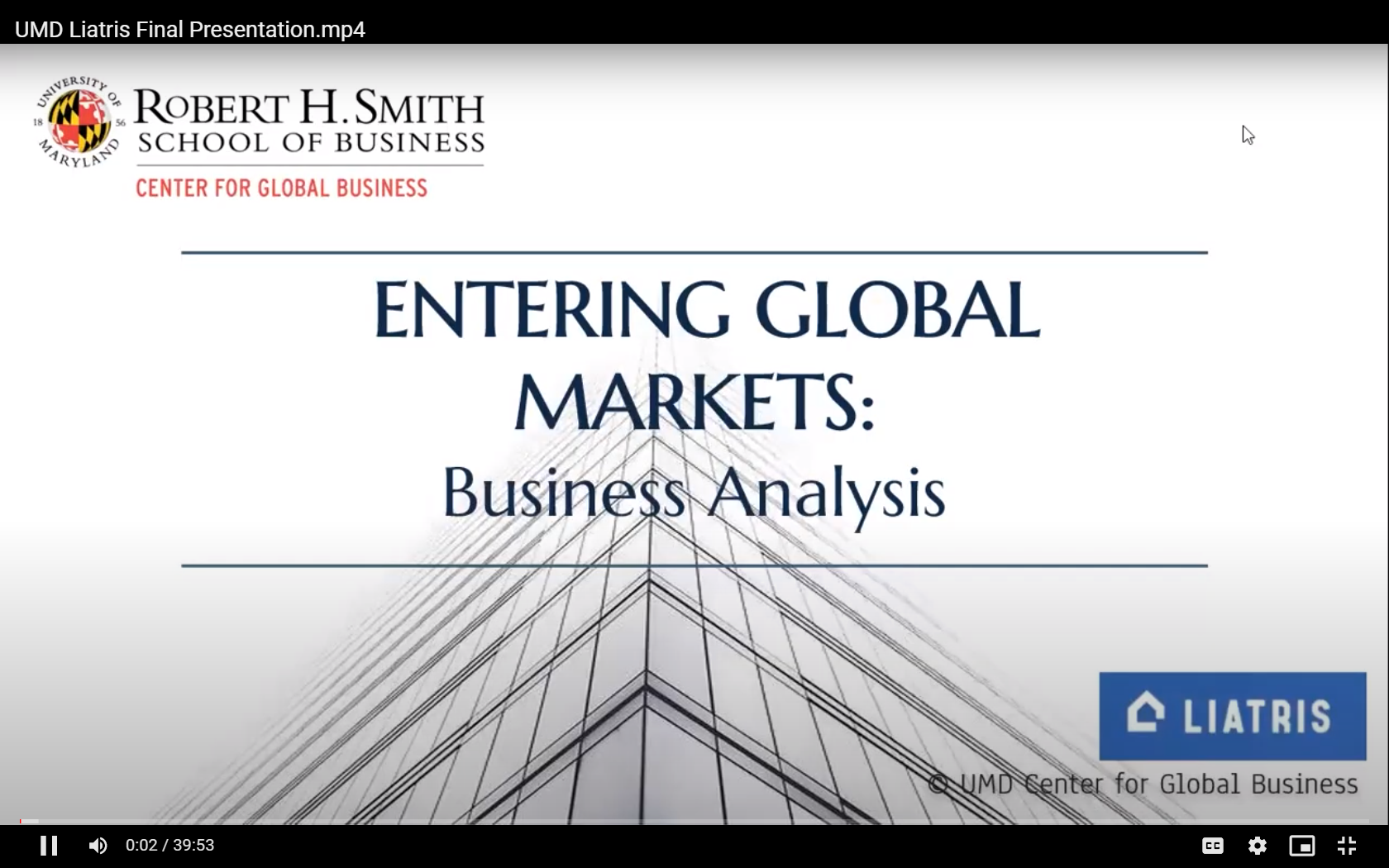 This summer, Maryland Smith students solved international business problems for Maryland companies through two programs offered by the Center for Global Business – the Marketing Maryland Virtual Internship Program and the Maryland Global Consulting Program. These programs provided students the opportunity to develop professional skills, and expand their work experience by applying their classroom learning to the real world.
The Marketing Maryland Virtual Internship Program
Twenty-six undergraduate students took on the 10-week program focused on helping Maryland-based companies target their digital marketing and websites toward global goals. Students were paired with 13 companies to tackle marketing initiatives, and build on their international marketing skills.
As part of the program, students were able to get training, mentorship, and additional professional development outside of their internship through content focused on website globalization by the MD/DC District Export Council. The teams also met with other experts, including Andrew Kreinik, regional manager of the Maryland Department of Commerce (MDOC) Office of International Investment and Trade, to learn about state and federal export resources, opportunities, and possible obstacles associated with each project.
Michelle Castro, who interned for Estime Enterprises over the summer, felt she gained a vital outlook on business and client management. She says, "Working closely with the President/CEO gave me the opportunity to learn about how important every project is to reaching the overall goals of a company and how this mindset should be consistent. I was able to get more direct experience with client relationship management."
The companies involved also expressed satisfaction with the program. Chaney Communications, a marketing and communications consulting company based in Maryland, sought interns to assist with social media research, strategy, and development, as well as company branding and image. Chief Marketing Officer, Amber Chaney says, "the interns assigned to work with Chaney Communications have been instrumental in supporting our marketing and communications. They have provided us with sophisticated graphic design and an intentional social media strategy that we plan to use moving forward. We were so impressed with their skill set and their team effort, doing work beyond what was asked." The company plans on offering students part-time positions to continue their work after the summer.
The Maryland Global Consulting Program
The Maryland Global Consulting Program enables graduate students to take on consulting projects for companies in the state that are looking to go global or solve an international business challenge. This summer, three teams of five consulted for three companies on their global expansion efforts.
The companies were IBSS Corporation, a cybersecurity and information technology company based in Silver Spring; Liatris, a thermal energy materials startup based in Bethesda, and Estime Enterprises, a telecommunication and construction company based in Lanham that participated in both the consulting and the virtual internship program. The student consultant teams gave the companies recommendations on market dynamic analytics, market penetration strategies, and global positioning.
MBA student Stephanie Quinn says the program not only helped her develop experience working with clients, but also with peers of various backgrounds. "It [The Maryland Global Consulting Program] has allowed me to strengthen and develop my leadership skills. Leading a team of non-MBA students has been a valuable experience for working in the field with other professionals who do not have the same business skills and background." Quinn commends faculty advisors and says, "their advice is something I can apply to my future career as I help clients assess the risks and benefits of expanding globally."
Maryland-based companies and students interested in the Marketing Maryland Virtual Internship or Maryland Global Consulting programs can visit the website or contact smithglobal@umd.edu for more information.
These programs were sponsored in part by CIBE, a Title VI grant administered by the U.S. Department of Education.
Media Contact
Greg Muraski
Media Relations Manager
301-405-5283  
301-892-0973 Mobile
gmuraski@umd.edu 
About the University of Maryland's Robert H. Smith School of Business
The Robert H. Smith School of Business is an internationally recognized leader in management education and research. One of 12 colleges and schools at the University of Maryland, College Park, the Smith School offers undergraduate, full-time and flex MBA, executive MBA, online MBA, business master's, PhD and executive education programs, as well as outreach services to the corporate community. The school offers its degree, custom and certification programs in learning locations in North America and Asia.