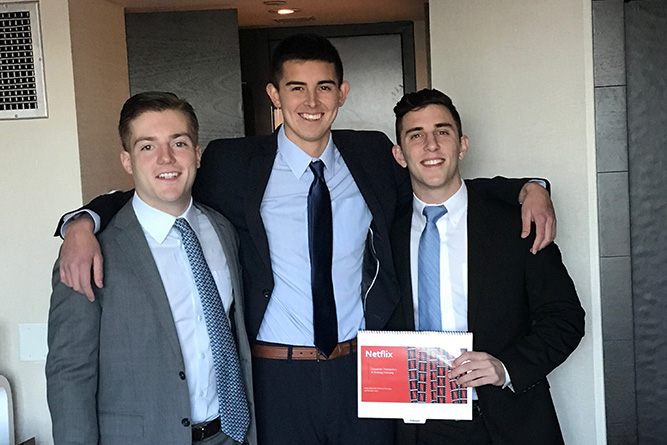 Victor Mullins, associate dean of the undergraduate program at the University of Maryland's Robert H. Smith School of Business, recently asked Jorge Richardson '18 to share his recent involvement competing at the National Investment Banking Competition (NIBC) in Toronto, Canada. It is also one of the many experiential learning opportunities supported by Dean Mullins and the Office of Undergraduate Program.
What does the SMITH JOURNEY entail? Involvement with colleagues, professors, professionals, clubs and organizations here at the Smith School, across campus and in the outside "real" world of business.   Here is what students are challenged to do in each of their four years at Smith:
Freshmen: "Build Your Brand" through the SmithStart program.
Sophomores: "Pioneer Your Path" to success by focusing on an overall academic and career strategy.
Juniors: "Command Your Career" to ensure that you are well positioned for your professional journey.
Seniors: "Embrace Your Experience" with an arsenal of tools, knowledge, and networks, so that you are able to embrace your experience and celebrate your success.
Jorge's team was one of only 32 undergraduate and 32 graduate teams who were invited to advance to the final round in Toronto from over 300 teams participating in the competition. Although the Terps' team was not chosen present their case to a panel of senior managing directors from sponsoring investment banks and an audience of over 500 delegates and professionals, the experience is part of Jorge's Smith Journey and is also part of what will distinguish him during networking opportunities and job interviews. 
Dean Mullins: Tell us about the NIBC Case Competition?
Jorge: NIBC is world's largest Investment Banking Competition that brings together students interested in learning about careers in mergers and acquisitions. This year, NIBC focused on the media industry, and the first round required assembling a pitch book to create a valuation for Netflix and a pitch to the Netflix Board about possible transaction opportunities. I teamed up with two Smith graduate students and our pitch included the acquisition of Lionsgate and spinning off YouTube Vloggers to upload original content to a new segment of Netflix. Out of 300+ teams that were in the first round, 30 made it to the finals.
Dean Mullins: How/when/why did you plan this experience?
Jorge: When we heard about the opportunity to fly up to Toronto, network with industry professionals and have an opportunity to pitch in front of boardrooms of the largest banks in the world, our whole team was ecstatic to apply. One of our Smith group members, Corey Palumbo, recently represented Smith in the CFA Stock Pitch Competition and recommended NIBC as the next competition to tackle. We submitted our first-round pitch during the beginning of the semester and were selected in early November to enter as a finalist in Toronto.
Dean Mullins: What aspect of this experience challenged you the most and, how did you approach it?
Jorge: Undoubtedly, the most difficult aspect of this experience was providing unique and intriguing suggestions for the Netflix Board. The parameters of the competition were that each team was locked in their hotel rooms, with no access to the outside world – no internet or cell phones. We were given a packet of information regarding Netflix and a rival, AMC. The objective was to pitch whether or not Netflix's Board should acquire AMC. We knew we were up against 120 extremely talented individuals and doing well would require a good degree of individuality in the pitch. 
We ultimately opted with two solutions: an asset sale of AMC's content assets including their top-rated shows (Breaking Bad, Madmen, Walking Dead…) and not buying the physical assets that AMC owns (TV stations, cable services), as this had no interest for Netflix. We also spun off the idea that if the asset sale was not approved, we had a full valuation for Lionsgate (that we thought provided an even greater opportunity).
Dean Mullins: What were the highlights of your experience? 
Jorge: The highlight of this trip was definitely representing the Smith School - an institution much greater than myself in an international competition. We competed among many of the top-ranked schools in the country and it was very eye-opening to see how strong the Smith brand was on an international scale and how so many people knew about our global mindset.
Dean Mullins: How does this experience relate to your academic, professional and/or personal goal(s)? 
Jorge: To be completely honest, I have absolutely no idea what I want to do with my career, or where life will take me. I think that this experience embodied just that – going into something new with an open mind and looking to explore new areas amongst some of the smartest people in that sector. Getting an opportunity to pitch in front of banking executives was definitely in line with this goal of getting out in the world and trying new and interesting things.
Dean Mullins: What advice would you give to your fellow Smith peers and community?
Jorge: It's totally alright to have no "direction" with where you want to go in your life. I spent a lot of my time thinking about where I wanted to go and what I wanted to do, and ultimately found out that there was a lot of wasted time in "thinking" about it.  Instead, my recommendations are two fold: first, spend less time thinking and more time doing. What you are good at and what you want to do will eventually come out, and you will rather look back to say you did something incredible (and unrelated to what you end up doing) versus spending all your time thinking about your next move.
Second: Observe the changing world and compare it to YOU, your skills and your interests. If you can find a place and/or position that lies at the intersection of what you are good at, what you enjoy and what the world needs, you have found the perfect job. Stay hungry, enjoy life, and the rest will figure itself out.
For more information about the undergraduate program at Smith, visit: http://www.rhsmith.umd.edu/undergrad. 
Media Contact
Greg Muraski
Media Relations Manager
301-405-5283  
301-892-0973 Mobile
gmuraski@umd.edu 
About the University of Maryland's Robert H. Smith School of Business
The Robert H. Smith School of Business is an internationally recognized leader in management education and research. One of 12 colleges and schools at the University of Maryland, College Park, the Smith School offers undergraduate, full-time and flex MBA, executive MBA, online MBA, business master's, PhD and executive education programs, as well as outreach services to the corporate community. The school offers its degree, custom and certification programs in learning locations in North America and Asia.