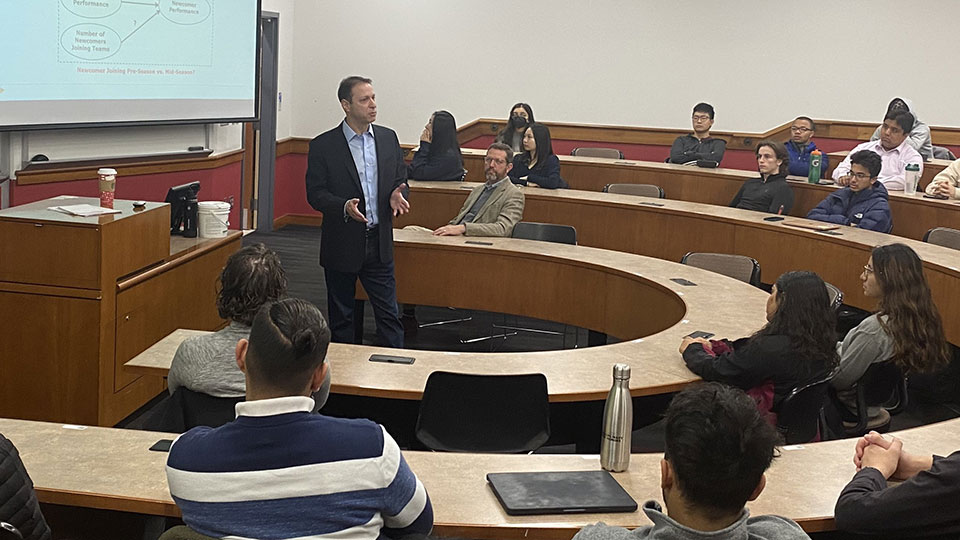 Gilad Chen has taught organizational behavior to Maryland undergrads over the past 16 years. But one of his final lectures of fall 2022 marked a significant shift. He delved into such topics as teams, workflow and talent management for not only business majors, but for a cross-disciplinary student group representing academic programs across UMD.
"Many of you, when you join an organization, won't necessarily reside in one team. You could find yourself working across teams simultaneously and in a hybrid work environment. And this is the reality in most knowledge-based firms now," Chen told the student gathering on a late-November morning in Van Munching Hall.
This was the semester's final lecture for the inaugural cohort (fewer than half are business majors) of the Interdisciplinary Business Honors (IBH) living-learning program, a partnership between Maryland Smith and UMD's Honors College. The program engages select students over two years through study focused on interdisciplinary foundations and engagements in business.
"A lot of topics these students are exposed to have focused on organizations in terms of technology and macroeconomics," says Chen, the Smith School's Robert H. Smith Chair in Organization Behavior and Associate Dean for Research. "Instead, I gave more of a focus on interpersonal and leadership skills in organizations – such as on human teams and how you work with people, as well as technology."
Chen's lecture "significantly led the students to think about future growth in terms of how structure works, how adaptability works, and sometimes how those things work at odds with each other," says Interim Associate Dean for Undergraduate Programs Joseph Bailey.
"When you consider what Gen Z will be facing in terms of how work is involved – especially coming out of the pandemic – we don't need to remove structure entirely," says Bailey, who directed the program through its inaugural semester. "It has its time and its place. But it could also be potentially inhibiting innovation and the entrepreneurial spirit workers need to be successful and productive."
Prior to Chen's lecture, Dean's Professor of Accounting and Assistant Dean of Doctoral Programs Rebecca Hann talked about the importance of ESG. William E. Mayer Chair Professor of Finance Lemma Senbet discussed the emergence of African nations and globalization. Academic Director of the MS Supply Chain Program Thomas Corsi discussed supply chains and ways in which global companies must account for differences in work environments in other countries – for example a US company's responsibilities toward factory workers in Bangladesh. Distinguished University Professor and PepsiCo Chair in Consumer Science Michel Wedel talked about peer review in terms of holding one another accountable through checks and balances.
"It's been really a great opportunity for students in their first year to get exposure to not only the thought leadership of this faculty, but to further recognize that the questions they struggle with are the questions we as academics struggle with," Bailey says.
The focus for spring 2023 will be on the future of analysis – exploring quantitative methods and data and what it means for business. Before embarking on the coming phase, some of the students reflected on their inaugural semester in program:
The IBH program was one of the things that attracted me the most to the University of Maryland, College Park. I was intrigued by this premiering program about the future of work, that would enable me to also live with my peers through the living-learning program. After my first semester, I can't stress enough how excited I am for the future of this program. The students are driven, the faculty are incredible, and the content we learn in class is thought-provoking. --Faith LeBrun, Operations Management Business Analytics.
Besides the wonderful connections and close-knit community I've formed in IBH, I've truly enjoyed the opportunity to interact with cutting-edge professors and professionals. Being a part of the inaugural cohort of IBH, I'm excited to use these resources not only to shape my future but also help shape the future of work. --Krushi Shah, Computer Science and Finance.
My favorite experience has been the overall opportunity to connect with the people in IBH who have now become my closest friends. The living-learning program at Prince Frederick has made it very convenient and exciting to spend time with like-minded individuals every day, and I am so grateful that IBH has connected me with my peers to learn both inside and outside of the classroom. --Ocarina Lin, Computer Science and Finance.
IBH has allowed me to transition into college life and helped me make new friends that I know I will have for a lifetime. Furthermore, IBH has given me the opportunity to become well versed in the field of business through guest lectures from prominent faculty at UMD. --Aditya Dabeer, Computer Science and Finance.
My favorite IBH activity was one of the first group activities we did. We were asked to build the tallest tower from spaghetti and a single marshmallow in a given time. It appeared silly, but it allowed us to get back in touch with our creative sides and is something we should never lose. --Urja Patel, Philosophy, Politics, Economics (PPE).
In their final year in the program, the students will take three other honors-specific courses, with a focus on advanced interdisciplinary topics and with experiential learning opportunities in the form of internships, research projects with faculty members, business-related study abroad options or a capstone project.
Read more about the University of Maryland Honors College Interdisciplinary Business Honors Program.
Media Contact
Greg Muraski
Media Relations Manager
301-405-5283  
301-892-0973 Mobile
gmuraski@umd.edu 
About the University of Maryland's Robert H. Smith School of Business
The Robert H. Smith School of Business is an internationally recognized leader in management education and research. One of 12 colleges and schools at the University of Maryland, College Park, the Smith School offers undergraduate, full-time and flex MBA, executive MBA, online MBA, business master's, PhD and executive education programs, as well as outreach services to the corporate community. The school offers its degree, custom and certification programs in learning locations in North America and Asia.