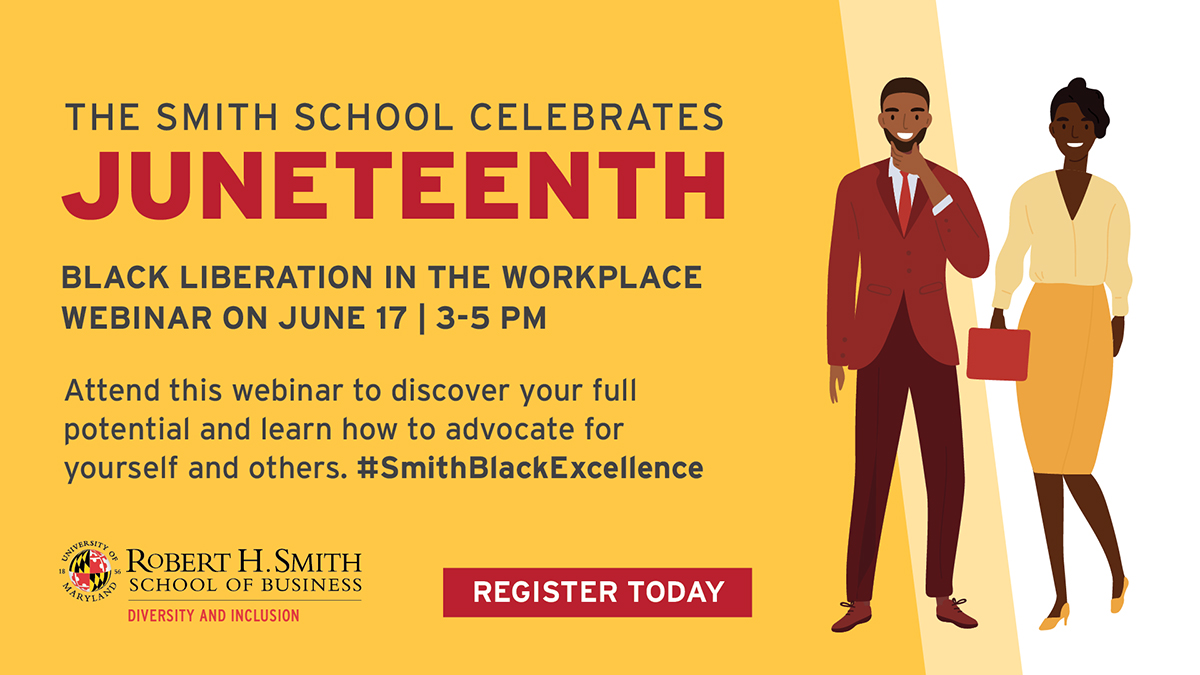 This year, the Maryland Smith community can observe Juneteenth through the Black Liberation in the Workplace event on June 17. Hosted by the Maryland Smith Black Agenda Committee, the event features a fireside chat between Smith professor Lauren Rhue and Toye Wigley, director of global diversity, equity, inclusion and belonging at PayPal.
The event will briefly touch on the history of Juneteenth, but it will also help attendees think about liberation in terms of their workplace identity, including being authentic and receiving fair compensation, says Stephanie Washington, event organizer and program manager of working professional MBA admissions at Maryland Smith.
"We're hoping to cover building that community, having a sense of belonging, being able to fight for equity in whatever way that looks like in your current role," she says. "This event is just a great pillar to resemble all the things that we want to create in the Smith space, not just by giving our faculty and staff the tools to kind of realize that black liberation right now, but also our students."
The event, which contains a Q&A portion, presents a great opportunity to engage with Wigley and learn from an expert in the field that cares deeply about diversity, equity and inclusion, says Rhue, assistant professor of information systems at Maryland Smith.
"Toye Wigley is an amazing thinker and loves the idea of trying to help people achieve their goals," says Rhue. "With this event, we're hoping to get her thoughts about questions like, 'What does it mean to feel liberated in the workplace, especially with racial and gender overtones to professionalism?' 'How do you negotiate for yourself?' 'And how do you feel as though you belong, when you're getting messages that you don't belong in a particular workplace?'"
At the event's conclusion, Maryland Smith faculty and staff are invited to participate in a trivia game event called, "It's Blackademic!"
"We wanted the Smith community to have a chance to convene and celebrate Juneteenth together," says Washington. "We knew how important it was to foster these conversations and tie the origins of Juneteenth to the present day."
UMD President Darryll Pines has said that honoring the day is just another aspect of the institution's efforts to celebrate Black history and culture. Now listed as a designated holiday across USM institutions, Pines, in a statement, urged everyone to use this day as an opportunity to learn and come together.
"Let's use this time to reflect on both our history and recent events, and how we continue to work to eradicate anti-Black racism – and racism in all its forms – together," said Pines.
Register Now: Black Liberation in the Workplace.
Media Contact
Greg Muraski
Media Relations Manager
301-405-5283  
301-892-0973 Mobile
gmuraski@umd.edu 
About the University of Maryland's Robert H. Smith School of Business
The Robert H. Smith School of Business is an internationally recognized leader in management education and research. One of 12 colleges and schools at the University of Maryland, College Park, the Smith School offers undergraduate, full-time and flex MBA, executive MBA, online MBA, business master's, PhD and executive education programs, as well as outreach services to the corporate community. The school offers its degree, custom and certification programs in learning locations in North America and Asia.