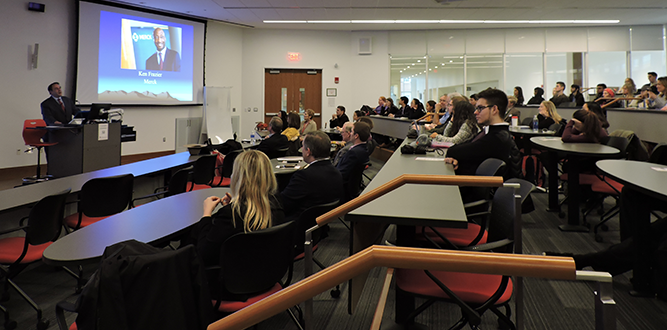 More than 100 students, faculty, staff, and alumni attended the 2018 Fishlinger Family Lecture Series on Feb. 7, 2018, with featured speaker Jeff Sonnenfeld, senior associate dean of leadership programs and the Lester Crown Professor in the Practice of Management at the Yale School of Management. His lecture was titled The Hero's Farewell: Courage, Character and Business Ethics in the Trump Era and was held in the Edward St. John Building at the University of Maryland.
Sonnenfeld is a global expert on CEO leadership and has been named one of the "10 most influential business school professors" by Bloomberg Businessweek and one of the "100 most influential figures in governance" by NACD Directorship Magazine. He has published more than 200 scholarly articles and seven books, including bestsellers The Hero's Farewell and Firing Back: How Great Leaders Rebound from Adversity.
Sonnenfeld emphasized the importance of ethical leadership and collective action. He said concerns regarding business ethics are not just about CEOs in the corporate world, but there are scandals everywhere. They are in nonprofits, academia, sports, government, entertainment, and so on, he said.
His main point was that just one person can make a difference. He offered examples from recent news stories that demonstrate that when just one person acts, others follow. However, if no one acts, bystander apathy kicks in – that's the psychological phenomenon in which individuals are less likely to offer help to a victim when other people are present.
Sonnenfeld showed a series of video clips showing strangers helping strangers. Someone falls onto the subway tracks where there are dozens of bystanders. Will anyone take action? Someone becomes trapped under a car, and bystanders must decide what to do. In some instances, bystanders act heroically, combining their strength to save the day. In other instances, no one takes action and the results are dreadful.
"The answer to the courage versus crisis paradox is character not context... Heroism springs from individual character. The mythic American character is always triggered when a hero inspires the crowd," said Sonnenfeld.
Or maybe the heroic action is courageous in that the undertaking seems beyond reach. Sonnenfeld described how one New York City financial firm was almost destroyed by the events of Sept. 11, 2001. The majority of the firm's employees perished in the terrorist attacks. All records were lost and it seemed that there was no hope for recovery. But, one of the senior leaders took a heroic stand and vowed to build back the business. The employees who remained rallied behind him and collectively they accomplished what had initially seemed impossible.
Sonnenfeld said he had seen examples of heroism as well in the Trump era. He described how President Donald Trump's manufacturing council dissolved, initiated by the single voice of Merck's CEO Ken Frazier. Once Frazier spoke up, Sonnenfeld said, others on the council followed his lead. "People are afraid to stand out in front," he said. "Dissent is equated with disloyalty."
The Fishlinger Family Lecture Series is hosted by the Center for the Study of Business Ethics, Regulation, and Crime (C-BERC). C-BERC is a unique interdisciplinary effort by the Robert H. Smith School of Business and the College of Behavioral and Social Sciences to address the legal and ethical challenges of operating businesses in modern society. C-BERC strives to integrate and extend research in the fields of business ethics, regulation and criminology. 
- Alissa Arford, Office of Marketing Communications
Media Contact
Greg Muraski
Media Relations Manager
301-405-5283  
301-892-0973 Mobile
gmuraski@umd.edu 
About the University of Maryland's Robert H. Smith School of Business
The Robert H. Smith School of Business is an internationally recognized leader in management education and research. One of 12 colleges and schools at the University of Maryland, College Park, the Smith School offers undergraduate, full-time and flex MBA, executive MBA, online MBA, business master's, PhD and executive education programs, as well as outreach services to the corporate community. The school offers its degree, custom and certification programs in learning locations in North America and Asia.