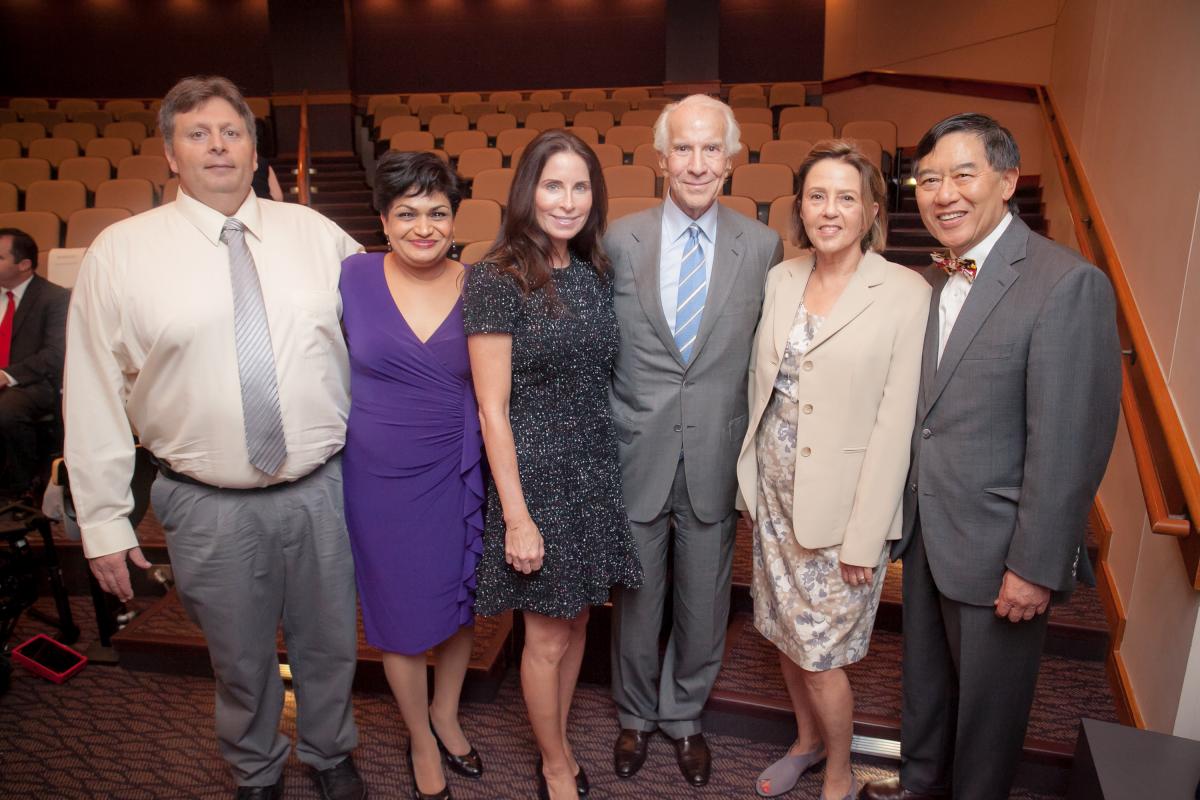 Philadelphia Flyers founder and Comcast-Spectacor chairman Ed Snider '55 performed double duty on Sept. 29, 2015, at the University of Maryland's Robert H. Smith School of Business. First he helped celebrate the opening of new offices for the Ed Snider Center for Enterprise and Markets. Then he shared the foundational values for his business at the BB&T Colloquium on Capitalism, Ethics, and Leadership.
The new suite in Van Munching Hall includes a collaborative space and four adjoining offices for managing the Smith School's youngest center of excellence, which opened in fall 2014 with a $5 million naming gift from The Snider Foundation. Already within its first year of operation, the Snider Center has hired staff, organized debates, published articles, trained educators, and led a summer program for regional high school students.
"The center has launched," Smith School Dean Alexander Triantis said. "It has really taken off like a rocket."
During the colloquium, which attracted about 300 faculty, staff and students, Snider responded to a series of his own published quotes dealing with his journey as an entrepreneur and the philosophy that has guided his career. Snider Center director Rajshree Agarwal, the Rudolph P. Lamone Chair and Professor in Entrepreneurship and Strategy at the Smith School, moderated the discussion and focused on the following eight statements:
"I was not built to be an accountant. I would have wanted to own everybody's business, if it was good."
Snider stated that as a young kid working with his parents in a grocery store, he was already thinking entrepreneurially.  He started his career as an accountant making $5,000 per year. On his first and only assignment, he cleaned up the books for a gasoline station owner making $25,000 per year. "That's when I realized that I could not be an accountant," Snider said. "I would rather own the gas station."
"I hire good people and leave them alone to do a good job."
Snider said employers need to support their staff, but they also need to give people freedom to use their talents and make decisions. "We want individuals who are going to take initiative on their own, not be yes people, and not be afraid to make a mistake," Snider said.
"I have always enjoyed everything I do. I'm very lucky to be where I am today."
Many established investors told Snider he would fall flat when he tried to bring an NHL expansion franchise to Philadelphia. "Of the six new franchises, we were voted the least likely to succeed," Snider said. "But I was young enough not to know what I was getting into."
"When you create a company, you create jobs and opportunities for all kinds of people, and that is great success."
Snider said politicians and media commentators often portray capitalists as villains, which is wrong. "They should be held in high esteem," he said. "I'm hoping a center like ours will show young people and other interested parties how wonderful business is."
"Money should be the reward, but not the reason."
When people start their careers, they need enough money to provide for their families. "At that point, money is the reason," Snider said. But once that basic need is satisfied, other motivations take priority. "You do it because you enjoy it," he said. "You enjoy creating things, building things, and making things better." And the money follows as a reward.
"I don't believe there is any obligation on the part of any individual to give hard-earned, honestly earned, money away if they don't want to."
As a philanthropist, Snider has given away millions of dollars. But he said business men and women do more good for society through their commercial activities than through charity. Steve Jobs took criticism for not being a big donor, but Snider said the Apple pioneer revolutionized communication for the entire world. "If he chooses not to give, that's his right," Snider said.
"When I was young, the government wasn't in our lives, hardly at all."
When Snider built the Spectrum arena in the 1960s, all of the legal paperwork fit inside two small binders. When he built the Wells Fargo Center on the same lot in the same city 30 years later, he filled a long conference table with documents piled so high that attorneys could hardly see each other over the top. Snider said the expansion of government regulations in recent decades has produced inefficiency, waste and corruption without adding value.
"Capitalism is a beautiful system. It's not perfect, but it is by far the best system that has ever been invented."
Snider said poor people benefit the most when governments reduce regulation because cronyism favors those with political pull. "With all of the regulations and everything else that we have to face, what we've accomplished (in the United States) is amazing," Snider said. "In the few eras of our history when we didn't have those kinds of obstacles, the growth was spectacular."
Daniel G. Waetjen, regional president of Greater Washington, D.C., for BB&T, represented his bank at the event, made possible by a $1.5 million BB&T gift to the Smith School in 2010. Because the colloquium's theme aligns closely with the Snider Center's mission, management of the annual event moved to the Snider Center in 2015.
University of Maryland President Wallace D. Loh attended the colloquium and thanked BB&T and the Snider Foundation for their ongoing philanthropic support. "It takes a village to raise a great school," he said.
Daryl James, Office of Marketing Communications 
Media Contact
Greg Muraski
Media Relations Manager
301-405-5283  
301-892-0973 Mobile
gmuraski@umd.edu 
About the University of Maryland's Robert H. Smith School of Business
The Robert H. Smith School of Business is an internationally recognized leader in management education and research. One of 12 colleges and schools at the University of Maryland, College Park, the Smith School offers undergraduate, full-time and flex MBA, executive MBA, online MBA, business master's, PhD and executive education programs, as well as outreach services to the corporate community. The school offers its degree, custom and certification programs in learning locations in North America and Asia.