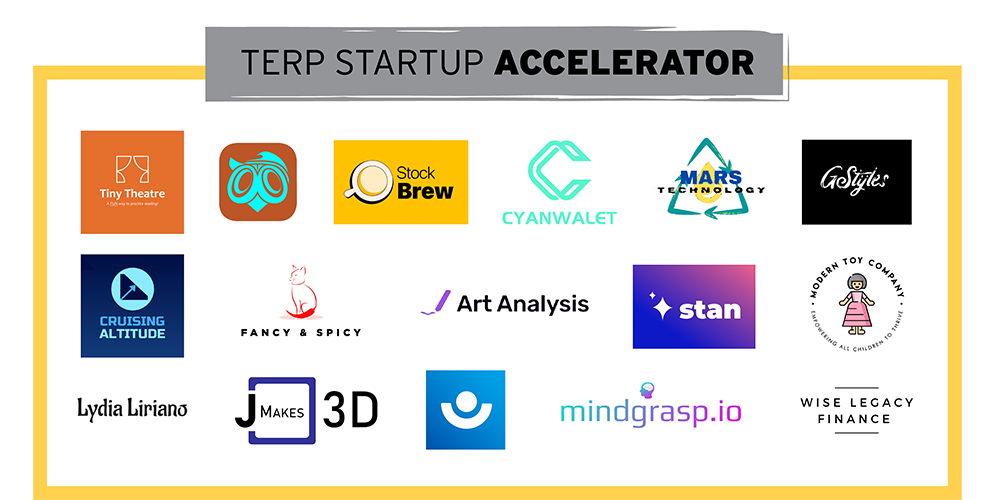 The Dingman Center for Entrepreneurship is pleased to announce that it has accepted 16 University of Maryland student teams into its Terp Startup Accelerator summer program. This is now the program's seventh consecutive year, with the largest cohort to date. The Dingman Center also received its highest number of applicants, with 37 student venture teams vying for a spot in the eight-week program. Aside from the program's workshops and roundtable discussions held throughout the summer, each team in the cohort will receive a stipend of up to $5,000 and a dedicated advisor to help them grow their businesses. Sara Herald, director of venture development, and Lottie Byram, venture programs manager, will spearhead the summer accelerator's robust programming.
Due to the lasting impact of COVID-19, the accelerator program will be held in a virtual format this summer, similar to that of summer 2020. Due to the success of last year's program, the Dingman Center feels confident that this cohort will experience the same high-quality impact and connections typical of the program, as well as the advantages provided by new virtual tools.
"This is an exciting cohort, and I can't wait to get to work," says Byram. "Even despite a year-long pandemic, all of the applicants this year continue to hustle, grow and thrive. Not only have they shown an impressive commitment to the success of their ventures, but also to make a lasting impact for the good of the world around them."
This year's diverse cohort spans many different industries and majors, showcasing the talent and creativity of student entrepreneurs across the University of Maryland campus:
Art Behavioral Analysis - Mika Panday, '21 (Studio Art), Colleen Baldwin (Computational Physics), Olivia Bruno (Business Administration and Entrepreneurship Minor)
Art Behavioral Analysis is an intuitive platform that allows for HIPAA compliant photo sharing and the creation of medical timelines. Our mission is to help children with disabilities connect with their care teams on a personal level and to enhance the communication between their guardians and healthcare providers.
Athenus Financial Group, LLC - Cameron Williams, '21 (Mechanical Engineering), Damian Shaw, '24 (Computer Science)
Athenus is a fintech company that leverages Machine Learning AI to allow our users to participate confidently in the foreign exchange market.
Brew - Peter Chun, '22 (Computer Science), Jay Patel, '22 (Information Science) Dakshay Mehta, '22 (Mechanical Engineering)
Brew is a mobile app for busy investors to stay current on their stocks with a real-time feed of all major updates, catalysts, and upcoming events, helping them save time and make informed decisions.
Cruising Altitude LLC - Alan Soclof , '22 (Management)
Cruising Altitude is a media company focused on inspiring the next generation of long-term investors. We are achieving our mission through a weekly newsletter filled with original stock analysis, a portfolio of stocks, GIFs, memes, and so much more!
Cyanwalet - Hsiaoting (Tim) Ko, MBA '21
CyanWalet is a crypto-based digital wallet platform for users to make P2P transactions with stable crypto coins.
Fancy & Spicy - Brin Xu, PhD '22 (Sociology)
Fancy & Spicy is a digital culinary platform, emphasizing authentic Chinese food. We have a popular food blog, website, and published cookbook.
GSTYLES - Goodness Ihekwme, '21 (Marketing)
Gstyles is a unique clothing brand for women and men.
JMakes3D - Jacob Garnett '21 (Material Science and Engineering)
JMakes3D helps inventors and entrepreneurs get from ideation to functional prototypes, affordably and reliably. Our core services are 3D design, 3D printing, and physical product development.
Lydia Liriano - Nishelle Oglesby '21 (Communications)
Lydia Liriano is a luxury candle company that strives to give black women high-quality self-care experiences that benefit mental health.
MARS Technology - Xiaohui (Sophie) Li, MBA '21
MARS was founded in order to bring the next generation of methane conversion technology to the market. The company is building an autothermal catalytic wall reactor that can convert methane waste to valuable chemicals with minimum energy input.
Mindgrasp.io - Thaibinh Cao, '23 (Computer Science), Rushil Joshi, '22 (Computer Science)
Mindgrasp.io is an AI-based web app that contains several language analysis models that help students read, write, and understand English in a more effective and interactive way.
Modern Toy Company - Mat Parsons, MBA '22, Daniel Yu, MBA '22
Modern Toy Company specializes in products to help children with emotional and social development.
Prommuni - Bradley Mascarenhas, '21 (Finance/IS), Karsh Patel, '21 (Computer Science)
Prommuni, short for "professional community", is a social networking platform where professionals connect with one another to create co-living groups and find housing.
Stan - Anaum Khan, '24 (Computer Science), Zack Khan, '19 (Computer Science)
Stan is the content creator loyalty platform where fans can earn points for engaging with their favorite creators' content and redeem them for exclusive creator prizes, such as a video shoutout.
Tiny Theatre - Ian Rosario, '22 (Architecture & Spanish)
Tiny Theatre provides fun, read-aloud theatre activities that help elementary students build foundational reading skills and grow a love for reading.
Wise Legacy Finance - Wendy Rodriguez, '22 (Finance)
Wise Legacy Finance is a financial products and services business that helps individuals understand the basics of personal finance and develop and maintain healthy financial habits in order for them to achieve their financial goals.
Media Contact
Greg Muraski
Media Relations Manager
301-405-5283  
301-892-0973 Mobile
gmuraski@umd.edu 
About the University of Maryland's Robert H. Smith School of Business
The Robert H. Smith School of Business is an internationally recognized leader in management education and research. One of 12 colleges and schools at the University of Maryland, College Park, the Smith School offers undergraduate, full-time and flex MBA, executive MBA, online MBA, business master's, PhD and executive education programs, as well as outreach services to the corporate community. The school offers its degree, custom and certification programs in learning locations in North America and Asia.