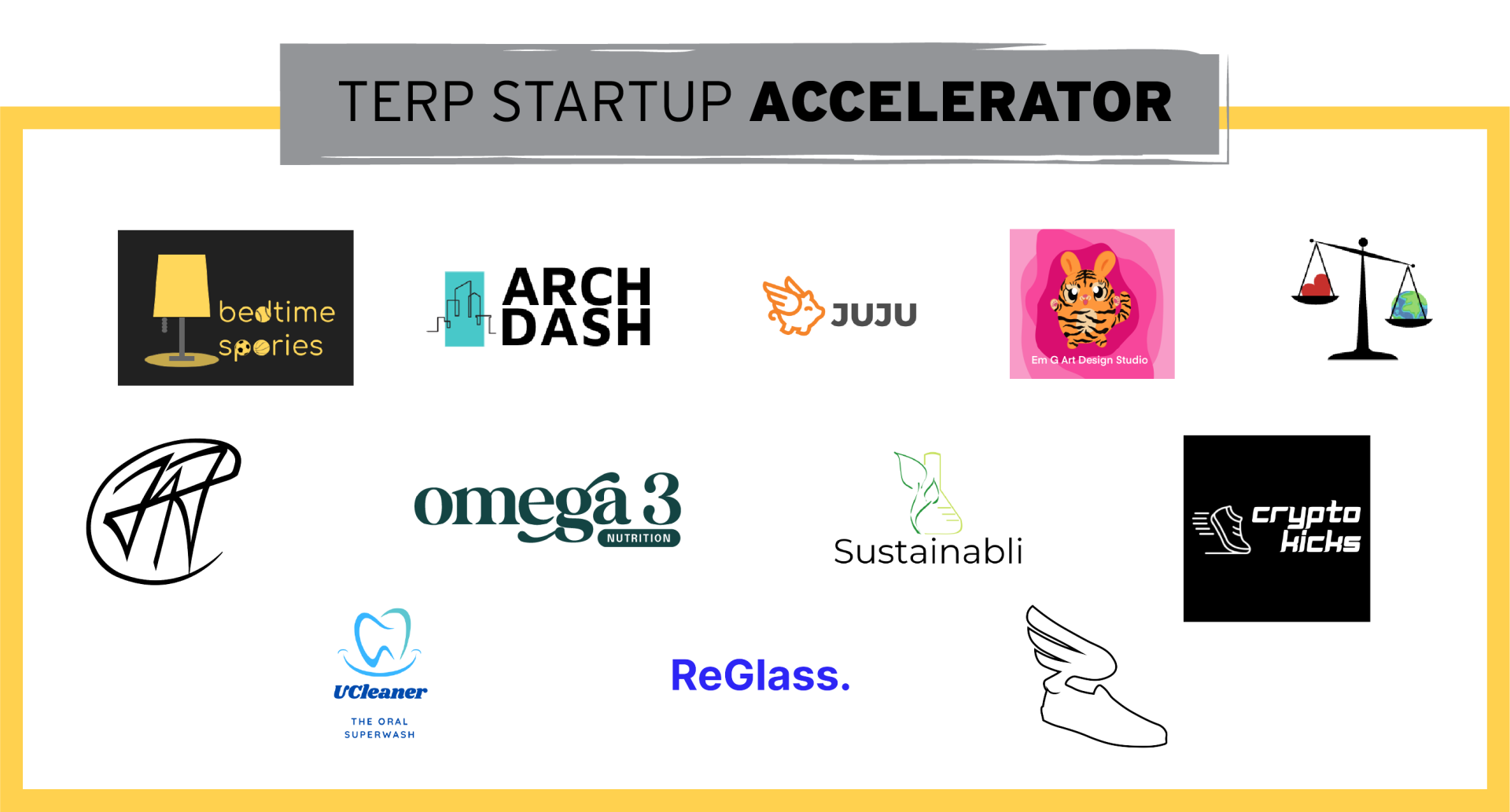 The Dingman Center for Entrepreneurship is pleased to announce that it has accepted 12 University of Maryland student teams into its 2022 Terp Startup Accelerator summer program. This is now the program's eighth consecutive year, and the first time the program will be held live again after two virtual years. The competitive cohort was selected from an applicant pool of 35 University of Maryland student venture teams.
Throughout the program's eight weeks, the students will participate in workshops and roundtable discussions in the summer. Each student venture team will also receive a stipend of up to $5,000 and a dedicated advisor to help them grow their businesses. Tsega Belachew, the Dingman Center's recently hired director of venture development, will lead the summer accelerator's robust programming, along with Lottie Byram, venture programs manager, and Alex Onufrak, venture programs and operations coordinator. The Dingman Center's venture programs team will be working to ensure that all companies meet critical outcomes such as making data-driven decisions using metrics that matter, finding product/market fit, and acquiring initial customers.
The Dingman Center team is excited to welcome the accelerator program back to the University of Maryland campus this summer, after two virtual summers due to the Covid-19 pandemic. The program will be held live in the Startup Shell space in the brand new Idea Factory building.
"You can learn entrepreneurship in many ways, but being together for the accelerator is a special experience," says Byram. "First, it's fun, and we learn better when we're joyfully engaged. Second, the community magnifies all aspects of learning, resource acquisition and network building by the sheer power of regular and spontaneous conversation. "
This year's diverse cohort spans many different industries and majors, showcasing the talent and creativity of student entrepreneurs across the University of Maryland campus:
Arch Dash - Ina Kovacheva '23 (Computer Science)
Arch Dash enables architects to make data-driven decisions that will result in healthier, efficient, and more sustainable building designs.
Bedtime Spories - Josh Doying MBA '23
For the sports fan with young children, Bedtime Spories provides a weekly opportunity to share their love of a team with the people they love by providing a subscription of tailored, bed-time stories and illustrations about the athletes on their team(s)
CryptoKicks - Shiv Agarwal '23 (Psychology)
CryptoKicks enables crypto and NFT projects to design and distribute merchandise for their communities.
Em G Art Design Studio - Emily Garcia '22 (Studio Art & Art Education)
Em G Art Design Studio offers original handmade products suited as sentimental gifts, or as decorative elements to personalize everyday items.
EMPIRE 242 - Kang Ewimbi '23 (Entertainment Industry)
EMPIRE 242 is a record label that is run by artists for artists looking for an alternative path from the major recording companies because independence and ownership are paramount to creativity.
JuJu Food Delivery - Weixiang Wang '22 (Computer Science), Nanxin Luo '25 (Finance and Information Systems), Zeyang Liu '22 (Economics), Keying Sun '23 (Statistics), Liqianrui Yang '22 (Economics and Management), Zirui Zhou
For those who only have limited lunch break time but still want to have a variety of food options, such as college students and office workers, JuJu Food Delivery's service of group ordering is a new way that provides various food choices at a fairly low price punctually and conveniently, unlike canteens or traditional food delivery services.
Omega 3 - Edwin Bright Djampa '22 (Nutritional Food Science)
Omega 3 is the nutritional food brand pioneering the use of brain-boosting, organic ingredients without compromising quality, taste, or sustainability.
ReGlass - Bennett Greenspun '24 (Astronomy)
ReGlass is a company that makes glasses with interchangeable lenses for people who want a cheaper frame alternative, and people who want greater customization in fashion eyewear.
Sparza - Ryan Myer '22 (Finance), Kyle Sznoluch
Sparza aims to build community, strong connections, and laughter between family, friends, and even complete strangers.
Sustainabli - Alisha Pun '24 (Economics)
Sustainabli implements cost-effective programs in research institutions to facilitate scientist behavioral change towards reducing lab chemical, plastic, and energy waste.
TapIn - Rob (Diego) Castro '24 (Finance), Zach Lefkovitz '24 (Computer Science), Samai Patel '25 (Computer Science), Corbin Voorhees '25 (Aerospace Engineering), Joe Beckman '25 (Undecided), Matt Gashaw '25 (Computer Science), Edward Awe '25 (Finance, Government and Politics), Neil Kundagrami '24 (Computer Science and Math)
TapIn solves the problem of young adults looking for the best social events in their area by creating a network of hip, similarly-minded people who are going to those events.
UCleaner - Robert Choe PhD '23 (Bioengineering), Blake Kuzemchak PhD '23 (Bioengineering), Erfan Jabari PhD '23 (Bioengineering), Noah Eby PhD '23 (Bioengineering)
UCleaner aims to develop a product that facilitates oral hygiene for the vulnerable demographic of geriatric and hospitalized individuals with reduced fine motor skills.
Media Contact
Greg Muraski
Media Relations Manager
301-405-5283  
301-892-0973 Mobile
gmuraski@umd.edu 
About the University of Maryland's Robert H. Smith School of Business
The Robert H. Smith School of Business is an internationally recognized leader in management education and research. One of 12 colleges and schools at the University of Maryland, College Park, the Smith School offers undergraduate, full-time and flex MBA, executive MBA, online MBA, business master's, PhD and executive education programs, as well as outreach services to the corporate community. The school offers its degree, custom and certification programs in learning locations in North America and Asia.