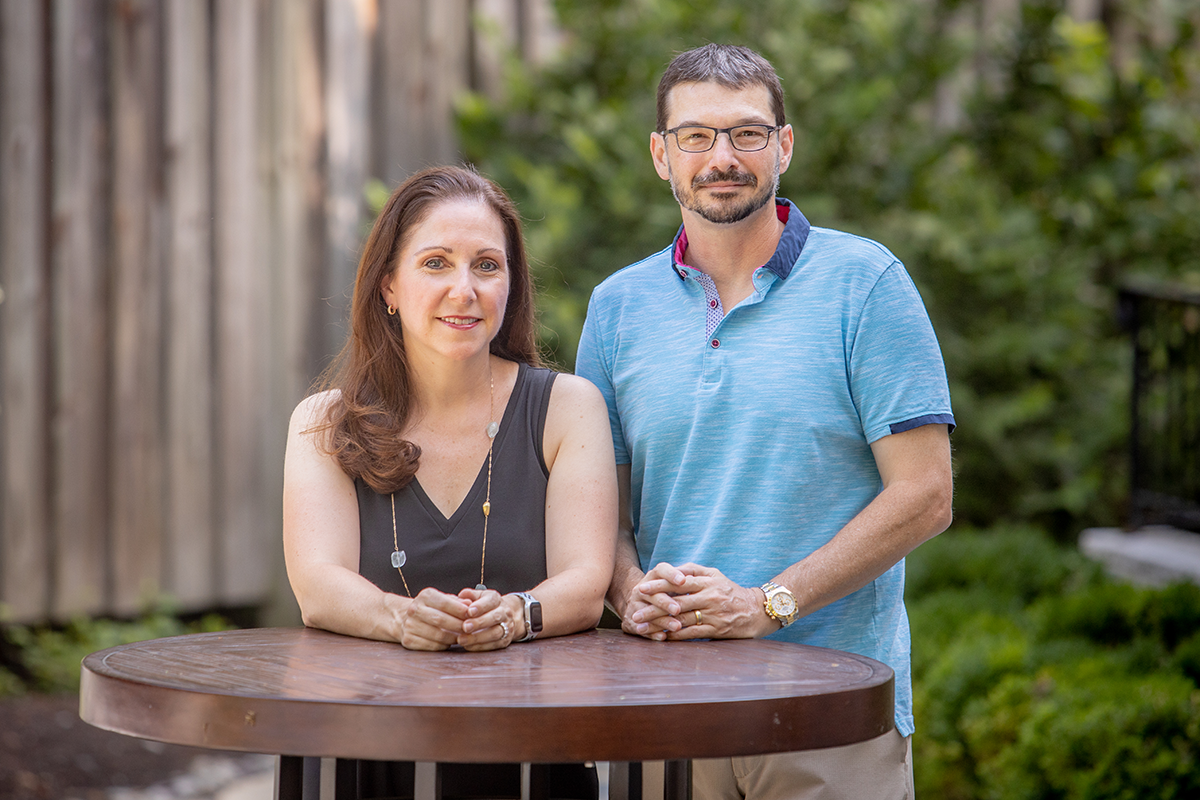 David and Robyn Quattrone know about the entrepreneurial hustle and how hard it can be to start from scratch. It's why they give back to help the next generation of entrepreneurs.
David Quattrone, MBA '05 and co-founder and chief technology officer of Cvent Inc., a provider of web-based software for meetings and events, learned as an entrepreneur out of college that while the first try isn't always the best, it does offer important lessons.
"One of the biggest things I took away from it is that you grab the opportunities that present themselves," he says. "I'd say we barely broke even, maybe even lost a little money during that first venture. But through it, we learned what kind of skills we needed to build up over time."
Robyn Quattrone understands that learning curve. She spent 11 years at a large law firm, before breaking out and helping to build a Washington, D.C.-based boutique law firm from the ground up. She recently launched a second, smaller firm, this time taking on a bigger role in the managerial process.
"It was like a typical startup at first, in that we were working 20 hours a day, seven days a week," she says. "When it's your own opportunity, it doesn't seem as much like work, but rather more fun because you're so invested in the process."
Together, the Quattrones have worked to share their knowledge, experiences and philanthropy to help students at the University of Maryland's Robert H. Smith School of Business.
They've worked since 2015 with Maryland Smith's Dingman Center for Entrepreneurship, helping fund its annual Pitch Dingman competition, a Shark Tank-style event in which UMD students compete for non-dilutive seed funding.
For the past five years, students pitched for a chance at $30,000 in funding. But through a new, increased commitment from the Quattrones, student entrepreneurs will now compete for up to $65,000 in seed funding.
As a Pitch Dingman judge, David Quattrone enjoys engaging with students on their innovative business ideas. It's something that the family looks forward to every year.
"Every time Dave comes home from the competition, he tells us all about what the different submissions were," Robyn Quattrone says. "Even our kids are interested in it, which is not always the case when you talk to them about work."
The program inspires people to think creatively, launching something new or transforming an organization from the inside. That's what makes the work compelling, says David Quattrone. "Hearing how people can get those lessons and experiences to use on their own adventures or create change within their spaces is rewarding and makes me excited for the future."
Media Contact
Greg Muraski
Media Relations Manager
301-405-5283  
301-892-0973 Mobile
gmuraski@umd.edu 
About the University of Maryland's Robert H. Smith School of Business
The Robert H. Smith School of Business is an internationally recognized leader in management education and research. One of 12 colleges and schools at the University of Maryland, College Park, the Smith School offers undergraduate, full-time and part-time MBA, executive MBA, online MBA, specialty master's, PhD and executive education programs, as well as outreach services to the corporate community. The school offers its degree, custom and certification programs in learning locations in North America and Asia.