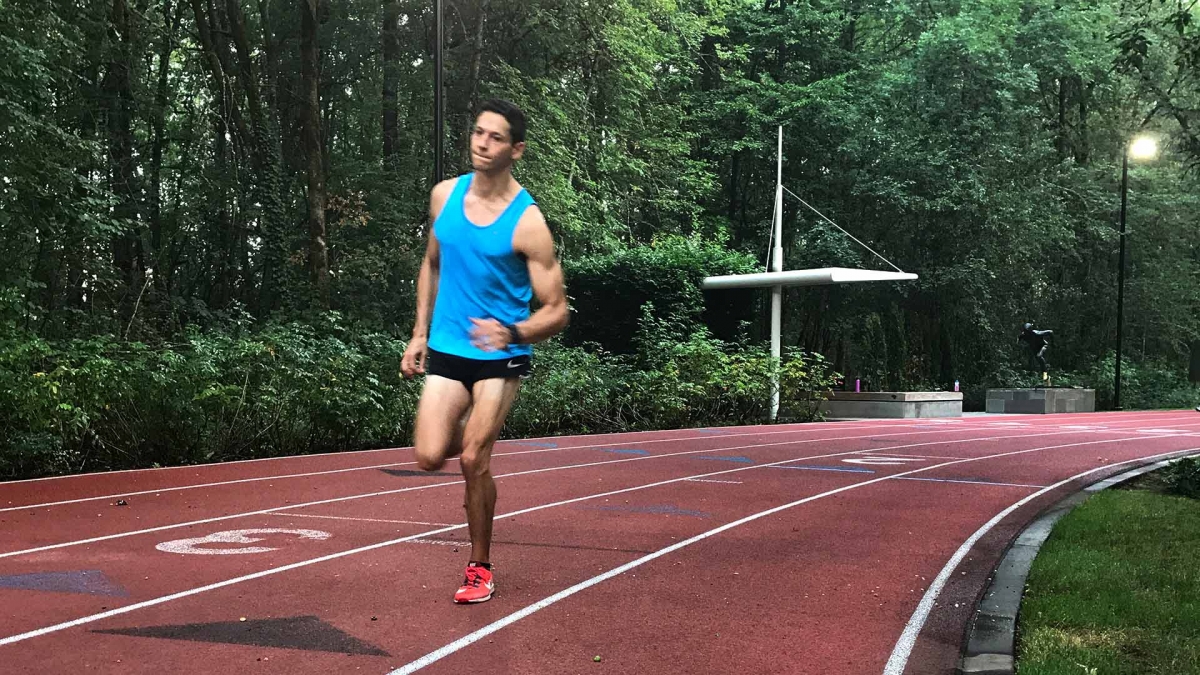 Alum Organizes Virtual Run to Benefit Coronavirus Emergency Response Fund
Jason Hershman '11 had been running more miles than ever before this spring in hopes of setting a personal record at the Boston Marathon. But as the COVID-19 pandemic shut down sports worldwide, the prestigious race had to be pushed well past the traditional Patriots' Day, rescheduled for September.
But even though he couldn't race elbow to elbow from Hopkinton to the finish line on Boylston Street with 30,000 other runners, he's not hanging up his running shoes. Instead, Hershman will be practicing social distancing on his own course—and inviting others nationwide to do the same—to cover miles for a good cause.
For one hour today, participants in a fundraising event Hershman launched, the Coronavirus Relief Virtual Run, will get outside to walk or run—at least six feet apart, and no snot-rocketing, please—then post about their experience afterward on social media using the hashtag #CoronavirusReliefRun. Proceeds will go toward the CDC Foundation's Coronavirus Emergency Response Fund.
"I felt I needed to do something or contribute in some way," said Hershman. "Running produces endorphins—it literally makes people happier. That's a benefit people can use when they're reading all these (pandemic-related) headlines."
He'd participated in a virtual run before and decided to create his own when he couldn't find one benefiting COVID-19 relief efforts. While sheltering in place with his wife at their D.C. home—but still getting out for daily runs—the private equity consultant worked with the CDC Foundation to work out the logistics. The nonprofit helped him promote safety during the event by reminding runners on the RunSignUp.com registration site to follow local stay-at-home mandates and CDC guidelines while exercising outside, including avoiding crowded times, refraining from coughing and spitting and staying home if they feel sick.
The event, which costs $20 to join, has also raised over $1,900 in additional donations. The money will go directly toward deploying emergency staffing to public health agencies and providing food and medical supplies to quarantined individuals.
"(The run is) a good idea to raise money for a good cause that definitely needs the money, but then also to have some sort of normalcy in your life," said Eric Churches '10, one of Hershman's UMD classmates who will run the virtual event in his community of Columbus, Ohio. He's looking forward to getting out of the house with his wife and 1-year-old daughter (who'll participate in a jogging stroller).
Once quarantine ends, Hershman hopes to parlay the experience into organizing in-person races. But today's event isn't a competition, he said, but rather a way for runners to come together—figuratively—to support a common cause.
"Running does produce camaraderie," he said. "When you're doing a big event with people, it helps prevent that isolation feeling."
–By Annie Dankelson, Maryland Today. Photos courtesy of Jason Hershman '11.
This article originally appeared in Maryland Today and is republished here with permission.
Media Contact
Greg Muraski
Media Relations Manager
301-405-5283  
301-892-0973 Mobile
gmuraski@umd.edu 
About the University of Maryland's Robert H. Smith School of Business
The Robert H. Smith School of Business is an internationally recognized leader in management education and research. One of 12 colleges and schools at the University of Maryland, College Park, the Smith School offers undergraduate, full-time and flex MBA, executive MBA, online MBA, business master's, PhD and executive education programs, as well as outreach services to the corporate community. The school offers its degree, custom and certification programs in learning locations in North America and Asia.