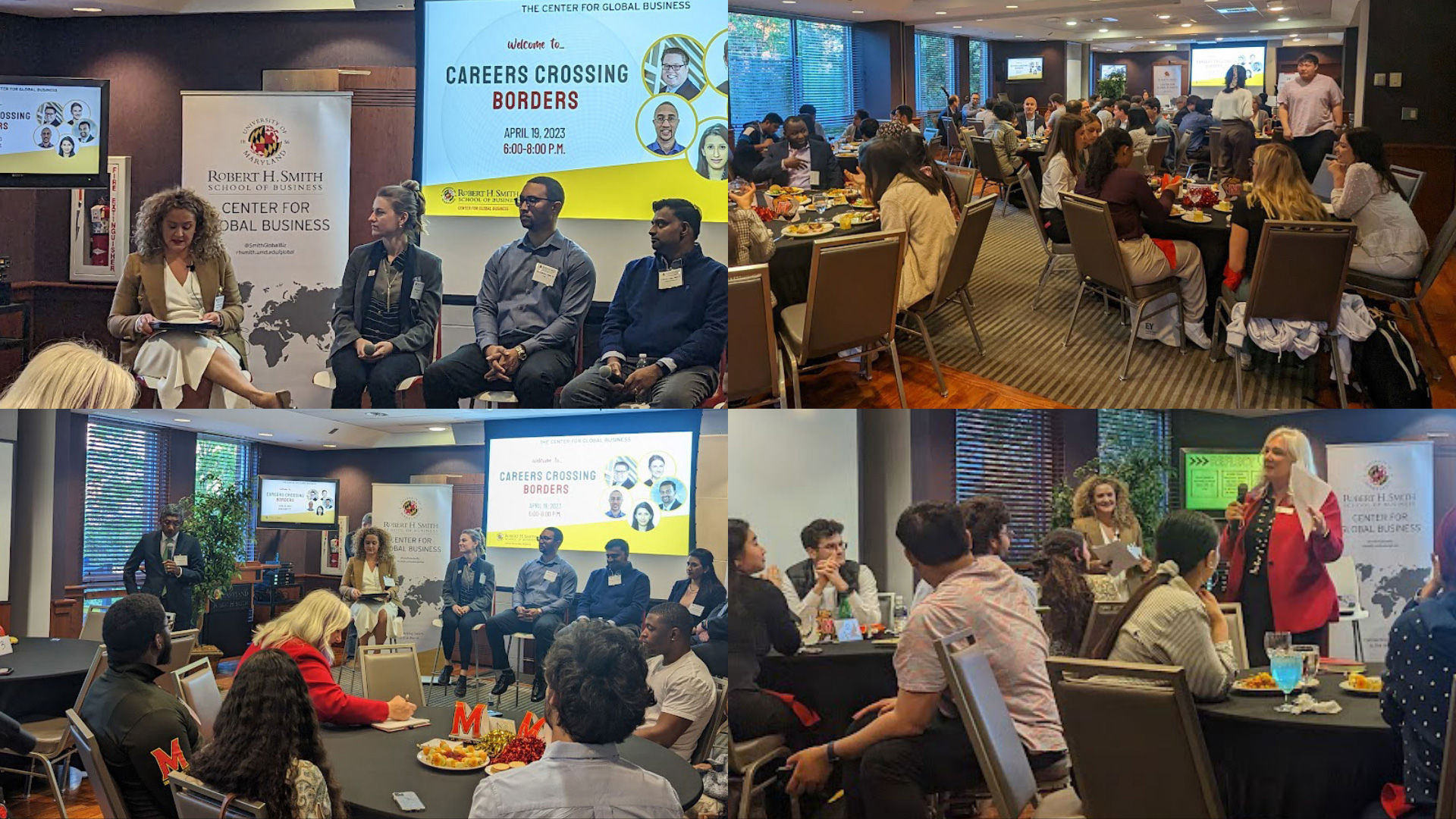 For the first time, the Center for Global Business (CGB) at the University of Maryland's Robert H. Smith School of Business hosted Careers Crossing Borders: A Dinner Networking Conversation. The event was the first of a two-part opportunity for students to explore and navigate career paths in international business, gain perspective from professionals about their career experiences and leverage their global mindset in their career exploration.
The event began with a panel of five Maryland Smith alumni from companies including Amazon, Uber, Clutch.co, the International Finance Corporation, and Maersk Line. They joined Marina Augoustidis, associate director of CGB, to discuss their career experiences and provide advice on how to explore and plan for a career in international business.
The five speakers for the evening included Mark Brown, MBA '17, Global Program Manager at Uber; Rekha Kharki, '07, Treasury Capital Market Operations Specialist at the International Finance Corporation; Elaine Oves, '15, Senior Product Marketing Specialist at Clutch.co; Christopher Robertson, '07, MBA '20, Trade Manager for Maersk Line; and Seejo Sebastine, MBA '11, Global Head Connectivity Services and Business Development Lead at Amazon Web Services.
The panelists introduced themselves in the form of a 90-second elevator pitch, very similar to how students prepare to do so going into an interview; and, when asked about what makes their companies global and what skills they relied on most to navigate their careers, the panelists all offered their unique standpoints, highlighting how professions in various industries can have international aspects. Brown emphasized how it is essential to "understand the nuances, but also understand the global implications" of the decision-making process. He added that being forward-thinking is the skill he relied on most to execute his global ideas and stressed how "building is important, but so is sustaining."
Kharki and Oves agreed that thinking ahead is a skill that plays a large role in career success. Both also acknowledged how intercultural empathy, curiosity and persistence were some of the skills they relied on the most to propel in their professions. Oves detailed that "curiosity develops an interest to learn" followed by a "determination to succeed."
Robertson and Sebastine had similar opinions, further reflecting on the importance of being intentional with developing relationships, taking the time to earn the trust of others, and being open. Sebatsine emphasized "earn trust by understanding" and "always learn and be open to learning." He said that simply being open has widened the opportunities he has had access to, including his current role and its global nature.
Reflecting on their journeys, all the panelists summed up their experiences in getting started searching for international careers, as words of advice for students in the audience. When asked about how they started their journeys and how students might be able to follow similar paths, Kharki emphasized the importance of networking to her career success. "If you don't network, you won't have a clear prospect of what you want to do," said Kharki, contending that she was largely able to get to where she is today through networking and learning from others.
Continuing on the topic, Robertson expressed the significance of starting out as open as possible and how being brave when exploring the options around him led him to success. "No matter how afraid, famous or successful they were, they were also human just like you are," Robertson affirmed.
Oves agreed that going into life with an open mind is what shaped her career, especially her being able to speak four languages. She advised students to go abroad and take courses in new languages and subjects. She shared how being open to exploration opened up new opportunities, shaped what she wanted to study, allowed her to meet her husband, and solidified her career path.
Before transitioning into dinner and networking, the panelists advised the diverse group of students from all business disciplines and programs to be open and curious, explore different opportunities, and to take advantage of the career advancement and study abroad resources offered at Smith.
The event concluded with alumni guests joining students to network and continue conversations around career trajectories over the course of dinner and identifying action steps with the Assistant Dean of Career Services Neta Moye, and a preview of the second part of the series which will take place in the coming fall semester. 
This event was supported in part by CIBE, a Title VI grant provided by the U.S. Department of Education.
Media Contact
Greg Muraski
Media Relations Manager
301-405-5283  
301-892-0973 Mobile
gmuraski@umd.edu 
About the University of Maryland's Robert H. Smith School of Business
The Robert H. Smith School of Business is an internationally recognized leader in management education and research. One of 12 colleges and schools at the University of Maryland, College Park, the Smith School offers undergraduate, full-time and flex MBA, executive MBA, online MBA, business master's, PhD and executive education programs, as well as outreach services to the corporate community. The school offers its degree, custom and certification programs in learning locations in North America and Asia.