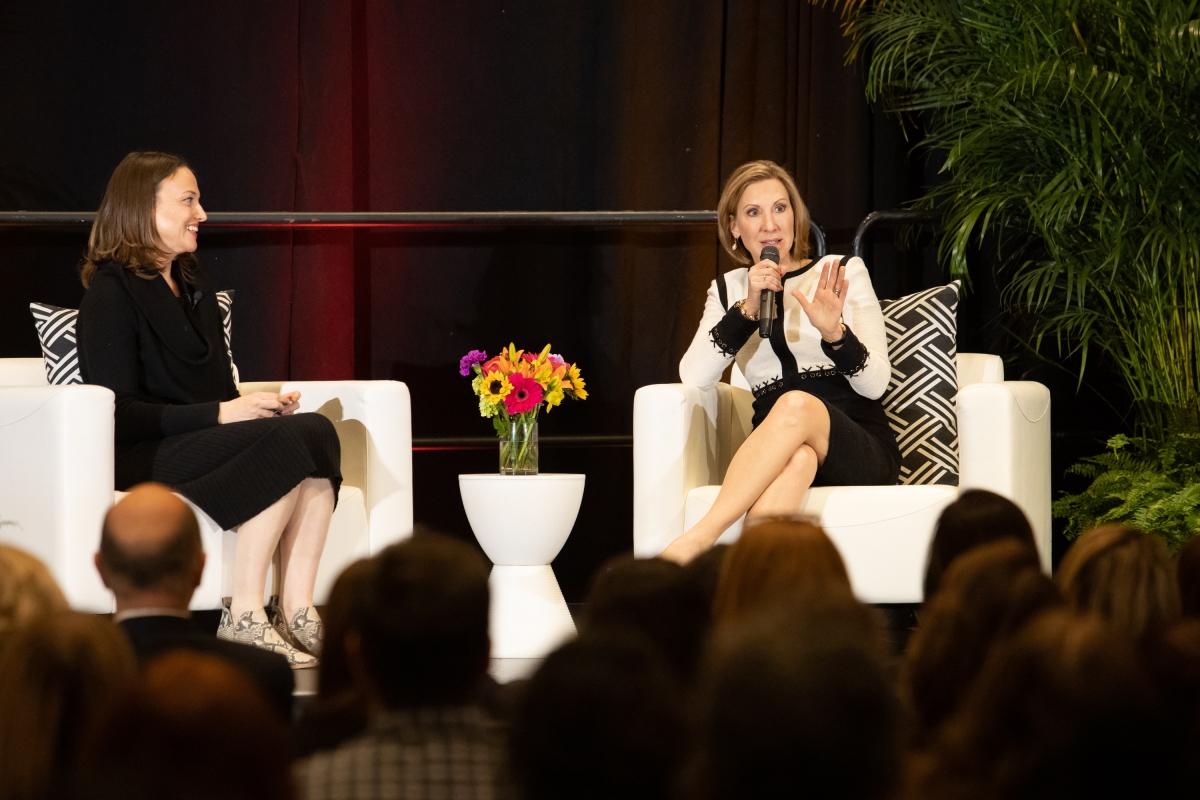 Women solve problems when they step forward as independent-minded leaders, honored guest Carly Fiorina, MBA '80, said on March 5, 2019, during the eighth annual Women Leading Women forum at the University of Maryland's Robert H. Smith School of Business.
"One of my regrets about politics is that women have allowed themselves to be politicized," Fiorina told an audience of about 300 faculty, staff, students and alumni. "Somehow we have this expectation that women should always agree."
Fiorina rejected this notion. "We are not a special interest group," she said. "We should define for ourselves what we think and what we believe."
The signature event is part of Smith's celebration of Women's History Month. Fiorina, the former CEO of HP, leads Carly Fiorina Enterprises and the Unlocking Potential Foundation.
During an hourlong conversation moderated by Smith professor Nicole Coomber, Fiorina highlighted five themes from her third book, "Find Your Way: Unleash Your Power and Highest Potential," scheduled for release by publisher Tyndale House on April 9, 2019.
1. Path over plan: Some people set goals for themselves to reach a certain position or salary by a certain age. But Fiorina said the approach can backfire. "When you're on a plan, you get locked in and can miss other opportunities," she said. "Or you might get to your destination and discover that it doesn't satisfy you. Or you might not reach your destination at all." Fiorina focuses instead on solving the problems in front of her, which puts her on the leadership path.
2. Substance over style: When Fiorina started her first corporate job at AT&T, she heard people talking about "42 long," referring to the suit size of high-potential leaders. Fiorina looked nothing like that, but she persevered. "Don't let people criticize you for your style or your appearance," she said. "Leadership is about solving problems. That's the only way to unlock your potential."
3. Feedback over criticism: Once a person starts on the problem-solving path, they quickly encounter opposition from critics who prefer the status quo. "If problem solving is the purpose of leadership, then criticism is the price of leadership," Fiorina said. Her reaction is to pause and reflect before reacting. She also seeks feedback from trusted allies, who tell her the truth even if it hurts. "Spend your time and energy on the people who will lift you up," she said, "not on the people who will tear you down."
4. Questions over answers: Leaders get paid to make decisions, but the process starts with listening. "Asking the right question is a far more important skill than always knowing the right answer," Fiorina said. Earning an MBA gave Fiorina an edge in this regard. "You learn enough about a lot of things to ask the right questions about virtually anything," she said. "That turns out to be incredibly important."
5. Solutions over winning: Fiorina entered politics to solve problems, but she saw something else when she ran for the U.S. Senate in 2010 and the Republican presidential nomination in 2016. "Politics is not about solving problems," she said. "It's about winning." The realization led to her current work at Unlocking Potential, a Virginia-based nonprofit organization focused on the problem-solving and leadership capacity of community-based organizations. "We have to lift more leaders up," Fiorina said. /DJ/
Media Contact
Greg Muraski
Media Relations Manager
301-405-5283  
301-892-0973 Mobile
gmuraski@umd.edu 
About the University of Maryland's Robert H. Smith School of Business
The Robert H. Smith School of Business is an internationally recognized leader in management education and research. One of 12 colleges and schools at the University of Maryland, College Park, the Smith School offers undergraduate, full-time and flex MBA, executive MBA, online MBA, business master's, PhD and executive education programs, as well as outreach services to the corporate community. The school offers its degree, custom and certification programs in learning locations in North America and Asia.