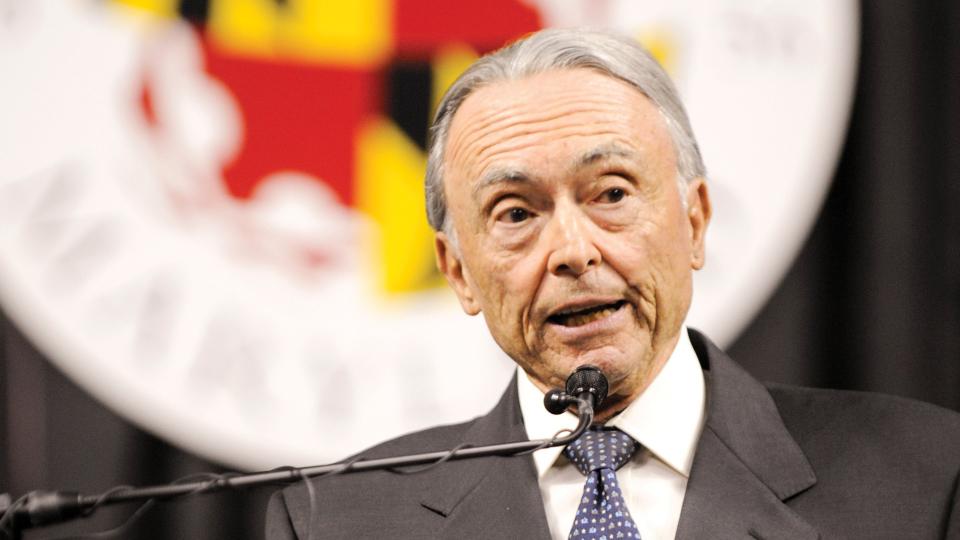 Robert H. Smith '50 was in his office in Crystal City, Va. when he got that first call from the dean of the University of Maryland's business school, 40 years after he graduated.
"Intrigued and curious, Dad asked, 'What took you so long to contact me?'" recounted his son, David Bruce Smith. "Not long after, a plethora of people gathered in his office. It seems the school wanted to partner with him on a project of some kind."
"Dad listened to their proposal—attentively, as always—but decided it did not have enough resounding impact—probably because he never participated in small endeavors. Instead, he asked for a detailed plan that would catapult the school into a top-ranked institution within 10 to 15 years."
That's how in 1998, Mr. Smith came to make what was then the university's largest single gift from a donor, working with then-Dean Howard Frank , who played a pivotal role in bringing the benefactor on board. It was the first gift of many from the Smith family to his alma mater. It not only changed the name of the business school, it also changed its course—setting off a transformation that would continue far into the future.
"When Dad passed in 2009, many of his wished-for goals had been achieved—but with more dreams on the way. Even so, with all that has happened since, I'm sure my father is—somewhere in the universe—proud and smiling."
The great real estate developer made possible a number of strategic initiatives with investments in the school's faculty, students, facilities and programs.
His involvement went beyond writing checks to a true interest in the details—particularly those to enhance student experiences. He was keenly interested in the interior finishes of Van Munching Hall, the kind of trees in front of the building on Mayer Mall, and the specifics of the coursework.
Like everything he was involved with, he wanted the highest quality possible. Nothing but the best would do, but not for arrogance.
Mr. Smith was convinced that, with wise investments, his funds could make the world a better place. He challenged all the institutions he partnered with to push
for excellence.
That pursuit of greatness drives the Robert H. Smith School of Business today,
and will continue far into the future.
"Everything we do is to be the best we can be," said Dean Prabhudev Konana , who took the helm in 2021. "It's individuals like Mr. Smith who are transforming universities today with profound gifts—not just to put their name on something, but to create new knowledge, to transform students, to create more visionary leaders like themselves. That's going to continue to propel this country to greatness."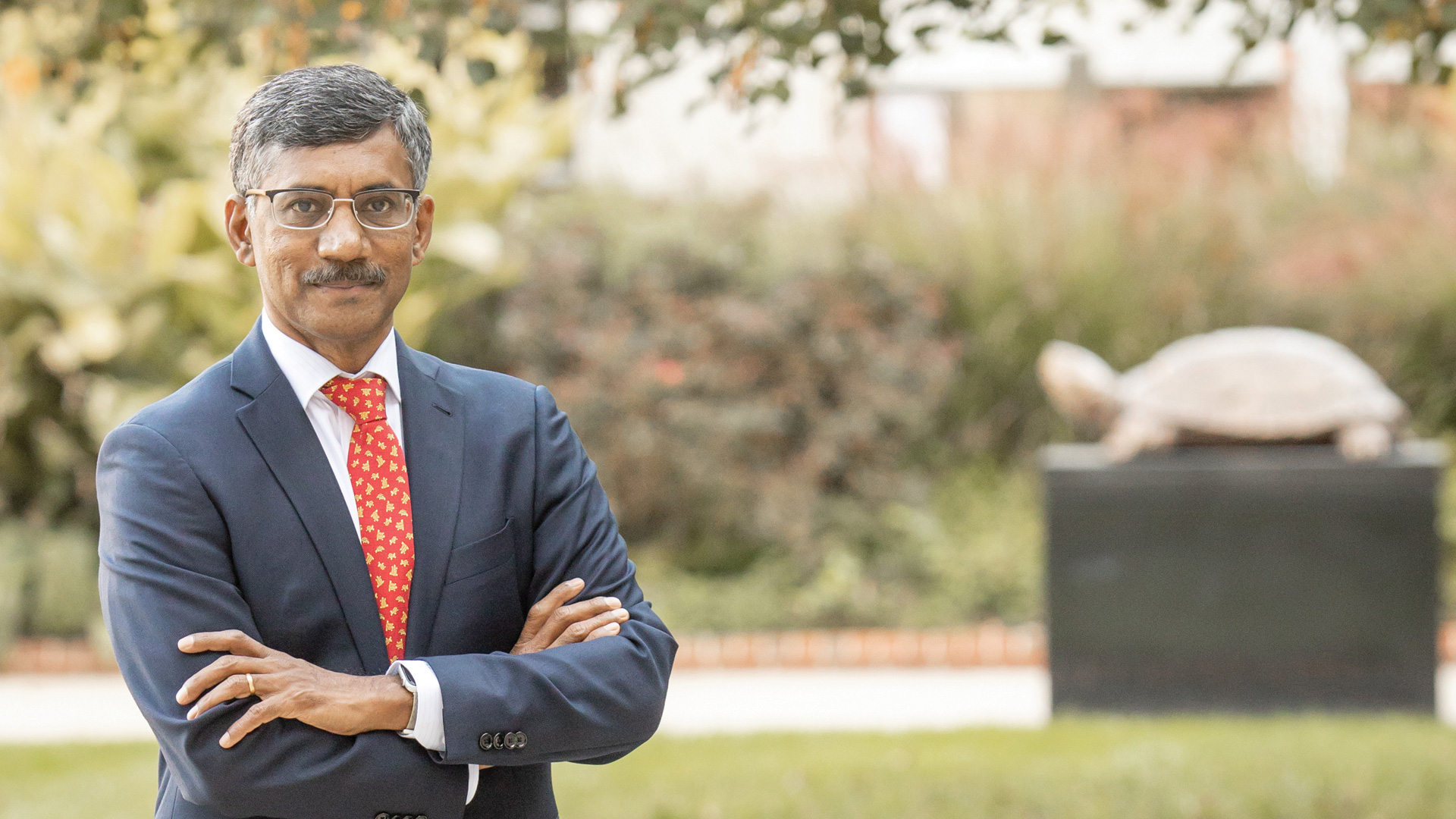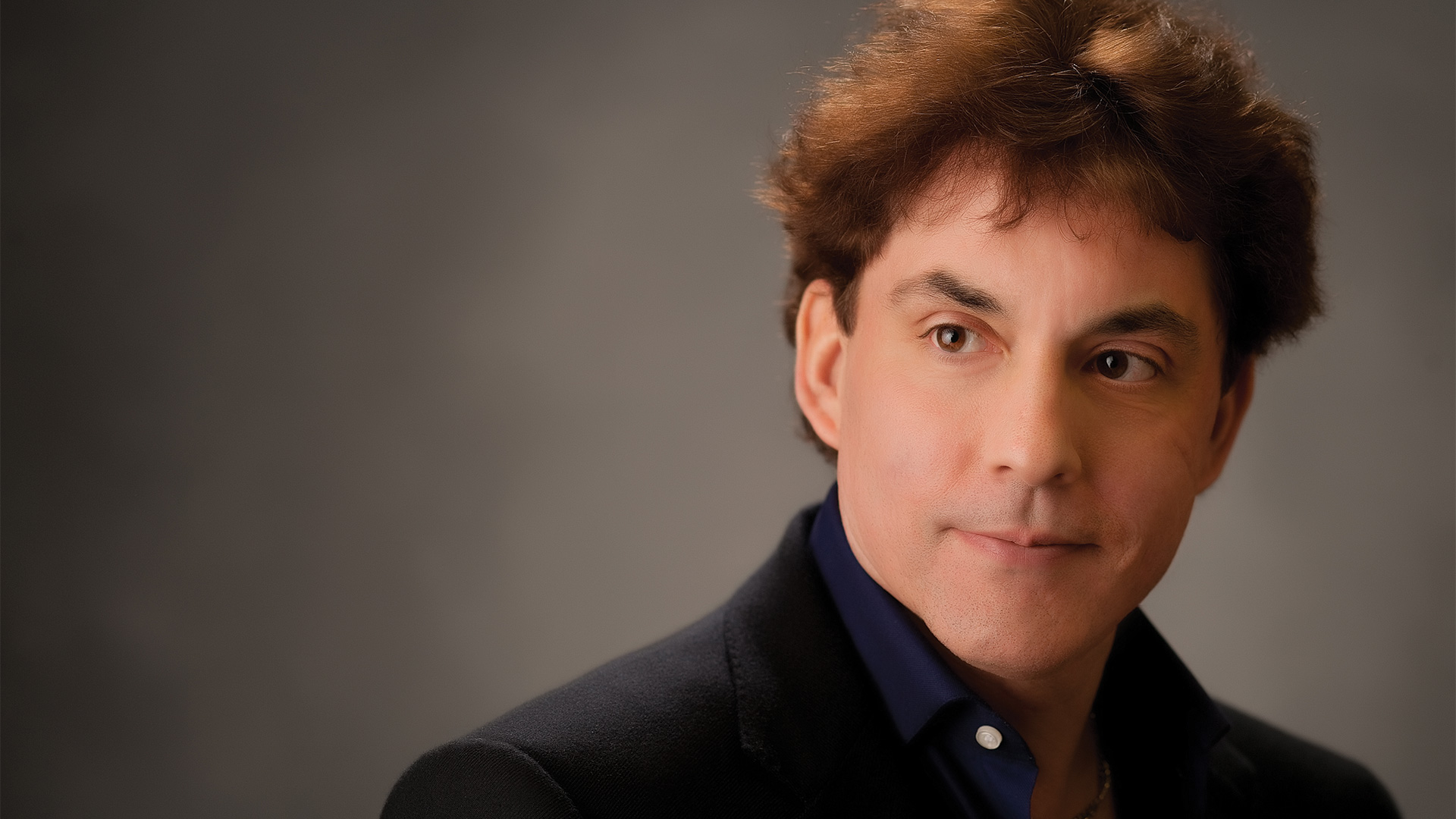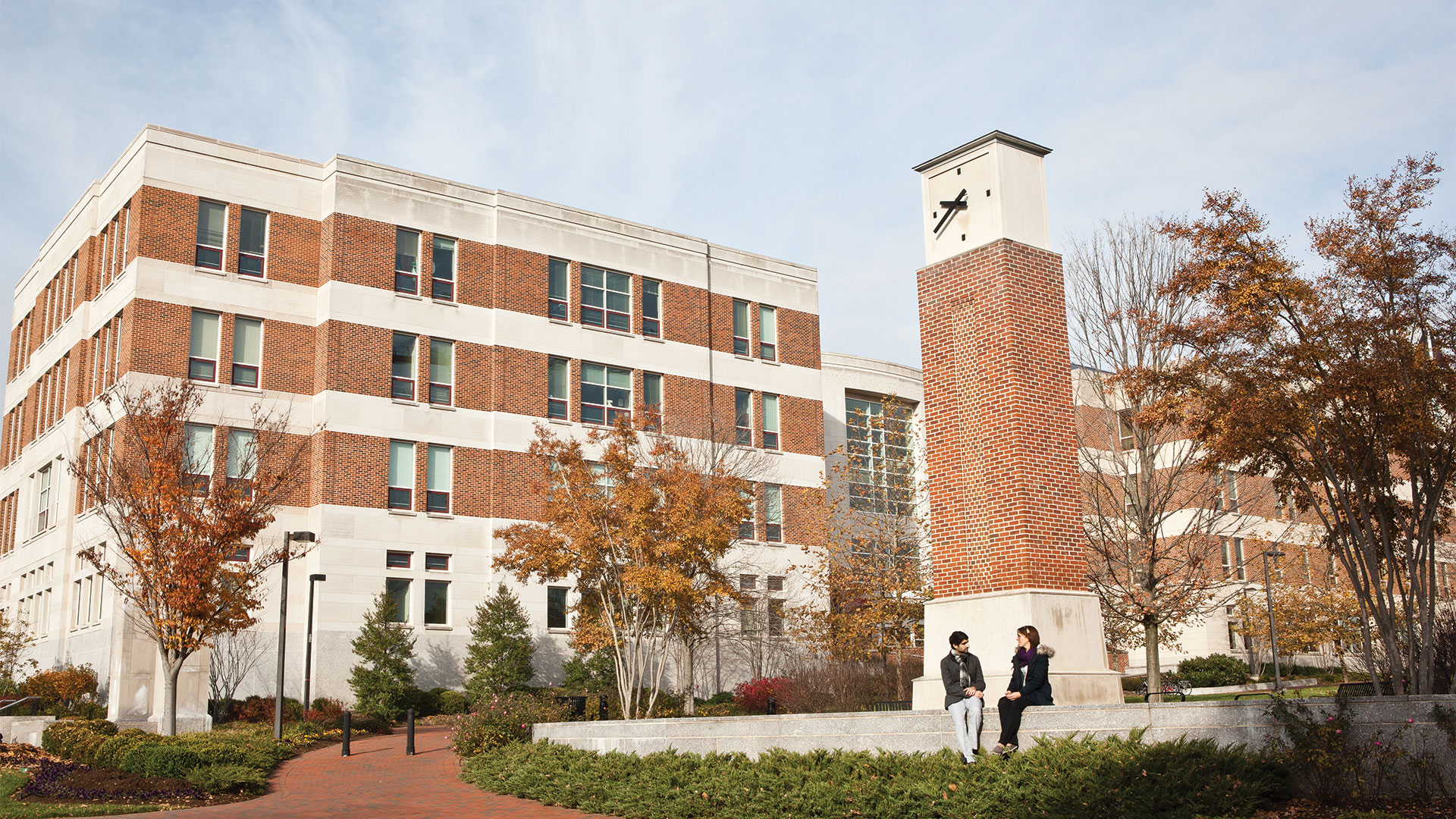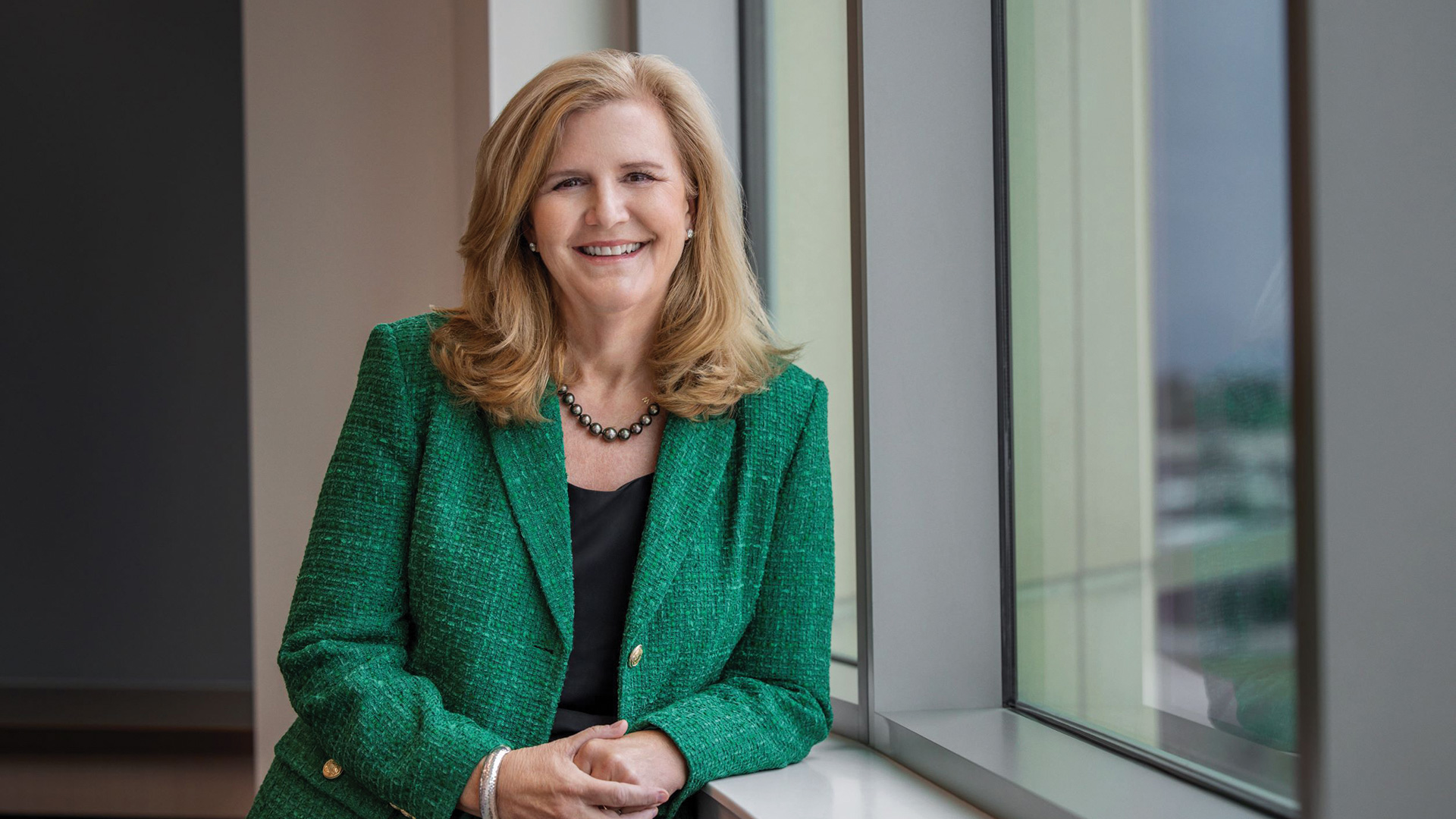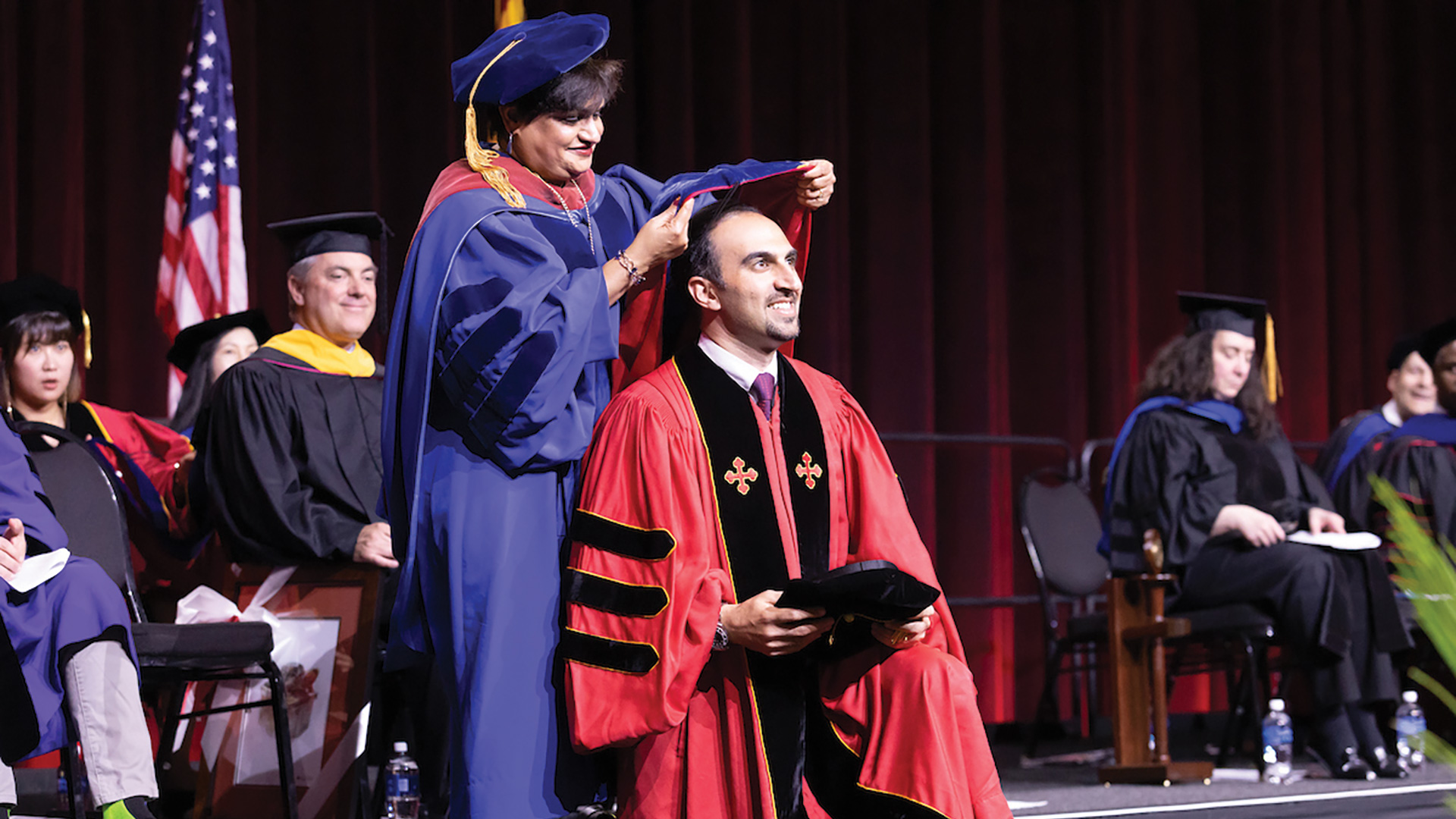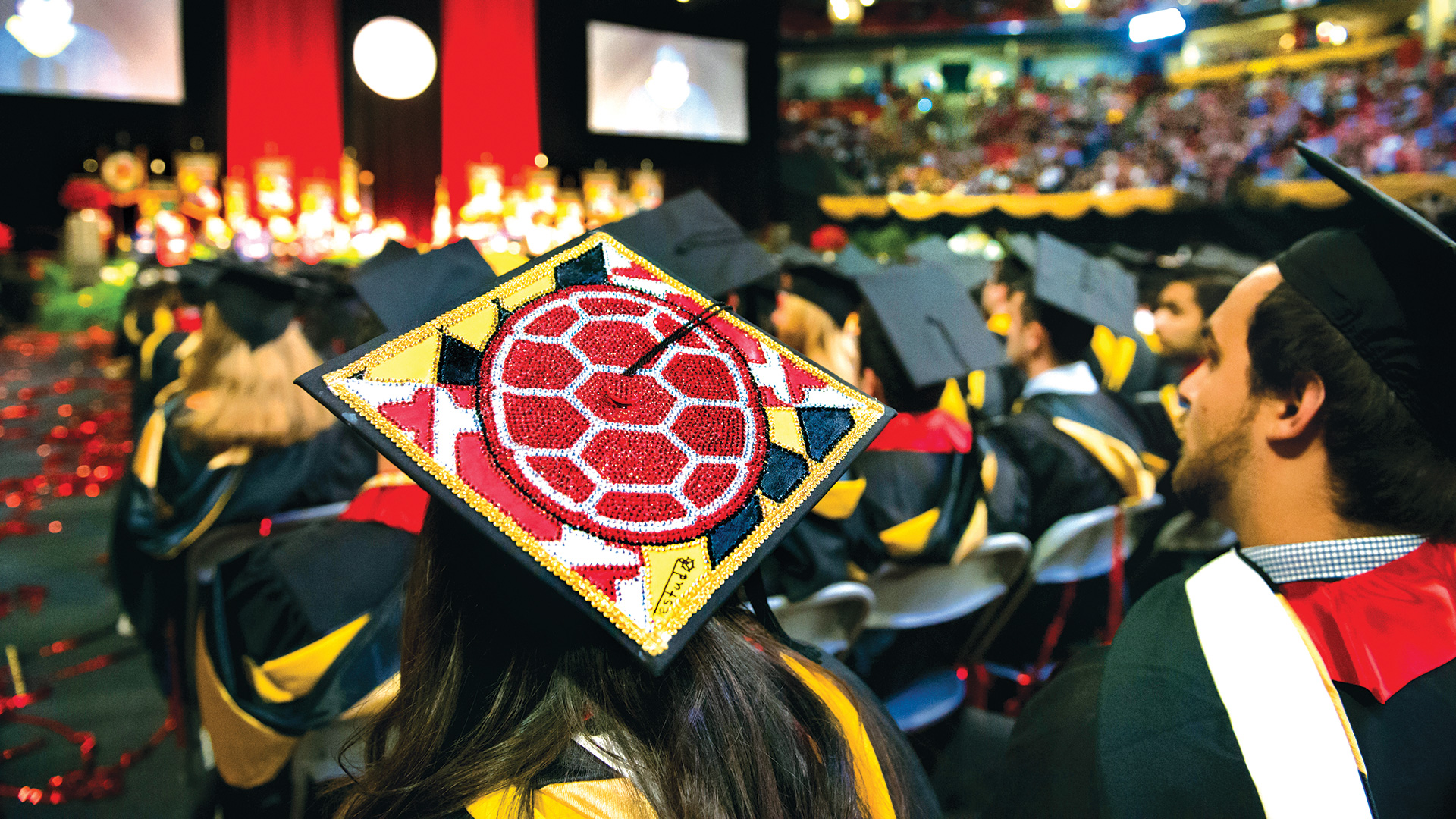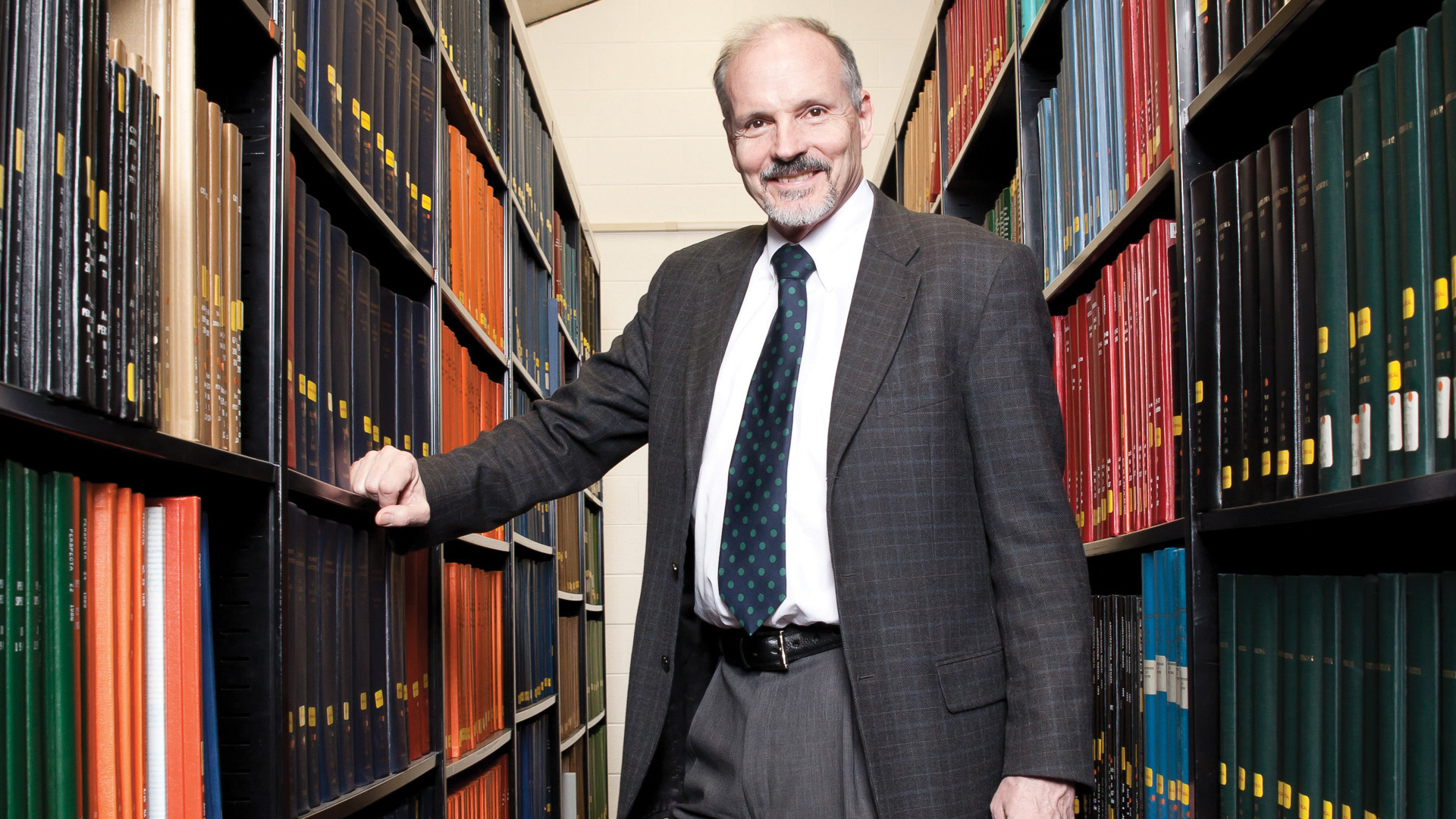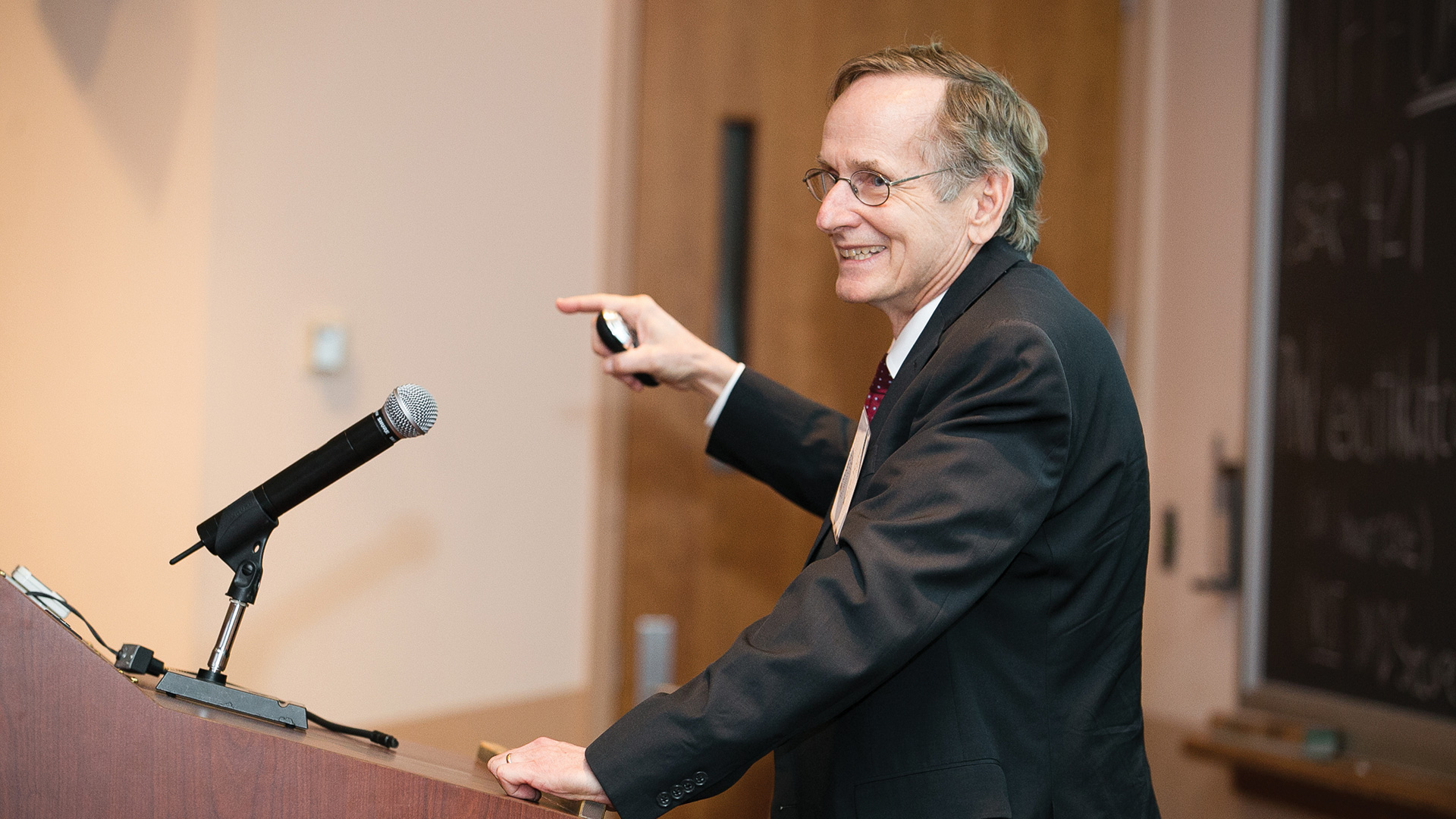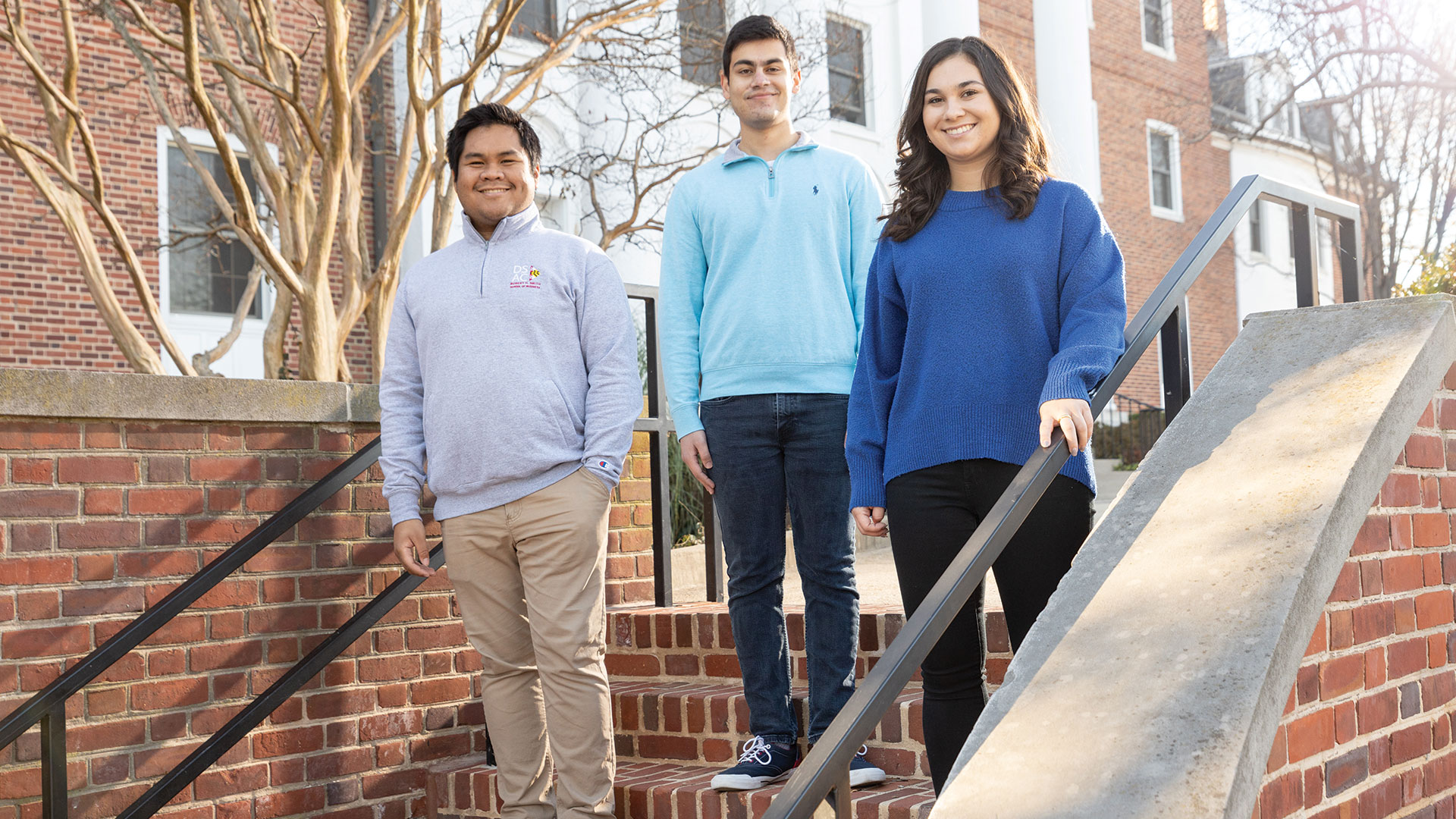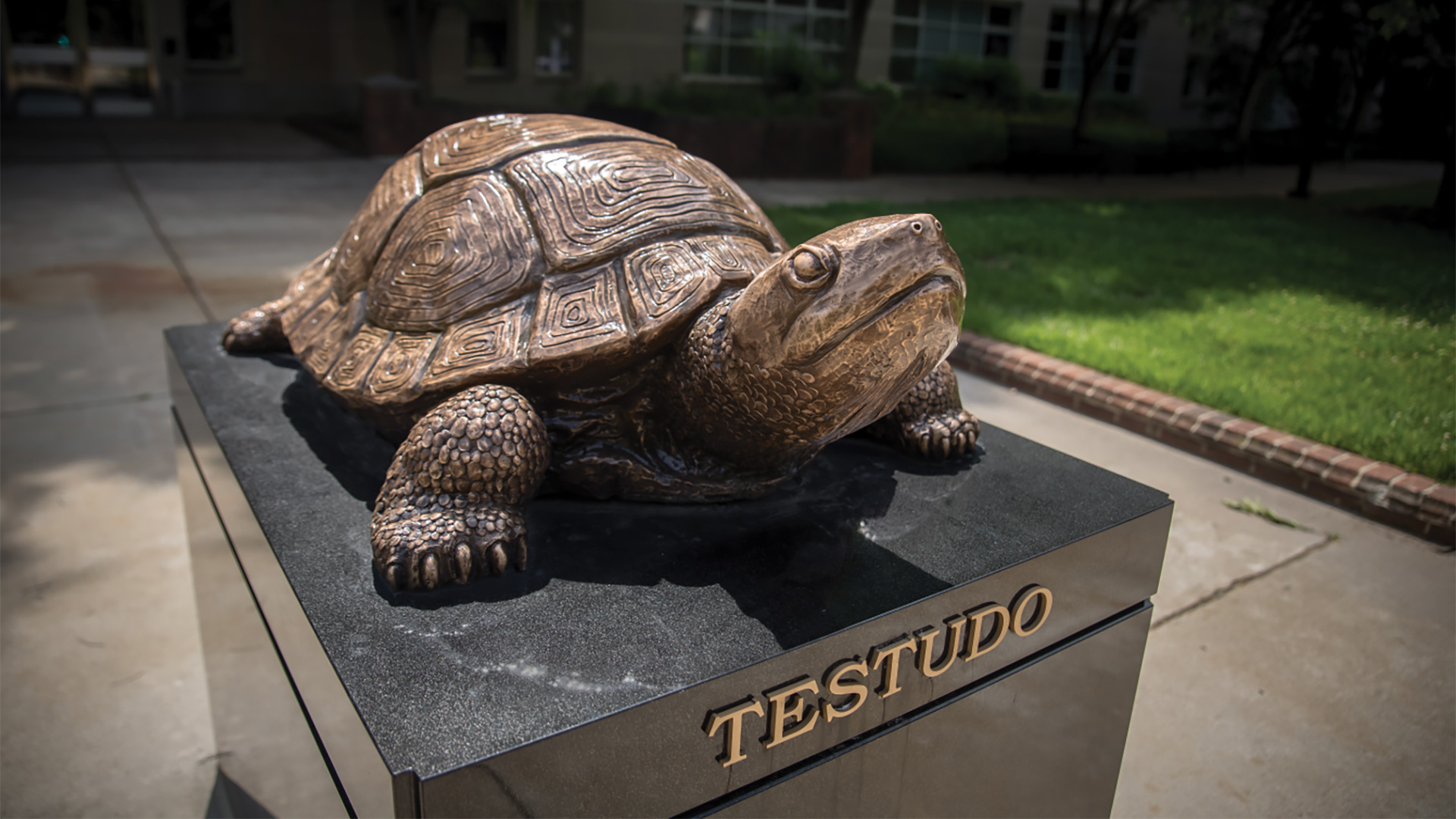 THE BEST FACULTY
Mr. Smith's investment allowed the school to recruit some of the best minds in the world. Several faculty chairs bear the Smith name—endowments that help the school compete for top faculty with the academically elite private schools.
"The Smith gift completely transformed the business school into the research powerhouse that it is today," said Roland Rust, Distinguished University Professor, the David Bruce Smith Chair in Marketing, and one of the world's most renowned experts on service marketing. He joined the school in 2000 and is founder and executive director of the Center for Excellence in Service.
"Many of the school's most illustrious faculty were hired using the Smith money, and this vaulted the school into the top echelon of research business schools," said Rust.
Albert S. Kyle holds the Charles E. Smith Chair Professor of Finance (named for Mr. Smith's father). His research changed the thinking in academia on the way markets operate and had a major influence on the advent of digital trading. He was lured away from Duke University, thanks to Mr. Smith's investment.
"He was the greatest donor a professor could hope for, precisely because he wanted us to do quality research, but he didn't want to tell us how to do it," he said.
In the two-and-a-half decades since the naming gift, the school's faculty has grown to 271 and is consistently recognized for its research strength. Many Smith professors have multiple lifetime achievement awards for their research contributions.
Smith professors are also making big impacts in the wider world, with research that informs policy decisions, improves healthcare, drives innovation and takes on some of the biggest global challenges.
Just in the last year, management professor Evan Starr's extensive research on non-compete agreements helped spur the U.S. Federal Trade Commission's proposal to ban them.
Meanwhile, Smith School finance professor Lemma Senbet is helping the Biden Administration strengthen ties with Africa and information systems professor Louiqa Raschid is leading a UMD team on a National Science Foundation-funded research project to combat future pandemics.
THE BEST STUDENTS
Mr. Smith also wanted the school to attract the very best students.
That wasn't happening in the PhD program in 2007, recalls G. Anand Anandalingam, the Ralph J. Tyser Professor of Management Science who was senior associate dean then. "We were losing the best students to many of our competitors."
"We made the audacious proposal to Bob Smith to provide additional funds to allow the Smith School to provide the largest PhD stipends of any business school in the United States."
In 2008, Smith invested in the PhD program to increase doctoral stipends by 45%, increase financial awards, revamp physical space, and provide research and travel support.
"The world of business schools–and especially potential PhD students–took notice," said Anandalingam.
"He really enabled our PhD program to thrive like it had never thrived before," said Debra Shapiro, the Clarice Smith Professor of Management and Organization, named for Mr. Smith's wife. She was assistant dean of doctoral programs in 2008.
Mr. Smith also endowed undergraduate and master's scholarships and helped fund global initiatives to send students abroad, giving them a first-hand taste of what it means to be a global citizen.
The school continues to find new ways to attract top students.
In the fall of 2022, it introduced two new programs to attract the most talented undergraduates: the Interdisciplinary Business Honors living-learning program and the Smith Business Leadership Fellows program.
This fall, the school launched the Doctor of Business Administration degree program for working professionals who want to take their research skills to the next level.
THE BEST JOBS
Mr. Smith encouraged students to seek careers where they can have an impact. His final gift was to improve the Office of Career Services (OCS).
"We needed a much better career services operation with better facilities and more and better personnel to help students find the best jobs," said Anandalingam, who was dean from 2008-13. "With the support of Michelle Smith , his daughter, Bob Smith eventually came through with a significant gift that helped us immensely."

OCS now draws on Smith's vast alumni network to support "Terps Helping Terps" initiatives, including mock interviews, career panels, networking events and hiring Smith graduates.
In the 2022-23 academic year, OCS launched the Terp Network Team initiative to connect students with a career coach, an employer engagement team member and a Smith grad to help with career outreach strategies.
Emmanuel Corporal '23 started at PepsiCo in July after a previous internship: "OCS was certainly pivotal in allowing me to interact with PepsiCo before applying for the role."
He also benefited from a Smith family scholarship and support from the Center for Social Value Creation, which the Smiths also helped fund.
Lisa Hunt '97, managing director and head of international services for Charles Schwab & Co., credits the school for putting her on a path to career success. Her company enjoys recruiting heavily from the school:
"We know we're going to get highly educated, prepared, well-rounded individuals to come into our corporation and ultimately succeed."
THE BEST LEADERS
Beyond landing great jobs, the goal has always been for Smith graduates to become great leaders.
"I've realized that doing good throughout the world and driving profit don't have to be mutually exclusive—and that's all thanks to gifts from the Smith family that have created programs that teach students how to do that practically," said Alexia Ayuk '23, who works at Bain & Co.
"It is your privilege as a human to identify with causes beyond yourself, to contribute to your community, and to make a difference to the world around you," Mr. Smith said in his 2008 commencement address. "I've taken the opportunity to be involved with this school because it is my dream that each graduate will be an ambitious dreamer, a courageous risk-taker, and a principled, ethical leader, who will work to make this world a better place."
The school has remained committed to those ideals—expanding opportunities to learn business principles to all UMD students.
In 2022, it launched an online business minor curriculum, open to any undergraduate. In 2023, the school introduced two campus-wide financial literacy courses.
Smith is also partnering with other UMD colleges and schools on programs, including a computational finance program for computer science majors, and a sports management program with the School of Public Health and the Philip Merrill College of Journalism.
THE BEST IS YET TO COME
"We are eternally grateful to Mr. Smith and the Smith family," Konana said. "Their continued influence on this school will allow us to do great things in the future."
And that future starts now. Smith is tackling climate change risks with the launch of the Smith Enterprise Risk Consortium, led by professor of the practice Clifford Rossi. He worked with master's students to create an index to identify regions most at risk for weather-related disasters.
Smith is also reimagining learning and building out classrooms for more active
and hybrid learning.
Supply chain professor Humberto Coronado is using virtual reality technology to teach students. And faculty are redesigning the curriculum to prepare students to take on global frictions, address social inequalities, and utilize AI to create a better world.
Smith's alumni network is key to the school's future success. Konana recently launched the Office of Experiential Learning to expand immersive learning opportunities for students to work with real companies to develop resilience and critical thinking skills.
The Smith School is pushing to get even more of its alumni involved, many through Smith Advisory Councils.
Larry Silver '98, founder of Superus Careers and Athlete Career Placement and part of the first graduating class of the newly named Robert H. Smith School of Business, wants to rally alumni to take the school into the future.
"Pay it forward any chance that you get," said Silver, who was an adjunct professor for six years, served two terms as an advisory board member, and led employer engagement with case competitions, experiential learning and more.
Hunt echoes Silver's call: "This is a great opportunity for each of us to think about how to help Smith continue to be the great institution it is and continue to drive
for greatness over the next 25 years."
It comes down to investing in the school, just like Mr. Smith.
"One person can make a significant impact," Corporal said. "That's what the Smith family has done for the business school. Everyone should know they can also make an impact."
It's that kind of support that will help Smith continue to evolve and thrive in the future.
"To paraphrase Bob Smith," said Anandalingam, "The terrapin always moves forward because it cannot and will not move backward."
Media Contact
Greg Muraski
Media Relations Manager
301-405-5283  
301-892-0973 Mobile
gmuraski@umd.edu 
About the University of Maryland's Robert H. Smith School of Business
The Robert H. Smith School of Business is an internationally recognized leader in management education and research. One of 12 colleges and schools at the University of Maryland, College Park, the Smith School offers undergraduate, full-time and flex MBA, executive MBA, online MBA, business master's, PhD and executive education programs, as well as outreach services to the corporate community. The school offers its degree, custom and certification programs in learning locations in North America and Asia.