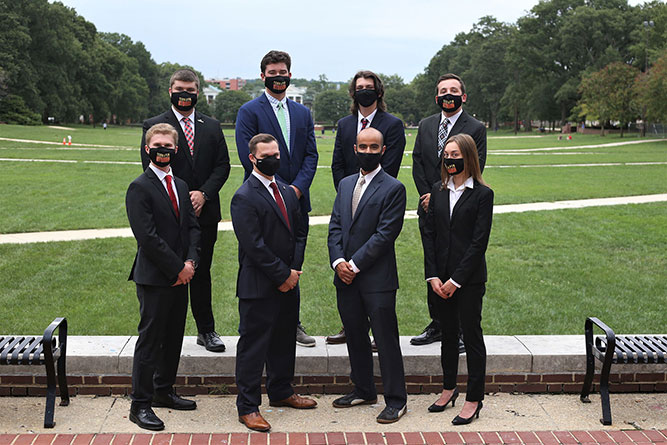 How does a student club establish and maintain successful and efficient operational processes? It helps to have some good advice.
That's the idea behind the creation of the Snider Consulting Group.
Maryland Smith junior Joseph Houghton said he was motivated to launch SCG, after realizing a need for greater support among student groups. 
He worked with fellow Maryland Smith undergraduate students Natalie Hirsch and Devin Streight to found SCG, with help from the University of Maryland Robert H. Smith School of Business's Ed Snider Center for Enterprise and Markets.
The group aims to leverage the professional experience of its members, who have completed internships and consulting projects Marriott, BDO and other firms. "Not every student is a business student," Hirsch said, "so we want to use those techniques that we've learned to help support other organizations on campus."
Hirsch and Houghton said the best part of their experience with SCG so far has been the camaraderie and sense of community they share with their group members. They give members a chance to meet students from other departments as they work with a variety of different student clubs and organizations all across campus. "We didn't do this for the resume. The goal here was to help the community," Houghton said, adding, "I love that we're making an impact".
Houghton and Hirsch would like to see the Snider Consulting Group continue its work even after they graduate.
Hirsch said she hopes SCG will become a resource that everyone on campus knows about and can turn to.
"Our mission will always be the same… [to] help and assist students [with] what they're passionate about," Houghton said.
For more about SCG, go to: SniderConsultingGroup.com.
–By Braden Walden. Walden is a current MBA Candidate set to graduate in 2021. Originally from Chicago, he has lived in New York, Seoul, Washington, D.C., and Baltimore. Following graduation, Walden is set to start a new career at Navy Federal Credit Union.
Media Contact
Greg Muraski
Media Relations Manager
301-405-5283  
301-892-0973 Mobile
gmuraski@umd.edu 
About the University of Maryland's Robert H. Smith School of Business
The Robert H. Smith School of Business is an internationally recognized leader in management education and research. One of 12 colleges and schools at the University of Maryland, College Park, the Smith School offers undergraduate, full-time and flex MBA, executive MBA, online MBA, business master's, PhD and executive education programs, as well as outreach services to the corporate community. The school offers its degree, custom and certification programs in learning locations in North America and Asia.