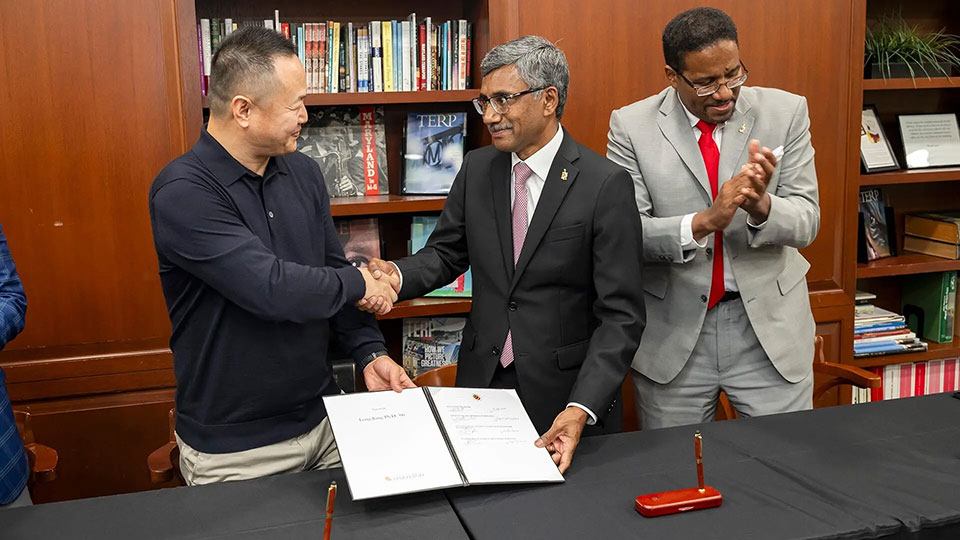 University of Maryland alumnus Long Jiang Ph.D. '06 is giving $5 million to support faculty research and doctoral students in the Robert H. Smith School of Business. It is the largest gift ever made to the school's doctoral program and the first major gift to the school's Silver Jubilee fundraising effort.
The gift will establish the Long and Grace Jiang Endowed Chair in Business and the Long and Grace Jiang Endowed Graduate Fellowship, both named for him and his wife, and will provide support for faculty and graduate students. The fellowship will support up to 10 students per year.
Long Jiang Ph.D. '06(left) shakes hands with Smith School Dean Prabhudev Konana while UMD President Darryll J. Pines looks on.
"This is a significant investment for our Smith School's doctoral program and its many promising young scholars," said Dean Prabhudev Konana. "Dr. Jiang's commitment to elevate the reach and impact of the school's research demonstrates his pride as an alum as well as a deep understanding of the importance of research and the free exchange of ideas."
The Smith School's doctoral program has 588 Ph.D. alums, who have gone on to have a significant impact in higher education and industry. Its graduates include Amy Kristof-Brown, dean of the Tippie College of Business at the University of Iowa; Patrick Maggitti, provost of Villanova University; and Anindya Datta, CEO of Mobilewalla.
Long Jiang is former CEO and current senior strategic advisor of Goertek, a Chinese company established in 2001 and listed on the Shenzhen Stock Exchange in 2008. It develops and manufactures miniature audio speakers and receivers, smart devices using virtual reality and augmented reality, wireless stereo headsets, and other acoustic and optical components.
He has made similar investments in his alma mater, Renmin Business School at Renmin University of China, a key public research institution in the nation, to support collaborative business-related research and thought leadership between faculty and graduate students at the Smith School and Renmin.
"I attribute my successful business career to the education I received from these top universities," Long Jiang said. "Grace and I hope to help students and faculty reach their full potential through collaborations between these fine institutions."
– This article originally appeared in Maryland Today and is republished here with permission.
Media Contact
Greg Muraski
Media Relations Manager
301-405-5283  
301-892-0973 Mobile
gmuraski@umd.edu 
About the University of Maryland's Robert H. Smith School of Business
The Robert H. Smith School of Business is an internationally recognized leader in management education and research. One of 12 colleges and schools at the University of Maryland, College Park, the Smith School offers undergraduate, full-time and flex MBA, executive MBA, online MBA, business master's, PhD and executive education programs, as well as outreach services to the corporate community. The school offers its degree, custom and certification programs in learning locations in North America and Asia.