Program Overview
In today's ever-changing and increasingly complex world, understanding your organization's risk landscape is of paramount importance. For professionals in financial services -- whether within a federal, state or local government agency or small, mid-size or large commercial entity -- you must master the challenges and myriad of risks that your organization faces to make strategic decisions -- decisions that could have long term consequences. To be successful, you need the tools and knowledge to identify, evaluate and manage these risks.

In collaboration with Deloitte, we bring you an exciting new training program focused on risk management in financial services. We will help you understand the building blocks of a robust risk governance system, including how to construct frameworks necessary to measure and mitigate your agency's/organization's risk and plan for the future. Join us for this cohort-style, active learning experience.
Next Cohort: Starts Tuesday, April 19, 2022 (with an early registration BONUS session on March 29, 2022)
Information Sessions
Please join us for a free informational 45-minute webinar where we will detail the program and answer any questions.
Valuable Outcomes
By the end of this program, you should be able to…
Build a sustainable risk management program;
Define key elements of credit risk and how they align to Enterprise Risk Management (ERM), as well as how to use ERM to build a strong credit risk program;
Understand cyber risk and mitigation strategies for credit agencies and financial regulators;
Employ leading practices in data/analytics for risk measurement and monitoring, including other risk-related metrics and tools, such as:

Key risk indicators
Risk modeling techniques and management

Provide liquidity and capital risk lending oversight to Chief Risk Officers (CROs) and other constituents;
Grasp the basics of operational and regulatory risk management, as well as other portfolios of risk (e.g., human capital, technology);
Bonus Session: Recognize the relevancy and associated implications of climate change and financial risk.
The timing is especially critical; as we've seen with the pandemic, crises don't wait for organizations to get their risk management house in order.  Federal agencies and private companies face an array of different risks that require consistent and coordinated risk assessment processes. We're bringing decades of experience in managing risk to this training program.
Program Details
The Maryland Smith Risk Academy is a live, virtual executive training program targeted to mid-career, financial services professionals in the federal, state and commercial sectors seeking to acquire new skills and decision-making impact in applied risk management topics, including: ERM, cyber, governance, credit and liquidity risk, and climate change.
Participants are taken on a learning journey through rigorous case studies, group discussions, and scenario planning, with facilitation and instruction by faculty and professional guest speakers. The program is limited in size to emphasize interaction and to provide the insight needed to help you identify and manage various risks across organizations of all sizes.
All six modules plus the bonus module will be presented virtually in a live 2-hour format starting on March 29, 2022. We hope you will join us!
Learn what elements are critical for developing your organization's ERM program, such as risk appetite statements and risk profile assessments
Understand how risks relate to your organization's objectives and what processes are required to assess these risks
Review key processes for determining proper oversight, communication, assessment, and responses to your organization's risk
Interpret key elements of credit risk and how they align to ERM, as well as how to use ERM to build a strong and more sustainable credit risk program
Review key credit risk, such as probability of default and loss severity, and how to calculate credit loss
Learn about the drivers of credit risk including borrower creditworthiness, ability-to-repay and where applicable, collateral requirements
Understand the processes and controls needed to measure and manage credit risk exposures of various types
Understand cyber risk and mitigation strategies for credit agencies and financial regulators
Learn about specific cyber threats and techniques for thwarting these risks
Review various frameworks used for assessing cyber risk such as the National Institute of Standards and Technology (NIST) and Federal Financial Institutions Examination Council (FFIEC) cyber risk frameworks
Learn how to implement a robust cyber risk program that encompasses risk governance, incident response planning, vendor management, staff training, cyber intelligence, and information sharing
Employ leading practices in data/analytics for risk measurement and monitoring, including risk related metrics and tools, such as: Key Risk Indicators, Risk Modeling Techniques, Risk Indicators and Reporting, and Model Governance
Learn how data and analytics can be leveraged for measuring risks, as well as the limitations of these techniques for assessing risk
Understand what factors to consider in the development and measurement of key risk indicators
Describe what an effective risk management reporting capability looks like and how to implement one for your organization
Articulate on and understand the differences between liquidity and capital risk, as well as their importance to organizations engaged in financial services activities
Introduce concepts for measuring liquidity and capital risk
Discuss processes and controls, such as liquidity contingency planning and scenario analysis to better understand your organization's exposure to these risks
Explore the fundamentals of operational and regulatory risk management, as well as other portfolios of risk (e.g. human capital, technology)
Learn about the principles of operational and regulatory risk, in addition to how the associated risk assessment and management differs from financial risk
Understand the building blocks of effective operational risk assessment including, leading practices, such as risk control self-assessments (RCSAs) and the development of tools to determine the probability and impact of operational events on your organization
Review the linkages between various financial and non-financial risks, and how an effective ERM program can help identify these intersection points
Understand how to incorporate climate change taxonomy into your organization's risk management program
Survey the state of climate change linkages with finance and industry
Begin to analyze climate data & models, and learn to identify common strengths and weaknesses
Live Specialist Panel Webinars
Maryland Smith, in collaboration with Deloitte, offers a series of quarterly live panel discussions on the topic of Risk Management.  Please check back often!
Concluded Webinars
A Scientist's Take on Climate Models and Risk Management Applications
With Dr. Tim Canty
November 17, 2021
Elevating your Cyber Security Risk Management Awareness and Capabilities
With Clifford Rossi and Tim Li
August 17, 2021
Who Should Take This Program
Risk practitioners in commercial entities, federal and state agencies, industry regulators and other government ecosystem managers engaged in credit, banking, loan, grants, insurance, and other financial and market activities requiring effective risk management.
There are no prerequisites for the course.
Registration
Register by March 27, 2022 for an early bird early discount and a bonus session on climate change and financial risk. Organizations with multiple registrations can save even more.
Early Bird Bonus Session: March 29, 2022
Standard Course Dates: Tuesdays, Beginning April 19, 2022
Course Schedule: Tuesdays
Modality: Online live sessions via Zoom
Registration Deadline: April 18, 2022, 11:59 p.m. (early bird by March 27, 2022)
What do you receive for completing the program?
Professional digital certificate from the University of Maryland
Credly© digital badge
1.2 UMD CEUs 
Program Fee: $2,995 ($2,545 if you register by March 27, 2022)
Available Discounts
University of Maryland System School Alumni
BIG10 Conference School Alumni
Organizations with multiple registrations
Active Military & Veterans
Current UMD-College Park students
Please contact us at rhsmith-execed@umd.edu for more information!
About the Primary Instructor
Clifford Rossi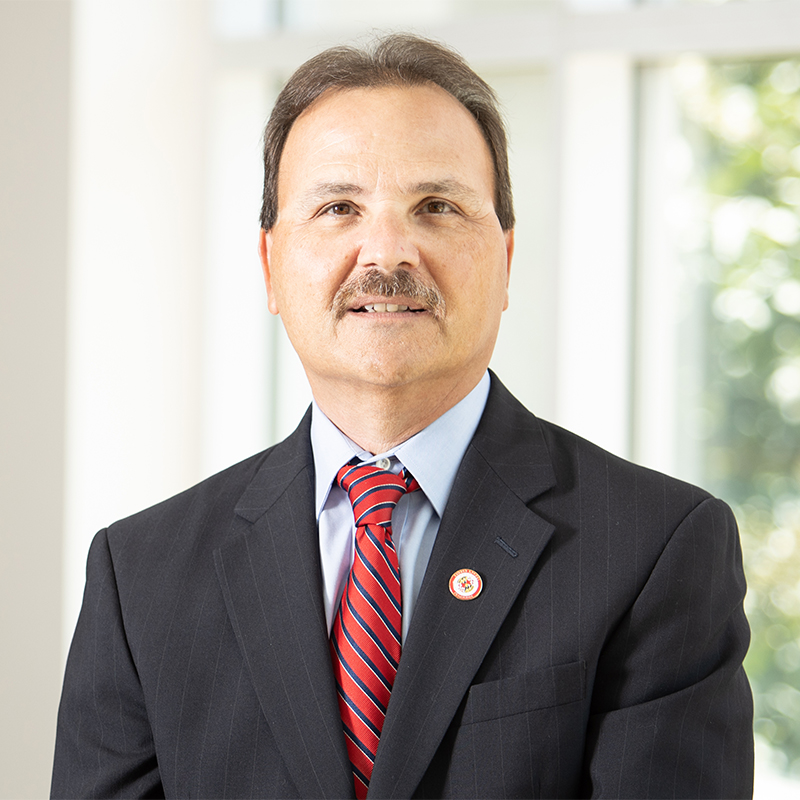 Clifford Rossi is an Executive-in-Residence and Professor of the Practice at the Robert H. Smith School of Business, University of Maryland. Prior to entering academia, Rossi had nearly 25 years' experience in banking and government, having held senior executive roles in risk management at several of the largest financial services companies.
His most recent position was Managing Director and Chief Risk Officer for Citigroup's Consumer Lending Group where he was responsible for overseeing the risk of a $300+B global portfolio of mortgage, home equity, student loans and auto loans with 700 employees under his direction. While there he was intimately involved in Citi's TARP and stress test activities. He also served as Chief Credit Officer at Washington Mutual (WaMu) and as Managing Director and Chief Risk Officer at Countrywide Bank.
Previous to these assignments, Rossi held senior risk management positions at Freddie Mac and Fannie Mae. He started his career during the thrift crisis at the U.S. Treasury's Office of Domestic Finance and later at the Office of Thrift Supervision working on key policy issues affecting depositories. Rossi was also an adjunct professor in the Finance Department at the Robert H. Smith School of Business for eight years and has numerous academic and non-academic articles on banking industry topics. Rossi is frequently quoted on financial policy issues in major newspapers and has appeared on such programs as C-SPAN's Washington Journal and CNN's Situation Room. He is currently writing a book, Fundamentals of Risk Management for John Wiley & Sons, Inc. His policy and research interests include GSE reform, housing finance reform, bank capital issues and implications of Dodd-Frank on banking.
Guest faculty and industry specialists will be invited to round out the program and provide pertinent industry knowledge and experience.
Module Notice: Non-credit courses and Continuing Education Units (CEUs) do not post to the University of Maryland transcript and do not count towards a student's academic record. Neither a grade nor credit is earned. Students do not receive a university ID card and will not be granted access to university facilities such as recreation, transportation, and campus events. Non-credit students may access UMD libraries as visitors.
As used in this document, "Deloitte" means Deloitte & Touche LLP, a subsidiary of Deloitte LLP. Please see www.deloitte.com/us/about for a detailed description of Deloitte's legal structure. Certain services may not be available to attest clients under the rules and regulations of public accounting.