Full-Time MBA
In the internationally recognized, top-ranked Full-Time MBA Program at the University of Maryland's Robert H. Smith School of Business, future leaders develop sophisticated analytical skills and a deep understanding of the way business functions like marketing, finance and operations interact.
Smith MBAs learn how to leverage big data to make better decisions, and explore their career options in a tight-knit community that encourages collaboration and intelligent risk-taking. Class sizes are small and the faculty are supportive, challenging and invested in student success.
Full-Time MBA Career Coaching and Curriculum
To carry your career development momentum through your summer internship and into the fall recruiting season, Smith's Office of Career Services (OCS) has created interactive opportunities for you to update your mindset and upgrade your MBA career portfolio. Taking a moment to acknowledge what you have learned, put into practice and accomplished thus far, will establish a healthy, clear mindset with which to engage in the more sophisticated full-time job offer conversations that will occur during your second year.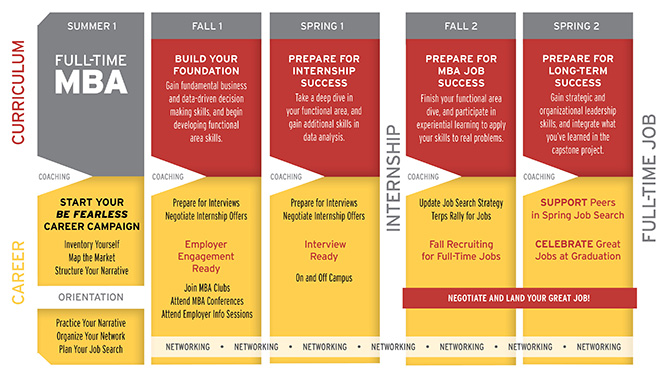 First Year
Core
The core career development curriculum builds in seven phases to establish key techniques and get you ready for employer interactions, as early as the fall or in time for spring.
Phase
Month
Activity
1
Jun
The Accomplishment Chronicles
2
Jun
Map the Market
3
Jun
Discovering Your Value Proposition
Aug
Tell Me About Yourself (TMAY) Framework
Aug
TMAY Peer Practice
Aug
Tell Me About a Time When (TMAATW)
Aug
Your Branded Story Across Media
4
Aug
Network Round Robin
Aug
Networking at the Next Level
Aug
Networking Event
5
Aug
MBA Job Search Planning
6
Sept
Cover Letter and the Reader
Sept/Nov
Preparing for the 30-minute MBA Interview
Sept/Nov
Alumni Mock Interviews (AMIs)
7
Oct/Dev
Negotiating from the Same Side of the Table
Complementary
Additional seminars take your core work further, by deepening your insights and strengthening your position.
| | |
| --- | --- |
| Month | Seminar |
| Aug | War for Talent Alumni |
| Sept | Pre-Conference Workshop |
| Sept | Mock Career Conference |
| Sept | International Student Success Day |
| Oct/Nov | Exploring Strengths |
| Oct/Nov | Consulting Plenary with Marc Cosentino |
| Spring | Advanced LinkedIn |
| Spring | Function-Specific Networking with Alumni |
| Spring | Alumni Mock Interviews (AMIs) |
| Spring | Shining Through Your Summer - Perspectives |
Second Year
Core
Second-year readiness is far more dynamic than before. Student needs vary, options shift and opportunities arise unexpectedly. The OCS team is prepared to meet you where you are by partnering with student leaders to create co-active sessions that address your immediate next steps.
| | |
| --- | --- |
| Month | Core Activity |
| Oct | Update Your Job Search |
| Oct | Your New Narrative |
| Oct | Negotiate for Success |
| Oct | Second-year Rally Day |
| Fall | Term B - Leveraging Winter Break |
| Spring | Term C - Topic to be Determined |
| Spring | Term D - Topic to be Determined |
Complementary
Additional seminars take your core work further, by deepening your insights and strengthening your position.
Month
Seminar
Sep/Dec
Spring
Alumni Mock Interviews (AMIs)
Sept
Pre-Conference Workshop
Sept
Mock Career Conference
Sept
International Student Success Day
Oct/Nov
Exploring Strengths
Oct
Consulting Plenary with Marc Cosentino
Spring
Advanced LinkedIn
Spring
Function-Specific Networking with Alumni
Capstone
As you refine your MBA stance and strategy, Super Days can connect you with the Smith network.
| | |
| --- | --- |
| Month | Capstone Activity |
| Oct | Marketing Careers |
| Oct | Finance Careers |
| Jan | Consulting Careers |
| Jan  | Analytics Careers |
The Coaching Partnership
Your career coach is dedicated to meeting you where you are in your career journey and facilitating your way forward through our co-active approach to MBA career development. The coaching relationship is confidential and tailored to your specific needs in order to aid you in reaching your highest potential. 
The Coaching Team
The OCS MBA Career Coaching Team provides guidance for every single MBA student in pursuit of career development and/or conducting an MBA job search. Our MBA career coaches have worked in industry and bring their professional perspectives to the work they now do with students. Coaches offer a web of support to students as they position themselves for next-level roles across industries and functions. Here is the MBA Coaching Team:
One-on-one coaching support includes: clarification of target career coordinates; assessing the acquisition of critical experiences for target jobs; building a strong value proposition; embedding that value proposition across the entire career portfolio (oral stories, LinkedIn profile, resume and cover letters); developing a network strategy and execution plan, reviewing search correspondence; preparing and practicing for interviews; and negotiating job offers. You can make coaching appointments through HireSmith.
Coaching Hours and Scheduling Appointments
To schedule an appointment with a career coach, simply visit HireSmith to create your initial student profile and upload your resume. You will then have 24/7 access to all MBA coach schedules and can schedule an available date and time that's convenient for you. If you experience any technical difficulties, please contact your campus career coach or OCSservice@rhsmith.umd.edu.
Career Conversation Topics
MBA Coach
MBA Student

A commitment to building a trusted relationship
Active participation in OCS career curricula, programming and coaching
Genuine care for your professional growth and a commitment to you, your career and your best interests
A learning partnership to help clarify your goals, collaborate and brainstorm best approaches to your search
Accessibility through coaching appointments, coaching tables and coaching corners
Clear communication along with honest, candid and appreciative feedback; sometimes recommendations or requests
Confidentiality of your coaching sessions among the coaching team and generally no one else (faculty as appropriate)

A commitment to building a trusted relationship
Active participation in OCS career curricula, programming and coaching
Ownership of your career success; taking responsibility for assessing choices, making decisions and taking appropriate action
A learning approach to the ambiguities of career development with openness to success, failure and trying again
Intentional time management to balance academic and career demands
Willingness to fully engage career resources: other career coaches, Leadership Fellows, alumni, technology, etc.
Consistent communication on the status of your job search and reporting all offers and acceptances on the SEDA share platform

It is important for you to understand that your career is owned by you, and while the OCS will support you, it is your responsibility to secure the career outcome you want most. We will share opportunities, leads, contacts and pertinent information that we have. We will walk beside you on your career journey.