Shannon Broughton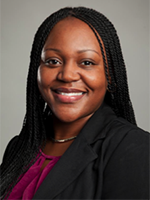 Program Manager, Employer Relations
sbrought@umd.edu
301-405-8652
Shannon Broughton is currently an employer relations program manager at the University of Maryland's Robert H. Smith School of Business. Her primary role is coordinating all on-campus recruiting activities for employers who are in the CPG, technology, government, non-profit, education, retail, and professional services/accounting industries. Broughton also works closely with employer development and industry/career coaches to deliver an exceptional customer experience that will connect employers with our Smith School talent.
Prior to joining the Office of Career Services, Broughton worked in property management and served as an administrative specialist /leasing consultant at Borger Management, Incorporated for six years. She performed yearly residential unit inspections and handled leasing arrangements for prospective tenants for more than five rental properties located in the Washington, DC area.
Broughton is currently pursuing a degree in social sciences at the University of Maryland Global Campus. She is a born-and-raised Washington, DC native and a diehard Redskins fan.