Lizeth Gonzalez Smith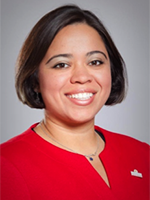 Program Manager, Employer Relations
agonzale@umd.edu
301-405-0444
As employer relations program manager in the Office of Career Services at the University of Maryland's Robert H. Smith School of Business, Lizeth Gonzalez Smith is responsible for the maintenance and enhancement of recruiting partnerships between the Smith School and companies in the financial services, healthcare & pharmaceuticals, energy and real estate & construction industries. Since 2007, Gonzalez Smith has been part of the team that manages the online tool (HireSmith) that students and employers utilize in the recruiting and selection of qualified candidates for nationwide and international organizations. She ensures that all individuals have a positive and prolific recruiting experience at Smith. Prior to joining the Smith School of Business, Gonzalez Smith grew in the field of recruiting while working for organizations in the public accounting and real estate industries.
A graduate of the University of Maryland's Robert H. Smith School of Business, Gonzalez Smith holds a Bachelor of Science degree in Accounting and has taken graduate level higher education courses at UMCP.
Gonzalez Smith is passionate about college student leadership development and since 2009 she has been working with the Alternative Breaks program at the University of Maryland to advise and guide students through community service-learning experiences domestically and abroad. She has also been the advisor to the National Society of Collegiate Scholars at the University of Maryland since 2012 and has recently joined the board of directors. Gonzalez Smith currently resides in Derwood, MD with her husband and daughters.