Ashlee Chicoine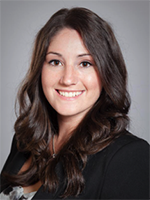 Director, Undergraduate Career Programming
chicoine@umd.edu
301-405-9475
Ashlee has spent her entire career devoted to the college student experience at the University of Maryland. She brings more than 10 years of know-how in the areas of career services, residence life, and orientation. Ashlee joined the Office of Career Services (OCS) in 2010 and currently serves as the director of undergraduate career programming. In this role, she provides strategic direction for the career preparation, education and outcomes of Smith's 3,000 business undergraduates. Prior to joining the Smith School, she began her career in the University of Maryland Department of Resident Life developing a residential program aimed to engage students in the academic community and prepare for living and working in a global society. She has previously taught leadership and student development courses at Maryland and is a published chapter author in Leadership for a Better World: Understanding the Social Change Model of Leadership Development.
Ashlee is a graduate of the Smith School Leadership Academy and a member of the National Career Undergraduate Business Symposium and the National Association of Colleges and Employers (NACE). She has been recognized for her work as a recipient of the Smith School Student Champion Award and the OCS Super Nova Award.
Ashlee is a proud Terp with a Master of Education in College Student Personnel from the University of Maryland. She received her Bachelor of Science in Leadership & Management and Spanish at the University of St. Thomas in her home state of Minnesota. Outside of work, she loves singing and performing in local cabaret shows. She lives in Washington, D.C., with her husband and their two cats.